The Decemberists - The King Is Dead
Colin Meloy loses himself for the sake of restraint.
By Jenna Scherer Fri Jan 21 2011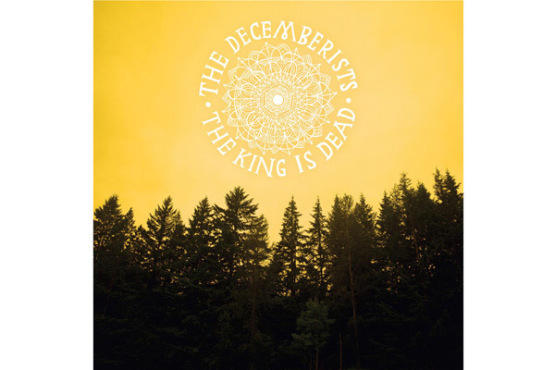 Time Out Ratings :
<strong>Rating: </strong>3/5
It'd be hard to imagine two consecutive albums more different from each other than The Hazards of Love and The King Is Dead. Those that were put off by the theatrical, high-concept prog-rock of 2009's Hazards may find themselves drawn to the country-tinged simplicity of the Decemberists' latest offering.

But for those who love Colin Meloy and company's output because of its complexity, and not in spite of it, The King Is Dead is something of a letdown. Most of the album's ten songs sound like R.E.M. circa 1991, if the group's catalog had been much less interesting and they had developed an unhealthy addiction to the slide guitar. R.E.M. guitarist Peter Buck even adds his strumming to a few tracks on the album.

Like everything the Decemberists set out to do, none of this is an accident. Meloy has called The King Is Dead "an exercise in restraint," and that's exactly what it sounds like. All but gone are the big words, weird instruments and arcane storytelling that mark much of the Decemberists' past work. In their place is a forced rootsiness—fiddle, harmonica and that slide guitar pumping evenly beneath pared-down lyrics about seasons changing, men at work and the big, pounding heart of America.

The album's opener and closer are its best tracks—the clear, ringing "Don't Carry It All" and sad, sweet mother-to-son dirge "Dear Avery." It's on these tracks that the folky simplicity Meloy is trying to conjure is at its most genuine. But at other times, The King Is Dead crosses the line from unadorned to dull. Even the backup vocals of the great Gillian Welch can't save clunkers like "Down By the Water" and "This Is Why We Fight."

For fans who've long wished that the Decemberists would ditch their thesaurus and dulcimer for a sec, The King Is Dead is just what the doctor ordered. But here's hoping Meloy gets back to his own roots—lengthy narratives and weird arrangements—on the band's next go-'round.
The Decemberists play Beacon Theatre Mon 24--Wed 26.
Released January 18, 2011 (Capitol)