Top outdoor parties
Check out these fun-in-the-sun fiestas.
By Bruce Tantum Fri Jul 1 2011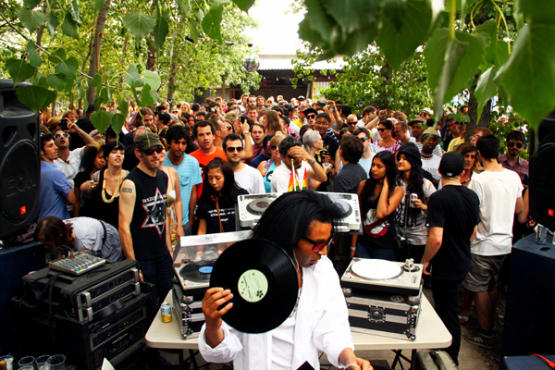 Moodymann at Mister Sunday Michelle O'Brien
Warm Up
Some people despise the summer; they hate the heat, abhor the humidity and squeal at the sight of skeeters. We, on the other hand, welcome the season with open arms—it means outdoor-parties are upon us! And from now until Labor Day, there are plenty of alfresco affairs to be had. One of the biggest, best and longest-lived is Warm Up, held every Saturday in the courtyard of MoMa PS1. The party's had a few ups and downs over the years—a few eyebrows were raised years back when the format switched from a strictly DJ-driven dance-music template to one that was much more of a mixed bag, for instance—but this year's lineup is absolutely killer, so what's to complain about? The acid-house pioneer DJ Pierre is headlining Warm Up's opening salvo on Saturday, July 2; Four Tet heads up an awesome collection of beats-and-bass boffins on the 9th; and the rest of the season sees everyone from worldbeat-meets-indie-rock-meets-chaos-theory combo Gang Gang Dance to the glitterball-loving boys of Horse Meat Disco running the show. And no matter who's playing, do you really need a good excuse to hang around outside, drinking beer with 3,000 of your best friends at four in the afternoon? 22-25 Jackson Ave at 46th Ave, Long Island City, Queens; 718-784-2084, ps1.org; 2--9pm; $15.
Mister Sunday
When the Yard—a nifty slice of rural backyard set alongside everyone's favorite postindustrial waterway, the Gowanus Canal—closed down in 2009, we were very sad. When we heard it was reopening as Gowanus Grove this year, we were very glad. And when we discovered that Mister Saturday Night's Justin Carter and Eamon Harkin were going to be holding court there every Sunday afternoon and evening, we were happy as a hippo (albeit a hippo that wouldn't step into the canal's sickly green flow on a dare). Deep-house guru Moodymann (who played a simply incredible set) and boogie-tech oddball Space Dimension Controller are among those who have already packed the space's dance floor this season, and Todd Terje and the busy Horse Meat guys are yet to come. But even when there's no big guest to drool over, this party's laid-back vibe is always a winner. 400 Carroll St between Bond and Nevins Sts, Gowanus, Brooklyn; mistersaturdaynight.com; 3--9pm; $12, advance tickets available through residentadvisor.net/mistersaturdaynight.
Verboten
The dependable Flawless crew's Sunday shindigs may not have the advantage of a leafy, country-in-the-city setting—nor is there a branch of MoMA steps from the dance floor—but it does have one big factor in it's favor: a lineup that includes some of the world's best house and techno DJs. Set atop a swank Times Square rooftop, the day-into-night party (subtitled "Disasters," though nothing could be further from the truth) has already featured the likes of Spectral Sound's Matthew Dear and the Rejected label's Joris Voorn; this weekend sees dance-music doyen Josh Wink rolling through, and Sunday 10's edition stars house hero Satoshi Tomiie. Toss in a rotating roster of talented locals and you've got yourself a great way excuse to call in sick on Mondays. XVI, 251 W 48th St between Seventh and Eighth Aves ; 2pm--2am; $TBA, advance $20; advance tickets available through residentadvisor.net/verboten.