New York Comedy Festival: Variety shows, improv nights and more
Take in the best podcast tapings, variety shows, improv performances and more at the New York Comedy Festival.
By Steve Heisler Tue Oct 23 2012
See the Meltdown with Jonah and Kumail at the New York Comedy Festival
If headlining stand-ups and solo shows aren't your cup of comedy, book tickets for one of these ensemble performances at the New York Comedy Festival. Don't miss the rare opportunity to see Jonah Ray and Kumail Nanjiani's L.A.-based night, three great local stand-ups who are sharing a stage, a comedy podcast recording and a team of improvisers from the Upright Citizens Brigade.
RECOMMENDED: New York comedy 2012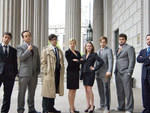 Price band: 1/4
Critics choice
This collection of excellent UCB improvisers, including astute character performer Sue Galloway and the raucous Jon Gabrus, draws inspiration from the audience's sordid tales, be they of stealing a car or stealing someone's girlfriend. The improv that follows is sweet redemption for the person brave enough to admit his or her wrongs. For everyone else, it's a joyful journey through the impulses that make us all occasionally break bad.
---
---
Write your own review