Santas!
Find out what it's like to portray the jolly red dude.
By Sarah Rammos Sat Dec 10 2011
---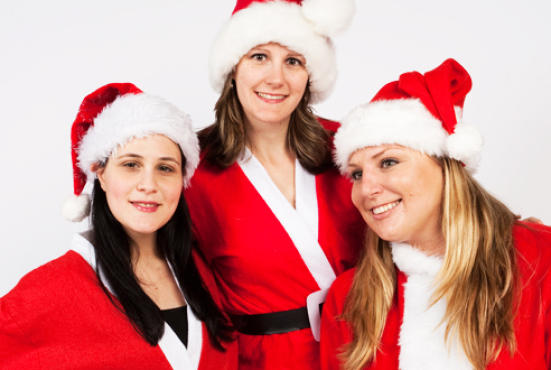 Heather Bleiberg, Heather Gorman and Jessica Profetta, from left

SantaCon participants (nycsantacon.com)
What's the funniest thing you saw at last year's event?
Heather Bleiberg: We saw three Santas randomly playing Double Dutch on the sidewalk.
Jessica Profetta: In the middle of everyone dancing and partying, there was a ten-foot-tall puppet of Mahmoud Ahmadinejad dressed as a Santa.
What do you think it takes to represent Santa for the day?
Heather Gorman: A sense of humor and lots of energy. Bleiberg: A jolly good attitude and a wealth of knowledge of Christmas carols.
Do you have any tips for people who want to attend SantaCon for the first time?
Profetta: Make sure your cell phone is fully charged and on you at all times. You will most likely get split up from your group, and it's a pain in the ass trying to pick them out of the crowd. Also, you will need it for SantaCon text updates on which area to go to next.
Gorman: Have fun with it and mingle—each Santa has a different story.
Bleiberg: Don't be afraid to get creative with your costume. We saw people dressed up like reindeers, elves and even the Grinch.
---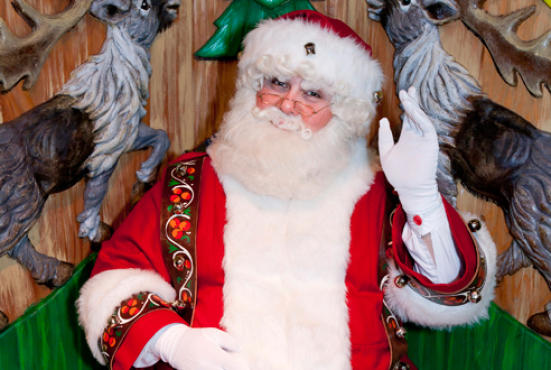 Santa Claus

Macy's Herald Square (151 W 34th St at Seventh Ave; 212-695-4400, macys.com)
What makes Macy's special enough to get a visit from Santa every year?
This is where the Christmas magic happens. I have the opportunity to visit with hundreds of thousands of people every year. They come and give their Christmas wish to Santa, and I do my best to oblige.
What's the craziest thing someone has asked for?
I once had a little girl ask me for a poker set and $5. That was pretty funny.
What is your favorite Christmas tradition?
Visiting with the children, having cookies and flying around the world in a single night. That would be my favorite, actually. Supersonic speed, ho ho ho!
What's your favorite part about being Santa?
That's an interesting question; what's your favorite part about being you? It's who I am! But I would have to say wearing a nice red suit to work.
What would people be surprised to know about Santa?
Santa loves cookies? Ho ho ho, everyone knows that. But Mrs. Claus does make all my clothes, and I love her. That should get me some brownie points—er, cookie points.