Time Out Live, our New York Comedy Festival show, stars…
By Matthew Love Sun Oct 13 2013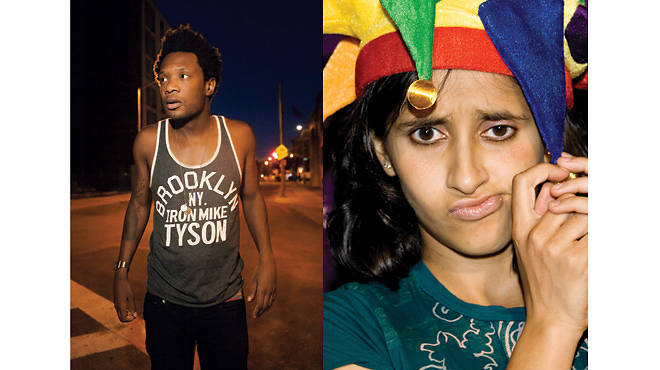 Seaton Smith, Aparna Nancherla Photograph: Seaton Smith: Mindy Tucker; Aparna Nancherla: Andrew Von Goellner
Seaton Smith

Who he is: A D.C. native whose magnetic presence and confident act have made him increasingly in-demand around town and across the country.

What he does: Produces and stars in online clips as "the pimpin' referee" and Charlie Smith, the man with a secret organization out to get him; educated white people about black comedy at his TEDx talk; costars in the new John Mulaney pilot (whose new incarnation at Fox will hopefully include him).

Why we love him: Without preamble or apologies, Smith hits the stage, and the room instantly wakes up. As he paces, snaps his fingers with the insistence of a furious mom, banters with the front row, sneaks up on his punch lines, dips into character and zooms back out, the audience remains rapt. Even when he assumes the persona of a child molester or talks about his juvenile love of the word nigga, hardly a soul flinches—they're all laughing too hard to get offended.
Aparna Nancherla
Who she is: A sweet, sassy L.A. transplant who landed in New York for work but has quickly endeared herself to bookers and fans alike.

What she does: Writes—and occasionally appears on—FX's Totally Biased with W. Kamau Bell; performed at Just for Laughs' New Faces showcase this summer; opens for everyone from Paul F. Tompkins to Tom Green; made a splash on Conan earlier this month.

Why we love her: The diminutive and unassuming Nancherla can read your thoughts: "I know," she dryly confesses as she takes the mike, "I can't believe I'm a comedian either." But the sly and self-effacing comic won't be underestimated; her flights of fancy about mohawks and garbage cans in garbage bags are perfectly packaged observations that then swerve into the absurd with delightful ease. If she gets political, you'll know; she'll lean back and announce, "If reverse racism is wrong, I don't want to be white."
Time Out Live happens at the UCBEast on Nov 7. Get tickets at east.ucbtheatre.com.
You might also like
---
Comedy events calendar
Al Samuels and Rob Lindley of Chicago's Baby Wants...

Written by Chicago musical improv troupe Baby Want...

This stand-up showcase, hosted by Josh Carter and ...
14

more events »
@TimeOutNewYork
Subscribe to Time Out New York on Spotify for playlists and recommendations from our Music team.


Check out New York's best restaurants, hottest street style, cool apartments and more.