A breath of fresh air
Jodi Melnick hits the fan-and more-at the Kitchen.
By Gia Kourlas Wed Feb 25 2009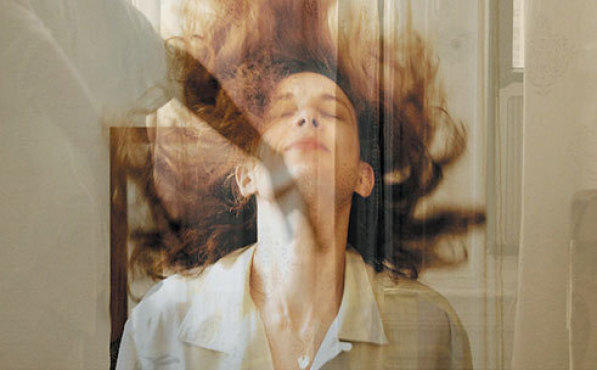 THE BRAVE AND THE BEAUTIFUL Jodi Melnick lets her hair down.
Photograph: Kris Murphy
In the early '90s, Jodi Melnick found herself lingering in a Soho gallery, entranced with a video work by Burt Barr. "The piece was of a man swimming laps in a pool while the water was draining," she recalls over drinks at the Mercer Hotel. "It was a 20-minute loop, and I thought it was the most beautiful, simple thing. I went every day for a week." Melnick's own presence—red curls framing a porcelain face that is both angelic and resolute—exudes a similar, guileless charisma. In their first collaborative work, Fanfare, which comprises one half of Melnick's upcoming evening at the Kitchen, she creates a dance within an installation by Barr; in it, a video of an oscillating fan is projected onto an actual working fan. "As the fan spins, it casts incandescent rings across the ceiling, the walls, the audience," Barr explains. "I thought it lent itself to a dance. Jodi's way of moving was paramount to my thinking. I think my work is very straightforward, and so is she."
Barr, who knew of Melnick through his connection with the dance world—his wife is choreographer Trisha Brown—first worked with her in his 1998 project Rain Piece. They reunited for Barr's 2008 piece Jodi, an installation that originally appeared in a dance by Liz Gerring. In it, Melnick stretches out on a Plexiglas surface that is flooded with water. As she moves, she is shot from below (the video is now part of the Whitney's collection). "Burt's work has always meant a lot to me: the simplicity, the choices, the lack of things in it," Melnick says. "He pares everything down. I don't know if I would call myself a minimalist, but I relate to that. It's like when I'm making material—I don't need 12 things. I just need that right one thing."
Melnick's program starts off with the sensory Fanfare, which the choreographer describes as a page ripped out of a book. "The page is really dense with information, but it's not necessarily a whole story," she says. "You get enough, hopefully, from just this very intentional page. Every time it's gone somewhere else I think, No, no, no, no—I want it just to be this. It's very meticulous movement, but it almost feels private. There's a certain stillness in it that I usually just don't even feel as a person." Such simplicity, Melnick explains, serves as an antidote to her second premiere, Suedehead, which "is so loaded for me."
During the early stages of planning the Kitchen program, Melnick suffered a sudden loss in her personal life. She fulfilled a commitment to create a work for a Dublin dance festival even though, as she puts it, "I just wanted to cancel everything." The resulting piece is Suedehead, which alchemized that painful year.
"I'm fiercely private, but there is no way around it—making Suedehead was my only way out of this loss, and the only way I knew I was lost," she says. "I'm still lost. But it was a way to figure out how to survive. At the time, I just couldn't do the piece with Burt without first making a piece of where I was and who I was. Whether it's obvious or not, I don't care. It's honest. It's what I want to say."
The version she presents at the Kitchen is a reconstruction of the original quartet, essentially a solo with appearances by Juliette Mapp and Vicky Shick. Named after the Morrissey song, which she uses in its entirety, Suedehead is filled with movements and moments from her life. "It gets very theatrical for a second and I do this sort of postmodern mime: I make these Swedish pigeon noises," she says. "I know how to make them because I once stayed in an apartment that had all these pigeons. So I see this pigeon and I swallow it and somehow it gets caught in my rib cage and I choke the pigeon out and then the piece kind of starts."
Essentially, Melnick is doing what she always does in dances, whether she has created them or is appearing in the work of others: "I'm trying to be articulate without speech," she says. "I would love to spew my guts out, but that's not going to happen. There are moments in this where a narrative is created even when I'm standing still. It all leads up to this end material that is structured around hips and shoulders and the head, and is intentionally made as a way for me to exhaust myself without running around the stage."
Sitting at a table at the Mercer, she undulates her torso to demonstrate and talks through the movement: "It's as if I can feel my lung against my breastbone and my ribs," she explains. "It's almost like you're getting hot, but there's a coldness inside." For Melnick, the material creates a crystalline atmosphere that reflects the way events can change out of nowhere. "I got punched, I'm punching. It's very hippy and down and kind of dirty and hopefully articulate at the same time. It feels like I've gotten the wind knocked out of me. That's my life. The whole piece is to get to that point."
Jodi Melnick is at the Kitchen Thu 19--Sat 21.