Avant-Garde-Arama: New Moon [slide show]
Salley May, in collaboration with the Full Moon Crew, curated this tribute to the late performance artist Tom Murrin
Photograph: Elyssa Goodman
Avant-Garde-Arama at Abrons Art Center
Salley May, in collaboration with the Full Moon Crew, curated this tribute to the late performance artist Tom Murrin.
You might also like
The performance series gears up for its anniversary.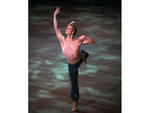 For his final bow, the ballet star Ethan Stiefel bravely bares his chest to perform Le Corsaire with ABT.
Price band: 2/4
Critics choice
Three company members flesh out the choreographer's triple bill.
Laurie Berg and Liliana Dirks-Goodman, who head up the dance group AUNTS, talk about their upcoming show at Littlefield.
---