Big Bill
Stephen Hanna trades New York City Ballet for Billy Elliot.
By Gia Kourlas Wed Nov 12 2008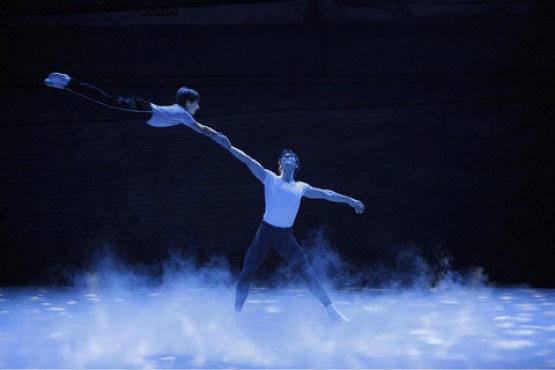 HOLD ON TIGHT Hanna takes Billy out for a fly. Photograph: David Scheinmann
[Ed's note: This interview has been expanded with online bonus content.]
Much has been made of the rotating cast of Billy Elliots—a talented trio, to be sure—but the dancer portraying Older Billy in the Broadway production has a little something up his sleeve, too. Until last summer, Stephen Hanna, 28, was a principal dancer at New York City Ballet. In the show, the story of a miner's son who falls in love with ballet, Hanna dances a dreamy duet with his younger self and also appears in a combative scene with Billy's father. A Pittsburgh native who relocated to New York at age 12 to train at the School of American Ballet, Hanna spoke about his recent career move.
Were you looking for a change?
Well, I don't know if I was going to take any action, but I've definitely thought that maybe I should try something different. I didn't really know what that was, and then I was called in for an audition. I wasn't on board at first, but I just kept going with it and eventually I was offered the part. The first audition was two other guys and me. We did a really hard ballet class on a Sunday morning and then we had to sing and do an acting scene with Julian Webber, who is the associate director. It lasted two and a half hours.
You're referring to the scene outside the theater when you confront Billy's dad at the stage door?
Yeah. And that was one of the reasons I was interested in this part. I thought, At least I'll get to talk a little bit.
Did you decide to take it right away?
I love dancing and I love City Ballet, but I was like, Maybe it's time to try something different. I didn't know what. I wasn't sure that I wanted to stay with the company. I was just unclear. I thought, I'll give this a shot and just see what happens. I don't have any long-term plans as of right now.
What was the reaction at NYCB?
Everyone was pretty sad.
And surprised?
A little bit. When I went in to tell Peter [Martins], I think he maybe thought I was coming in to ask for something. But I wasn't. I had made up my mind and in my head I wanted to leave and to be able to come back. The door is still open for me to go back, which was what I was hoping for. It made it easier to try this.
You're from Pittsburgh. How old were you when you started dancing?
I started ballet when I was seven, but tap when I was three turning four. I auditioned for the School of American Ballet in the spring of 1992. I was 12, and I came for the summer, and then I stayed for the year. I was really young.
Where did you train before?
I started off at a very Dolly Dinkle school called the Shade Sisters. [Cracks up] This woman lived on my street and we were friends with her and that was how I started. And then I went to a place where it was more of musical-theater; that was where I really started ballet. From there, I went to Point Park College and began training with Roberto Muñoz. That was who really whipped my butt at a young age.
What did he have to say about Billy Elliot?
He was extremely excited. I talk to him about everything and he knew that I was looking for something to break it up a little bit. I thought, If I spend my career in one place, and if I don't do something different now, this might be my last opportunity. I'm still at a good age and physically I feel good—I was afraid that a window of opportunity would have passed me by.
You've been in City Ballet for ten years, right?
[Quickly with a giggle] Eleven and a half. [NYCB's ballet mistress] Rosemary Dunleavy saw me and said, "How did this happen?" I said, "I don't know! They called me and I said yes, and I kept going and why not?"
Do you know why they called you?
I think some people had recommended me and they weren't finding, obviously, what they wanted. That was the main thing. At first, I was like, I don't know—it's such a small part, and I'm going to have to do other things that I would normally not have to do. But in the end I really just wanted the experience. The idea of being onstage eight times a week was what I was missing at City Ballet. If one thing was lacking for me, it was that it wasn't enough, whereas with this I get to be out there all the time. And there's a little bit of everything: the singing, the dancing, the acting.
What do you think of the dance you perform with Billy?
It's beautiful and the audience really appreciates it. And it's hard. We've been rehearsing on a rake the whole time so right off the bat, that was a challenge. In the beginning when we come out, it's very much like being shot out of a cannon: I'm doing a grand plié while twirling a chair on a raked stage and the lighting here is extreme—the spotlight is constantly changing and there's fog. When I was first rehearsing it, my friends asked, "How is it?" I was like, "It's battling a lot of elements." In a matter of six minutes, a lot can happen and you only really have a couple of steps to really prove you're good.
What are they?
One that I'm always having a hard time with is the plié attitude back. I'm thinking, Just get through that part. The chair section in general is just a little tricky. But the repetition of rehearsals helps. After the first couple of dress rehearsals, I would come offstage and feel like I looked like crap. But it keeps getting better. And I've never done anything—other than maybe Nutcracker—so many times and so close together, and that's a new challenge as well; if you don't correct a little mistake quickly [Snaps fingers] it starts to evolve into something completely different. If I notice that I messed something up, I say to myself, "Get it right or it's going to become something bad."
What is it like to lift those little boys?
Oh, it's fine. It's interesting because they're so well rehearsed—and this is the difference between working with somebody at City Ballet, where part of being an artist as a dancer is doing what you feel onstage. I wouldn't say that's the criteria here. Of course, dancing with ballerinas trains you to be reactive to anyone. And it's funny because a lot of the times they get scared and I'm like, "I'm definitely not going to drop you, kid. Don't worry. [Laughs] Trust me, I've been out there in scarier situations, when a ballerina was farther away, doing something way scarier." [Giggles] Yesterday, I was flying with the boys for two hours; those rehearsals are really exhausting because of the repetition to get what they want. And then there are three boys.
So you have to rehearse everything three times.
Right. It's very challenging. The first couple of weeks were so hard. When I finally performed it, I realized, Oh! I only have to do this once. [Cracks up]
Was it hard to figure out how to dance while twirling the chair? Did you practice it at home?
Never. What's funny—it's healed now—but there was a chair that I was rehearsing with and I totally ripped my skin off, and when I first started performing it I was a disaster. I wasn't using the spot I needed to on my hand and I was a nervous wreck.
Did the film Billy Elliot affect you?
When it came out, I had been in the company for four or five years, and I didn't think too much about the movie in all honesty. I rented it. I didn't even see it in the theater.
What was your experience as a young ballet dancer in Pittsburgh?
It was really hard. The thing that's different about the character of Billy and my life—and they asked me this in the audition—is that I had extremely supportive parents. My dad was also a ballet dancer when he was young and my grandparents forced him to quit his junior year in high school. But I got made fun of a lot in school. I was always trying to lie about what I was doing when I was dancing. In sixth grade, right before I came to SAB, I used to leave school early to take class, and I used to tell the kids that I had to get out at a certain time to get an allergy shot. And if I didn't get it at a certain time of the day, I would be too hyper and not able to fall asleep. I had these funny little lies I would tell.
Do you think that's why you left home so early?
Because of the ridicule of the kids? Definitely. Oh yeah, I hated it. I couldn't wait to get out of there. Clearly. [Laughs] The first opportunity I had, I took. People are always like, "How did your parents do that?" There have definitely been times in my life where I think the same thing, but I made it through. There were some times when I was really homesick. That first year was rough, especially. But my parents came up at least once a month. We're still really close.
What is your father's ballet background?
He actually left home at a pretty young age and went to the National Ballet, which is not in existence anymore; it was in D.C. and he was actually an apprentice with the company during his junior year of high school. My grandparents forced him to come back his senior year of high school and he moved back to Pittsburgh and never danced again. It's funny; when I was a kid and went to Shade Sisters, they taught us "perch turns" instead of pique turns. One day, my dad asked, "What are you doing?" and I said something about perch turns; he said, "That's not a perch turn, it's a pique turn." I used to fight with him about that all the time and still to this day, he won't let me live it down. He says, "Oh, I saw you doing some perch turns." He thinks it's funny.
Did you have a lot of friends at school?
I did. I wasn't unpopular or anything. I think I was a little uncomfortable maybe. I was so anxious to have a career when I was way too young.
Did you see a performance that sparked you?
It was always Misha [Baryshnikov] and Gelsey [Kirkland]. Always. That Nutcracker. That's what I wanted to do. I idolized Baryshnikov probably up until that first summer—not that I stopped—when I saw him in the SAB cafeteria and I realized I was around the same height of him and I was 12. I remember thinking, Well, okay, you're not going to be like him. [Laughs] I, of course, stayed a true fan. Do you remember Charlie Wigler [Sidney Charles Wigler]? He was a really cool guy. I'm not sure what his position was, but he used to always hang around and he would give us old photos of dancers from City Ballet, so I had millions of photos of Misha performing at City Ballet and American Ballet Theatre.
How did you perfect your accent for your speaking scene?
I had been to Scotland twice with City Ballet, and when I first auditioned I just kind of made something up from what I had heard. I don't even know what I did, but it was cool. As I walked out, I thought I had done a good job. Here, we have two dialect coaches that are here at all times. When we started I would work with both of them together for an hour and a half at a time. Everything is so thorough from the beginning. Nothing is for guessing; you're told what it is that you're doing and why you're doing it, which was extremely fascinating to me. And new. And it brought so much more dimension to what we were doing here. I liked it.
How is this different from City Ballet?
I don't think that there's a lot of guessing that goes on there, but here I would think of things as almost four-dimensional. There are so many perspectives on things. At City Ballet, you're taught the steps and that's what's important because you're not necessarily trying to tell a story in most of the ballets that we do. For a lot of the things I danced, like Emeralds and La Valse, I had a lot of freedom to make up my own kind of thing, which is great—but when you're first learning parts you feel completely lost. When I first learned those roles, I was like, What the hell am I doing? It has to do with the way ballets get passed down, especially a Balanchine ballet. Maybe you're learning it from a woman who isn't exactly sure what the guy did. To be in a situation where, on the first day, we watched a two-and-a-half hour documentary on the miners' strike? I was telling people, "Wow, they tell us everything." It was all very informative. There's a reason for everything and that's what's so great about it—everyone in the show has so much to work with. We've definitely moved very slowly because we've had so much time. We started rehearsals on July 14. I've never worked on something for so long, ever.
And you're coming from a place where you learn something in ten minutes, and you go onstage. I'm exaggerating, but still.
Exactly. [Snaps fingers] It's like, "You know what? You're fine, go."
What do you think of that?
In comparison? I think the exciting part about being at NYCB is just going out there and trying as hard as you can. But here it's been unbelievable. At first, I was a little hesitant to like it. I thought, We're taking this long for an eight count? [Laughs] It's definitely taken time to adjust, but being involved the whole way through, it's like, Oh, now I get it. It's challenging though. And it's exhausting. But that was one of the things that I wanted: to be involved in something where I'm really working hard the whole time, that I'm a part of it the whole time. I couldn't say no.
And I actually think this is going to make your dancing better when you go back.
Definitely. Before I came here—because a lot of my parts I had done for a good four years—I was so in the habit of not wanting to rehearse much and if I did rehearse, I just wanted to do it the way I wanted to do it. Maybe I was not as willing to change. But being here is so different because it's so closely worked whereas at the ballet I don't always find that.
What was your last show like? Was it at Saratoga?
Yeah. I danced both ballets on the same day with Sara Mearns. We did second movement Bizet in the afternoon [Balanchine's Symphony in C] and [Jerome Robbins's] I'm Old Fashioned at night.
I don't love watching I'm Old Fashioned, but I'll bet it's a blast to dance.
It's so much fun! [Laughs] And it's definitely something I've done a lot. My parents came for the last show at the State Theater.
And you didn't announce Billy Elliot then? When did you find out?
I was offered the part on June 10 or 11.
You can keep a secret.
It was really hard. [NYCB principal] Abi Stafford was the only person who knew. I was like, "You can't tell anyone" because the offer—the deal, all of that mumbo jumbo—wasn't official yet. It was hard. And once I told Peter, then I told people. Right before I went to tell him, I was like, [Breathlessly] "Abi, I'm going to tell Peter! Oh God!" And she was like, "It's going to be fine." I was extremely nervous for many reasons. I wanted him to say, "Of course you can do it and of course you can come back," but there's always the chance that he has the right to say and do whatever he pleases. It's his company. But he was more than great. I couldn't believe that. I was in shock.
Well, he's really brought you up as a dancer.
He has. He's done a lot for me. His support is unbelievable. He was shocked but very proud and the day that I did second movement Bizet, he gave me a hug and said, "Whenever you change your mind, call me." I went and took his class a couple of weeks ago. He was teaching for the institute and I was a little bit late for David Howard's class and I texted someone and asked, "Is there a class at 10:30am?" So I took that and it was nice. I feel so welcome and at home there.
Do you usually take David Howard's class?
His or Willie Burmann's. I haven't been very consistent with my class-taking recently. We've been rehearsing, and I've been working out with a trainer as well and then I also have the school thing. [Hanna is pursuing his B.A. through the Liberal Education for Arts Professionals program, known as LEAP, administered by Saint Mary's College]. Today, I woke up to take class, and I was like, You need to get this homework done or it's never going to happen. I have class on Sunday night, and if I don't have the majority of work done before I go to bed on Friday? Saturday is a two-show day. We have a paper due every week, so I've been making myself get the paper done before I go to bed on Saturday so I can wake up on Sunday and not have to think about it. It's been a juggle. The class started the first week we started previews. I was like, Why am I doing all of this? But I didn't want to quit. If I quit, I was never going to go back. I told myself, "If you get a C this time, oh well. It's just one class." I'm taking a literature course.
How many classes have you completed?
This is my fourth. Another good thing about this show is that in January, when the schedule is just eight shows a week, I'm thinking about maybe taking another course.
When you said that people asked you how long you were going to do this, did you mean friends?
Yeah. Friends or just people I see from the ballet. I always talk to Abi. She says, "How long do you think you're going to do this?" I love Abi.
But you left the clan.
[Laughs] I did, I did. It's so weird when you leave something you're so comfortable with. You don't realize how comfortable you were until you get into a situation when you're totally out of your element doing what you're supposed to be doing—ballet—but it's so different.
Do you miss it?
No, not yet. I'm so glad that I did this. When I first started, I was like, I don't know, I don't know. But as time has gone on, performing it is awesome. And the audience loves it. It's so exciting and it's so different. The audience is so responsive to things—at a ballet, especially City Ballet, I don't find the audiences as excited. It's been a great experience.
Would you have loved to have played Billy?
Oh my God. It would have been awesome.
How do you find freedom when you're doing essentially the same thing every night?
I think the freedom here is in just being comfortable with what I'm doing. It's something that's calmed me down a little bit mentally; during the first couple of performances I was so nervous about what my feet looked like. What's gotten me more comfortable is the thought that I'm playing a role and that I'm symbolizing something. I'm doing what I normally do, but I know that I'm also standing for something.
Billy Elliot is at the Imperial Theatre.
---
More Billy!
Video: Watch our favorite<em>Billy Elliot</em> moments. »
This is what people in the dance world refer to as the "Angry Dance." It's from the film, but it's incredible.
---
This is the dream ballet that Billy Elliot dances with "Older Billy":
---
And the same, from another angle: