Matthew Bourne wakes up Sleeping Beauty
British choreographer Matthew Bourne talks about waking up Sleeping Beauty at New York City Center
By Gia Kourlas Thu Oct 10 2013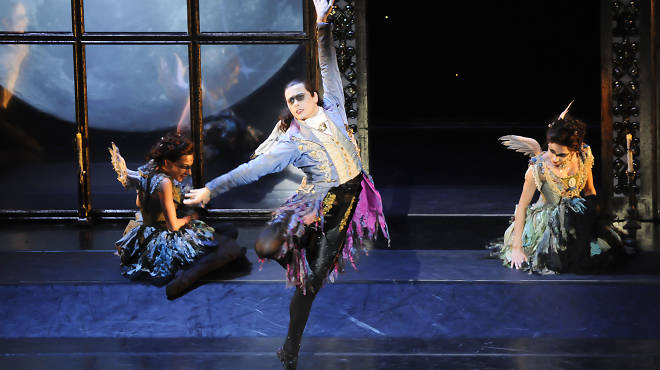 Matthew Bourne's Sleeping Beauty Photograph: Mikah Smillie
Matthew Bourne reinvigorates another story ballet: Sleeping Beauty. Following the choreographer's Swan Lake and Nutcracker!, the new work is the third installment of a trilogy of Tchaikovsky ballets. The production hits New York City Center October 23–November 3; Bourne spoke from London to talk about the piece's development.
Matthew Bourne has tackled Swan Lake and The Nutcracker. This month, he brings his third Tchaikovsky reinvention to New York City Center in Sleeping Beauty, in which Aurora is a nonconformist; her love is not a prince, but a royal gamekeeper; and the Lilac Fairy is Count Lilac, a vampire-fairy. The dance begins in 1890, the year the ballet premiered in St. Petersburg, and ends up in present day. This journey through time is a bit of a thriller.

Time Out New York: Did you always have Sleeping Beauty in the back of your mind as something you wanted to choreograph?
Matthew Bourne: I did in a way—I felt I should do it, because of having done the other two. I kept going back to listen to the music and to find a way of approaching it with a new idea and got a bit overwhelmed by the grandness of the music, and by what I felt was a plot that didn't really say much to me. I decided to delve deeper and ask myself what it was about the plot that I wasn't responding to and try and make that the reason for doing something different. I did a lot of research into the different ballet productions, the different versions of the fairy tale, the Freudian studies of it, the psychological studies of it, and it stirred up an enormous amount of things. It came out of real research and a lightbulb moment of, what a great idea.

Time Out New York: Vampires figure in your version of Sleeping Beauty—when did that idea click for you?
Matthew Bourne: That really came quite late in the day. It's a small, but important plot point, and it came through asking questions about trying to create a love story across time, and wanting Aurora to already be in love with somebody when the curse comes into play. The dilemma of this young man is how can he be there for her when she wakes up in 100 years' time? That's what put the idea of vampires in my head or the living dead. It's a more romantic way of getting the gift of eternal life and doing it for love. There are fairies in the story, so why can't there be a vampire, too? I'm very nervous about it being called the Vampire Sleeping Beauty, because people might be disappointed. [Laughs] It's sort of in there, and it's important, but it's more to express a love story.

Time Out New York: She's not in love with a prince, is she?
Matthew Bourne: No, she's not. She's got a childhood sweetheart who is the palace gardener or gamekeeper, so shades of Lady Chatterley in a way. He's basically a commoner, and she's a princess so it's a little bit of a forbidden love. Weirdly, when I was doing my research, Disney did recognize the same kind of flaw in the plot. He did a similar thing where she comes across a young man in the forest, and she thinks he's a commoner, but actually he is a prince. It's interesting that he picked that up as well as a storyteller. Her love is called Leo.

Time Out New York: Can you tell me about Count Lilac? This is your version of the benevolent Lilac Fairy.
Matthew Bourne: He's a he. There are six fairies, three male and three female. They have a look that's a little bit like Interview with the Vampire. Remember Brad Pitt and Tom Cruise? They had long hair; they've been around a little longer maybe, and they're from another period. He has the same purpose as the Lilac Fairy. He's Aurora's protector, but he also happens to be a vampiric fairy, so he has the ability to help her out with Leo. He knows about their love affair, and he's the one who gives Leo the gift of eternal life. He leads Leo to her. We do have the whole vision scene, that whole sequence, which in our version is a world of sleepwalkers in limbo between two worlds. Count Lilac is within that, and he's leading Leo to the vision of her and then takes him on the journey. We do the panorama and everything. A lot of the music is as you would expect it in the ballet, but there are a few major reorderings, which might take some people by surprise. [Laughs]

Time Out New York: I love how, in the documentary about the making of the dance, you say that you're true to the music, but approach it with an open mind.
Matthew Bourne: Yes. That was one of the things—there's obviously more music than most productions use. I was trying to find music that was useful to me for drama and storytelling, as well as dance music, so I used music that's sometimes not often used in the ballet version, because it was helpful to me with the story I was telling. Also, you're aware that you don't want to disappoint the people who know the piece, and there are certain things that have to be in there. The only major piece that's not in there at all is the Bluebird. I just couldn't find a reason for it. My response to the music is always to try and find another way of looking at it, and what I was surprised to discover in the Rose Adagio was a kind of sense of tragedy. If you listen to it with different ears and stop thinking about balancing [Laughs], there is a real drama there, and something tragic happens at the end. That was one of the hardest pieces to approach, because it's one of the most famous pieces in ballet. It's very difficult to approach very famous music. That's always a challenge, but we found a way of telling the story with that music.

Time Out New York: Are you using the balance in any way?
Matthew Bourne: No, not at all! Not those sort of tricks. [Laughs]

Time Out New York: I guess I was wondering if you subverted it in any way.
Matthew Bourne: Well, I can tell you she actually pricks her finger at the end of that music—that's when the tragedy strikes. It's the end of the Rose Adagio, and so it turns from a playful pas de deux into a tragic ending. So it finishes tragically and carries on into the plot in that way. So it's nearer to the end of the act than it normally is in the ballet.
---
Write your own review
Dance events calendar
You'll get a kick out of this holiday stalwart, wh...

Schedule varies; visit nycballet.com for details. ...

Bryant Park's 17,000-square-foot outdoor rink is f...
566

more events »
@TimeOutNewYork
Subscribe to Time Out New York on Spotify for playlists and recommendations from our Music team.


Check out New York's best restaurants, hottest street style, cool apartments and more.