Q&A Cecilia Bengolea and François Chaignaud talk about their latest dance
Q&A Cecilia Bengolea and François Chaignaud talk about their latest dance
By Gia Kourlas Thu Apr 24 2014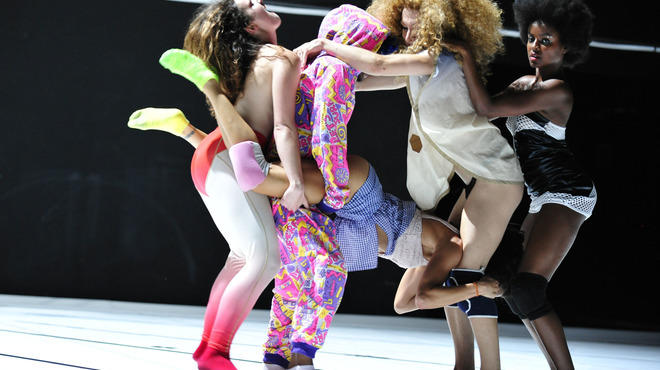 Cecilia Bengolea and François Chaignaud present altered natives' Say Yes to Another Excess – Twerk at the Kitchen May 3-5 Photo: Emilie Zeizig
Cecilia Bengolea and François Chaignaud are back in New York at the Kitchen as part of DANSE: A French-American Festival of Performance and Ideas.The collaborators, who have worked with Trajal Harrell, represent the new guard of European dance. Their new work altered natives' Say Yes to Another Excess—Twerkputs movement at the forefront. Here, Bengolea and Chaignaud talk about the piece's progression.
In altered natives' Say Yes to Another Excess—Twerk, collaborators Cecilia Bengolea and François Chaignaud excavate movement from the dance-club scene and blend it with codified dance techniques to create a new form in which seemingly disparate styles can, well, be friends. As Chaignaud puts it, "It's so they can reach that goal of brotherhood that society denies them—because one kind of movement is for the ghetto, and another is for some city-hall theater." Part of DANSE: A French-American Festival of Performance and Ideas, the work for five dancers and two DJs heralds the return of two legends from the European scene. This time, the choreographers strip things down—there are no props like the glass dildos (Pâquerette) or sensory-deprivation body bags (Sylphides) they've used in the past. More than ever, it's all about movement.
How did you get the idea for this piece?
François Chaignaud: It came from many different places, but I remember in the summer of 2011 we were performing Free Dance [from François Malkovski] in Avignon, and we were wondering how we could move forward with a piece that is based on movement. It started there. We were so in love with a dance that didn't need anything else other than music and bodies to transmit so many things.
Cecilia Bengolea: Also, the music is very much at the same level as the dance. They're built at the same time. The kind of position that the DJs in our show—Elijah and Skilliam—have is very much coming up from the Jamaican and English music cultures. We were also looking to [explore] different street dances and to make a composition of another dance that would be a dance of our time. The music that they are playing comes from Jamaican dance hall, jungle and hip-hop. With Trajal and the series [Bengolea and Chaignaud were collaborators on Trajal Harrell's (M)imosa/Twenty Looks or Paris Is Burning at the Judson Church], we were already combining voguing and postmodern dance, but we started this show before. It was from our interest in meeting different cultures of bodies, dance and music. We started working almost without limits. One of the dancers in the project would know a lot about modern dance, so we would do Horton technique with her. Another person would know very much how to twerk. It was not random. We were interested in different things in each technique. It was wide research.

Can you elaborate on your research?
Chaignaud: We spent time in various cities. We spent five weeks in New York, but we also spent time in Toulouse and in French towns where not much was happening. Also in Marrakech and in London. So we were in cities that offered different approaches on dance and on the work, because in some places we were only working in the studio, very focused—composing the movement or teaching each other movement, like in Toulouse or in Belfort. But then in New York, because of the clubs, we would mix time in the studio, where we were improvising a lot, with nights of going to the clubs to see dancing and hear some music. In Marrakech, we were at a military camp—but for dance. We would dance 12 hours a day—hip-hop, house, krump. That was intensive and also very tiring for the physical conditions. [Laughs]

I don't understand—is it really a military camp for dance?
Bengolea: Yes. It's called Boot Dance Camp, and it's organized by Serial Stepperz, which is a group of dancers; they have origins in Africa, but they live in France or in Europe, and they compete in different categories—hip-hop house, break or house or freestyle or drum and then for the past three or four years they've organized this meeting with 100 dancers from all over the world. We would wake up at 5am and go running without having eaten and then do so many exercises. It's crazy! There are clips on YouTube. They are great dancers; they almost always win all the competitions in Japan and in Russia and in France. Then we would also do battles at the end and make little shows and watch videos of the history of hip-hop and the history of house. It's a great meeting of many dancers. It's going to happen again in August, but I don't know if we will be able to go. We have to do other things, but this whole culture is very creative and inspiring for us. We also wanted to share this onstage, like a creation of ourselves not being in one category, like B-boy or a specialist in dancing, but more like to compose a dialogue among these dances and to see how all the dances have their origins in Africa. This year, I was also spending some time in festivals in the Congo and in Ghana, where you see how the dancers communicate. They have many names for each step, and everybody knows them; it's a language for not even just dancers, but [for those] on the street, in the club. Everyone dances in Africa.
Right—it's just part of the culture.
Bengolea: The academic dance and institutional dance and conceptual dance, everything is more categorized, but then when you go to Africa or Jamaica, people are arranging steps all the time. You can see this every day, and this inspired us to also invent our kind of vocabulary for the show. Because most of the movement that we do in the show, we haven't copied from the class or whatever—it's not what we like to do in general. When you do a show, you don't do a move that you learn in a contemporary-dance lesson.
You might also like
---
Dance events calendar
Not only is there free ice-skating on Bryant Park'...

If there's one alfresco shopping event worth bravi...

You'll get a kick out of this holiday stalwart, wh...
193

more events »
@TimeOutNewYork
Subscribe to Time Out New York on Spotify for playlists and recommendations from our Music team.


Check out New York's best restaurants, hottest street style, cool apartments and more.