Q&A: David Hallberg talks about dancing with the Bolshoi Ballet
David Hallberg talks about Swan Lake, his life in Moscow and dancing with the Bolshoi Ballet
By Gia Kourlas Wed Jul 2 2014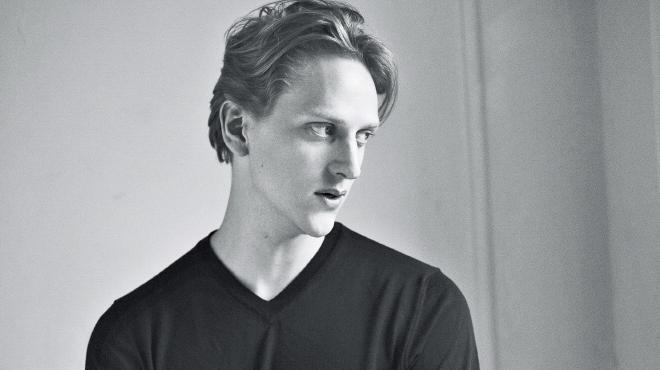 David Hallberg Photograph: David Armstrong
When the Bolshoi Ballet opens its New York season at the David H. Koch Theater as part of the Lincoln Center Festival, one draw is David Hallberg, the American Ballet Theatre principal who now splits his time between both companies. Here, the ballet star speaks about his new approach to his art: Although he's learned much and is more than eager to share his knowledge—just ask the newly appointed ABT soloist Joseph Gorak—he'll never be satisfied.
As the first American dancer to permanently join the Bolshoi Ballet, David Hallberg made history in 2011. (More than that, he made it onto The Colbert Report.) The ballet star, who splits his primary duties between American Ballet Theatre and the Bolshoi, will lead the Moscow company's performances of Yuri Grigorovich's Swan Lake. Hallberg speaks about his time away and how dancing with the Bolshoi has helped him get over his ballet angst.

What do you think of the Bolshoi's programming?
Conservative. But important. It's their history, and it's what they do almost better than anyone, and New York is a huge tour—for New York audiences, but also for Bolshoi. It's really important, and they're bringing out their biggest guns in terms of Spartacus and Swan and Don Q.

You're just dancing Swan Lake?
Yes. Originally, I wanted to do Spartacus as well—Crassus, not Spartacus. I finally saw the role, and I think there's so much to do with it, but there wasn't enough time to rehearse. I was quite disappointed, but I finally came to the realization that I didn't have enough time to prepare. It's the kind of role that you have to just dive in and study it for months, and you have to have a movement conversation with [Yuri] Grigorovich, and it's more of a process than just saying, "I want to do it in New York, let's throw it onstage."

Which is what would happen here?
Very different worlds, you know? So I'm happy to do Swan, especially with Svetlana [Zakharova] on opening night. It'll be a big event.

Do you like dancing with her? I'm a fan.
She was one of the first to really welcome me into the company. We were given a Sleeping Beauty to reopen the theater, with a telecast, and I was shocked at how welcoming she was. She's the prima there—to have her be so welcoming? She would even give me pep talks, because I was under so much pressure. She said, "Don't worry, everyone supports you, the company really likes you, we will support each other.…" It was so great. Over the years—well, it's only been two and a half—we've just gotten more secure with each other. And then you start to play and test things out like in any partnership.

What is your history with Swan Lake?
Swan Lake was the first ballet I did at ABT, and it was the first full-length where I actually had to carry the evening. It's huge to have to carry an evening, and when you're new at it, you really have to learn how. Swan Lake was the first where I had to open the show, create the arc. You know, the whole night.

It's not like Cinderella, where you come in for the second act.
And then peace out. I've done many versions of Swan everywhere. I most recently did Nureyev's at La Scala, and I have to say, I know people are so critical of Nureyev's ballets, but I loved it. I agree choreographically that things can be a little [Pauses and laughs] specific, for lack of a better word, but in terms of the male character, he really added meat to it.

It's all about the men.
And clearly it was all about Nureyev. I just really connected with his ballets. I've done Swan and Beauty. I did the Mariinsky's Swan Lake about four years ago and now Bolshoi's Swan Lake, which is [by] Grigorovich. I actually do like Grigorovich's characterization of Siegfried, because it's a little Nureyev-ish in that it's sort of a psychological mind game. I'm ready to say this in the press: Swan Lake has been the hardest ballet for me to connect with personally. I've always felt that there's so much weight in its history and such a precedent on how it should be and in supporting the ballerina, and there's the Mariinsky version, the Bolshoi version, it should be this way, it shouldn't be that way. Having done so many versions, I never felt like an artist in Swan Lake. It wasn't until I approached Grigorovich's and Nureyev's versions that I was like, Okay, there's something here for me, whereas before it was just like, One arm in front of the other, have this emotion here. We have talked so much about my conundrum, always. And Swan Lake has been the benchmark in terms of what I've questioned. Maybe it's age. But it's not until lately that I sort of felt like, Okay, there's something to do in this ballet for me.
You might also like
---
Dance events calendar
Brooklyn Bridge Park just added 18 brand-new sculp...

Examine the influences of plants and wildlife in K...

8pm. Delacorte Theater, Central Park at 81st St. A...
285

more events »
@TimeOutNewYork
Subscribe to Time Out New York on Spotify for playlists and recommendations from our Music team.


Check out New York's best restaurants, hottest street style, cool apartments and more.