Q&A: Melissa Toogood talks about her post-Merce Cunningham career
Melissa Toogood talks about her successful life as a freelance dancer
By Gia Kourlas Mon Jul 7 2014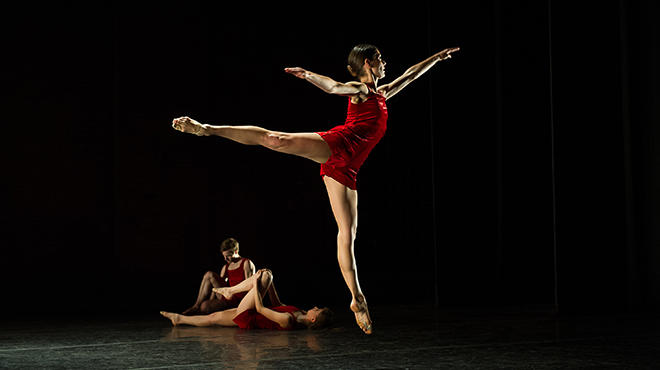 Melissa Toogood Photographer: Christopher Duggan
We last spoke with Melissa Toogood at a time of uncertainty—just before the Merce Cunningham Dance Company disbanded. Nearly three years later, Toogood is flourishing as a freelance dancer. As she prepares to perform with Pam Tanowitz Dance at Damrosch Park, Toogood talks about dancing with Tanowitz, Stephen Petronio, David Parker, Sally Silvers and Kimberly Bartosik.
"She's a chameleon in the good sense," says Pam Tanowitz, who started choreographing dances for Melissa Toogood before she became an esteemed member of the Merce Cunningham Dance Company. "What she brings is a sense of clarity and freedom, and I think that greatly enhances my work: It breathes life into it." Those qualities have afforded Toogood, who performs with Tanowitz at Lincoln Center Out of Doors, a flourishing post-Cunningham career. Since the company disbanded in 2011, she's worked with Stephen Petronio, Sally Silvers, David Parker and Kimberly Bartosik. Toogood speaks about her freelance life.

I want to focus on your career as a post-Cunningham dancer. Did you have a plan?
[Laughs] I tried to have a plan because we had two and a half years to get used to the idea of being unemployed. I wasn't one of the dancers that was ready to retire, and I wasn't in denial about the fact that it was going to end. I tried hard to get people to come see us perform—hoping that maybe I would end up in another company afterward—but that didn't work. Pam was one of the only people that had asked me to do something definitely, which was a duet with Dylan Crossman that we performed at the Joyce on a mixed program. That developed into the duet that is in The Spectators. I did want to try to get into another company, mainly because I wasn't confident that I would get as much work as I've been fortunate to have now. I'd never gotten a job from an audition before and even getting into the Cunningham company didn't happen quickly, so I was definitely worried. Now that things have continued the way they have, I actually think that freelancing suits me better artistically.

What companies were you considering joining?
I was really interested in the Lyon Opera Ballet, partially because it's a repertory company. There's more range in the work you get to do. I was really interested in Maguy Marin; they also have a number of Cunningham pieces in their rep, and I was still not done exploring Merce's work.

Did you audition?
No. They were open to me coming and taking class, and I was fortunate that I had a really good recommendation from Cédric [Andrieux, a former Cunningham dancer who went on to join the Lyon Opera Ballet], but they were clear that they needed me to put my pointe shoes on. I wasn't prepared to do that.

Well good—for me. Do you fail at auditions?
They've never worked for me. Fortunately that's not how Merce hired dancers. Sometimes you need to start rubbing off on people; I guess it takes a little bit more time for me to do that. I feel good about the fact that most of the time when I've worked with someone, they've asked me back—but just to see me once in a room doesn't necessarily do a lot.

How did you meet Pam?
Rashaun [Mitchell, former Cunningham dancer] actually recommended me to her when I was an understudy for Merce. He had already been working for her, and she asked him if there was anyone he thought may be suitable. I loved the work right away and the environment very much. So I did three full evening works with Pam, plus a few other smaller projects, and then I got into the Cunningham company, and she didn't want me anymore. [Laughs] She was like, "You really need to go and do that." That was hard for me, actually. I got the job that I wanted, but at the same time I didn't want to stop working with her. I'm really happy that she asked me back.

Has her method of making dances changed over the years?
Yes, but not drastically. She still very much works from structure. She'll map her work out from beginning to end almost, even though things definitely change; she's totally open to whatever happens in the studio. So she plans the work and then fleshes out the movement afterward. Now I think she's more emotionally open to what the work conveys. There were a few years in which we didn't work together, so I also evolved in that time, but before she used to tell me quite often that I was too much. [Laughs] She hasn't said that to me again.

Did she mean that you were showing too much emotion?
Yes. I don't think she was as open to me being as emotionally available onstage as I'm prepared to be. Even though I didn't feel like I was putting anything on—to me, it really did come from the movement and my relationship with the other dancers in the space, but she wasn't as comfortable having that represent her. It's different now. She had Dylan and me kiss in The Spectators! That was like, Wow—that's new for you. [Laughs] It wasn't a romantic situation, and it was very much supposed to be kind of awkward, which is still in line with her aesthetic, but I think we've both grown to a place where my instincts are more in line with where she's comfortable going.
You might also like
---
Dance events calendar
8pm. Delacorte Theater, Central Park at 81st St. A...

Brooklyn Bridge Park just added 18 brand-new sculp...

Examine the influences of plants and wildlife in K...
340

more events »
@TimeOutNewYork
Subscribe to Time Out New York on Spotify for playlists and recommendations from our Music team.


Check out New York's best restaurants, hottest street style, cool apartments and more.