Ruff and tumble
Sally Silvers celebrates 25 years of "Puppy-Skills" at P.S. 122
By Gia Kourlas Thu Nov 17 2005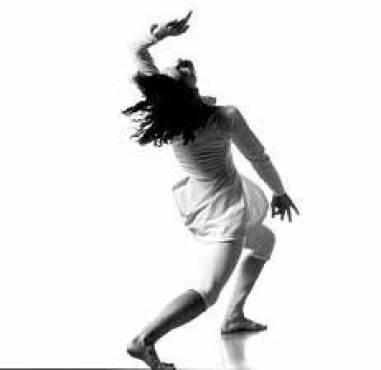 LOOKING BACK Sally Silvers honors her long career.Photo: Louis Greenfield
Anniversary seasons don't always result in rewarding programs, but in her quietly offbeat, elegant way, Sally Silvers has created something that adds up to more than time served. In honor of her 25th year in dance, Silvers demonstrates how far she's come since her first show, which took place at a now-defunct Mercer Street theater. "I think it was called something really pretentious like Politics of the Body: Microscope of Conduct," Silvers recalls after a recent rehearsal. "It was a 45-minute solo, and the title was really where I thought my work was coming from—it wasn't about dance movement, it was about social-structure patterns, both of the body and a way of thinking. I was really dogmatic about that from the beginning; over time, I started to trust my instincts and to stop worrying about what I was rejecting. I just did what I did."
Silvers, who has created more than 60 dances since 1980, unveils "Puppy-Skills," her new program at P.S. 122, where she's performed frequently during her career. It features a diverse range of dancers, from luminaries such as Vicky Shick and Pooh Kaye to recent graduates from Sarah Lawrence College, where Silvers created 2005's RUPT, a New York premiere. The repertory is just as distinct, including Oven Rack, a new version of a solo for Silvers set to the Appalachian music of Iris DeMent; Wearable, an improvisation featuring Kaye and Cydney Wilkes; and FLAP, a 1989 solo performed by Carolyn Hall. Finally, Puppy-Skills, a sextet, showcases an incredible cast, including Shick, Paige Martin and Julie Atlas Muz performing restructured solo material that Silvers created over the past 25 years. "I've never had a traditional company," the choreographer explains. "I've worked with certain dancers for 13 years and with others, it's the first time, and that's what I find inspiring. I'm really not that interested in 'dance technique.' It's not that I don't have that—clearly, dancers are out there doing leaps—but there's always something a little bit off. If they're leaping, their arms are behind their back, or if they're turning, they have some other kind of gesture going on to make it slightly twisted. I like to torque technique as opposed to display it."
Silvers hails from Greenville, Tennessee,where early on she studied dance at a traditional ballet-tap-jazz school. "Dance wasn't anything I thought I was going to end up doing, for sure," she says. "Then, at Antioch College, I took it up again as exercise. Cecil Taylor, the jazz pianist, became a guest artist and brought a choreographer with him. Suddenly, it was serious for me. I found my moment onstage."
She moved to New York in 1980, but her ambition to become a dancer in a traditional company was thwarted. "I was very influenced by black dance," she says, adding with a laugh, "I didn't realize I wasn't going to be a black dancer." She discovered Judson-era choreographers such as David Gordon, Douglas Dunn and Simone Forti, and also began meeting poets and musicians. "All of that had a big influence on my aesthetics and in programming myself to be outside the ingrown dance community—I was trying to have other influences, purposely," she explains. "I was still auditioning for a while, thinking I was a dancer, but I never got anything. I didn't get close. I have something particular, and it doesn't necessarily fit. I'm not going to be popular. My work is different, and it's not always the kind of different that the dance world is attracted to."
However raggedly quirky her movement style may appear to be, Silvers's work is full of craft; in Puppy-Skills, which is set to music by Bruce Andrews with Michael Schumacher (it is based on the scores created for the original solos), Silvers's densely structured choreography provides a subtle frame for oddly graceful duets and group sections. Solos erupt throughout like unexpected surprises. "They all have a chance to speak," Silvers says. "I want the individual popping out of the group. My work is abstract, but really it's very much about the human body moving. It's more about bringing beautiful dancers with good technique down to earth. Bringing the angels down to the ground."
Sally Silvers is at P.S. 122 Thursday 17 through Sunday 20.