To catch a thief
In Stolen, Yvonne Meier takes us on a new adventure.
By Gia Kourlas Thu Feb 5 2009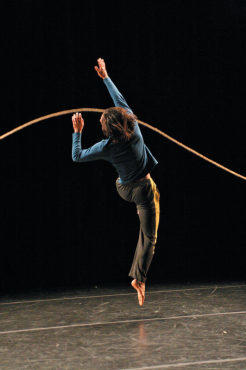 Yvonne Meier Photograph: Alex Escalante
Lately, there's been a rash of younger choreographers curious about the experimental work that filled downtown in the '80s and early '90s. Beginning Thursday 5, Yvonne Meier, one of the most celebrated artists of that period, returns to Danspace Project at St. Mark's Church with Stolen, a trio for herself, Arturo Vidich and Aki Sasamoto. She constructs an environment of playful aggression that defies convention and comparison. There's no one quite like Meier, who was born in Zurich, Switzerland, and has lived in New York since 1979; after a seven-year hiatus, she returned to her love—dance and performance—in 2006. Mercifully for us, her creative juices haven't stopped flowing—her motto is "Don't rely on the old shit." She spoke about her newest work over drinks in Chelsea.
Time Out New York: What are the ideas behind Stolen?
Yvonne Meier: I started with props. But the other idea I had was that I was going to steal everything I liked from work that I've seen in the past few years. I would find myself meditating on an idea until it was like, This has been done! I got this from someone else. So we've changed them around, but I've stolen bits from people.
Over the course of how many years?
Actually, one idea is from 16 years ago by Min Tanaka, the Japanese dancer. We are laying out an electrical cord and someone has to walk along it on hands and feet—like finding the path with closed eyes. I have one inspiration from Mimi Goese, a performance artist who hasn't been in town for maybe ten years. I've basically been sending out e-mails going, "I'm going to steal your idea. I hope you're okay with that." But I was mostly inspired by props: We're constructing them, destroying them, using furniture, aluminum foil, giant bamboo sticks and ropes. I have visual ideas that we transform into movement.
What are you after in Stolen?
Adventure in movement.
How do you approach structure in your work?
It's very hard to describe. A lot of the time I just go with my gut feeling; I throw it together and then I look at it from the outside and make adjustments. I'm not that heavy into structure. I'm more into the idea that one event chases another. I'm really into being entertaining. So things like repetition don't occur that much even though that would probably be nice to look at. It's more like a happening.
I like that you use the word entertain. It's not cheap entertainment, though.
[Sighs] We try, we try. The result is that the pieces are too short. Everything goes rapidly down the hole. I struggle to make pieces longer.
Where do you find props? Do you actively search for them?
Not really. It just happens. I basically go to hardware stores. The one I really like is on 7th Street and First Avenue. They have everything. They have lots of fabric; they also have the giant bamboo sticks that I was after. They have rocks. [Dreamily] Buckets...
Buckets are your friends.
My best friends. I always try the shoe size. I say, "Excuse me, can I step into your bucket and see if it fits?" [Laughs] We ask, "Can we step into your garbage can for a second?"
Is there something about your dances that most people don't realize?
I think one interesting point is that I basically make a piece and then I take a step back and look at it to discover what it is. So it seems to come almost from a subconscious place. I don't intellectualize what I'm doing.
Are you aware of how younger artists are obsessed with your generation's body of work?
Yes! At first, I was like, "What was so interesting?" And now I can see. It would never occur to me because I was in the midst of it. It was a very experimental time. I think a lot of it had to do with the club scene—that's where the action was. There was performance and dance, and there was a rough edge around everything. People were working with each other and were in each other's work—we were mostly looking to ourselves for the experience. We weren't really looking outside. The most important thing was that you do your own work, and that it was original. We weren't trying to be in anybody's "company."
So you would all dance for and with each other?
Yes. We were just moving with each other. Everyone knew everyone, and Dance Theater Workshop was as far uptown as you could get. I went to P.S. 122 every day for years. I went to Open Movement for at least ten years every single Tuesday. That's where a lot of the working together happened.
What changed it?
Part of it was definitely that the clubs closed. That was a heavy blow. I took a long break. I had a huge accident on my left knee that left me unable to do crazy things anymore. I thought, Maybe it's time to do something else. But nothing lived up to dance. I decided to go on dancing in a different way. I didn't need to be totally insane. So I got pulled back in.
What is a word that you hate being used to describe your work?
Childlike.
What about one you love?
Ugly.
Yvonne Meier presents Stolen at Danspace Project Thu 5--Sat 7. For Meier's recollection of her seminal 1986 work, The Shining, see slideshow.
Related article
Flash from the past >>
Yvonne Meier talks about her Bessie-award winning piece The Shining.