Bitchin' confidential
Plenty of female chefs run New York City's kitchens. So why are men getting all the fame?
By Rebecca Flint Marx Mon Jan 12 2009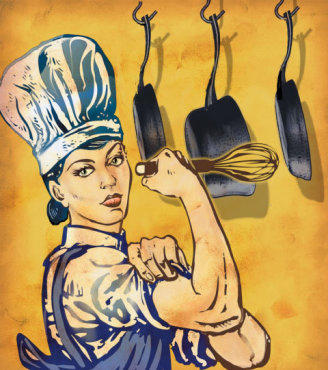 Illustration: Jesse Philips
It was business as usual in foodie circles the day after Gourmet magazine's party honoring Shang chef Susur Lee. Eater posted a recap of the festivities: Among the chefs spotted were David Chang, Rocco DiSpirito, Daniel Boulud, Bobby Flay and Tom Colicchio. Curiously, the post failed to mention the numerous notable female chefs in attendance, among them April Bloomfield, Amanda Freitag, Rebecca Charles and Anita Lo. The one woman who did merit a shout-out? Actor Stephanie March, Bobby Flay's "stunning" wife.
Mad Men--style ass-pinching may have gone the way of aspic, but women, for all of their gains in the notoriously tough restaurant industry, are dealing with a more subtle form of sexism: visibility, or lack thereof. While it's no longer a rarity to see women in the professional kitchen, it is surprisingly uncommon to find them in top positions. That translates to a lack of recognition. A sizable portion of the public knows Mario Batali solely by his orange Crocs and Tom Colicchio by his Mr. Clean pate; they'd have a hard time telling the difference between Sara Jenkins and Sara Lee. As Emilie Bousquet, the lady chef de cuisine at BLT Fish, says, "The public loves the new hot chef. But it's never a woman, it's always a man."
"Women are hiding in plain sight," says Andrew Dornenburg, who, with his wife, Karen Page, is the author of the recently published The Flavor Bible. In his kitchen career, he's worked alongside formidable woman chefs, such as Lydia Shire of Biba in Boston. He mentions that there are plenty of talented female pastry chefs—but dessert is an afterthought to the typical diner, unless, of course, it's spiked with the swaggering sex appeal of Sam Mason. And though women have traditionally flourished in the pastry kitchen, which grants them relative autonomy from the male-dominated line—not to mention hours better suited to raising a family—they still have a way to go on the savory side. According to the organization Women Chefs & Restaurateurs, women hold only 10 percent of executive-level chef positions in the U.S.
"Inevitably you hit a glass ceiling," says Rohini Dey, the owner of the newly opened At Vermillion. "In many industries, the proportion of [women] who get to the higher-level positions is very small, and that's very true of this industry as well." Dey's restaurant is an exception: Both her executive chef, Maneet Chauhan, and chef de cuisine, Ipshita Pall, are women, though Dey says this was by coincidence rather than design. Similarly, Amanda Cohen, who just opened her first restaurant, Dirt Candy, says that the fact that her three cooks are females is also a fluke. That said, she does like to hire members of her gender, given her own experience of feeling like she "was always passed over and not let into the club" at other restaurants where she worked.
But just getting to the top of the kitchen hierarchy isn't enough to guarantee attention. "A lot of women don't get a lot of publicity," says Donatella Arpaia, who has just opened her fourth restaurant, Kefi. Part of the problem, she says, is that there are so few female executive chefs in big restaurant groups (one of them is April Bloomfield, who has the Batali press juggernaut behind her). "We're more in mom-and-pop places, and that's why we're not getting as much media." And frankly, Arpaia continues, ladies don't tend to be as aggressive as men in seeking publicity. "There's a tendency for women to not make it about us," she says.
"I think the media is going to cover what's new and different," says Sara Moulton, the cookbook author and cofounder of the New York Women's Culinary Alliance. "It all depends on what you think is important. In New York, it's what's new and next," which, right now, means the whiz-kid antics of chefs like David Chang and Paul Liebrandt.
One place where women are finally becoming more visible to diners is in high-powered front-of-the-house positions. When Maite Montenegro was hired last year as the matre d' at Daniel, it caused a stir—female matre d's are about as common at French restaurants as marinara sauce. Montenegro says that while a few (male) guests are still shocked, her gender is ultimately no big deal. "After a while, [guests] just want to be taken care of," she says.
Similarly, Heather Branch, the sommelier at eighty one, says that female sommeliers and wine-program directors, such as Belinda Chang at the Modern and Juliette Pope at Gramercy Tavern, are far more commonplace than they were even a few years ago. "I feel very accepted," Branch says. "It's more of a rarity to have someone be surprised when I come to the table and talk to them about wine, as opposed to Las Vegas [where she worked previously], where 60 percent of my customers would think I was bringing their coats."
While women do still have a long way to go before they can claim the visibility of their male counterparts, name recognition is hardly their most pressing concern. "I'm only interested in making my clients happy," says Paola Marracino, who has owned her Upper East Side restaurant, Paola's, since 1983. "I got my two stars [from the Times] ten years ago, and that was my affirmation that I was doing the right thing. The press may not be interested, but I just want to hear people say, 'I'm coming back with my friends.' I can't do that if I'm out going after press all the time."
Share your thoughts