Curry
By Time Out editors Thu Mar 26 2009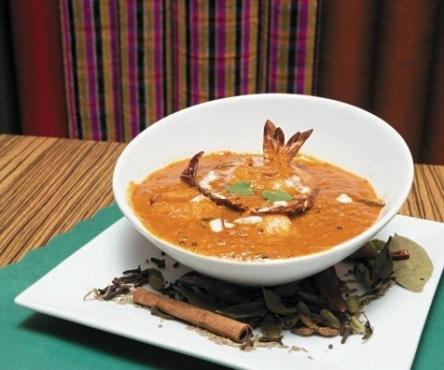 It's a leaf, a powder, a soupy stew and a sauce. Curry means many things to many people, but unfortunately, for most New Yorkers it has become the symbol of watered-down Asian food. Sure, in-the-know eaters can always make the outer-borough schlep for real-deal Thai green and Indian kofta varieties, but a few Manhattan chefs are heating up their menus with curries that offer all the culinary adventure without the commute.
Dhaba
Photograph: Roxana Marroquin
Curry started getting oversimplified when it was "generalized by the British in Colonial India to mean anything with 'spicy gravy,'" reads the menu at Dhaba (108 Lexington Ave between 27th and 28th Sts, 212-679-1284). Choose one of their "British curries," such as balchao curry with shrimp ($16.95), imported from Goa via London.
Rhong-Tiam
Photograph: Roxana Marroquin
Rhong-Tiam (541 La Guardia Pl between Bleecker and W 3rd Sts, 212-477-0600) chef Andy Yang serves Thai curries the right way-—with house-made curry paste and fresh coconut milk. His subtly sweet panang curry ($10) is packed with bell peppers, onions and green Thai eggplants.
Shang
Photograph: Roxana Marroquin
Chef Susur Lee presents a modern coconut curry ($13) at Pan-Asian Shang (Thompson LES Hotel, 187 Orchard St between E Houston and Stanton Sts, 212-260-7900). Brown lentils braised in coconut milk and Lee's own galangal-, curry-leaf- and lemongrass paste pool around tender cauliflower and potato orbs.
Momofuku Bakery & Milk Bar
Photograph: Virginia Rollison
Curry finds its way to dessert at Momofuku Bakery & Milk Bar (207 Second Ave at 13th St, entrance on 13th St; 212-254-3500), where pastry chef Christina Tosi folds green curry paste into her banana-bread batter. Smear a loaf with some black-pepper butter to amp up the heat.—Kara Zuaro
See more Multiple choice
See more Restaurants & Bars