Double take
Thrilled to have finally "discovered" La Esquina and the Burger Joint? Yawn. We channeled our inner Sherlock Holmes to find these hidden venues.
By Joshua M. Bernstein Wed Mar 5 2008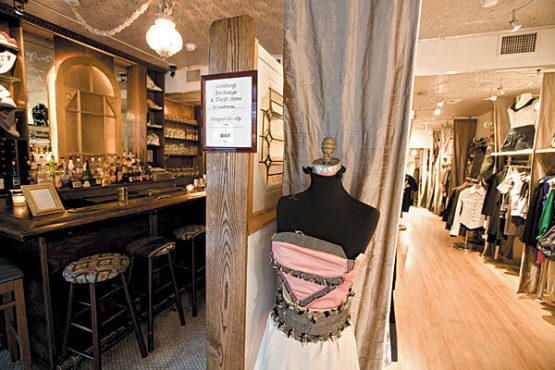 The Dressing Room Photograph: Jeff Gurwin
What it looks like:
A jewelry store

What it is:
Though low-cost earrings and necklaces fill the vitrines, the real gems are found at the rear counter that's home to Vietnamese sandwich purveyor Saigon Bánh Mì (138 Mott St between Grand and Hester Sts, 212-941-1541). The slim menu focuses on crusty baguettes packed with pickled carrots, daikon radish, cilantro and a choice of meats, including crisp roasted pork.
What it looks like:
A clothing boutique

What it is:
Slaves to fashion can explore racks stocked with designer wares at the Lower East Side's The Dressing Room (75A Orchard St between Broome and Grand Sts, 212-966-7330); boyfriends and bored accomplices can find refuge at a fully stocked bar offering $1-off drinks until 8:30pm. If the tab becomes stratospheric, visit the downstairs clothing exchange to trade in vintage threads for bar credit.
What it looks like:
A budget hotel

What it is:
For once, fanny-packed tourists are in the know: Follow them into the La Quinta Inn and head to the 14th floor, which opens onto the rooftop hideaway Mé Bar (17 W 32nd St between Fifth Ave and Broadway, 212-290-2460). The beers are affordable ($5 Buds), the view of the Empire State Building is killer, and best of all, a menu binder features Koreatown restaurants that deliver to the sky-high refuge.
What it looks like:
A bodega

What it is:
At first blush, Luz de Luna (687 Fifth Ave between 20th and 21st Sts, Sunset Park, Brooklyn; 718-369-5000) is just a convenience store selling soda and TP. But follow your nose to the rear of the shop, and you'll encounter a couple of tables and a minuscule kitchen that turns out overstuffed chorizo tortas, chocolaty mole poblano and salsa verde enchiladas. Hankering for dessert? Buy a candy bar.
Share your thoughts