Go for toque
Chefs are the new rock stars-and they've got the groupies to prove it.
By Rebecca Flint Marx, Illustration by Jesse Philips Wed May 7 2008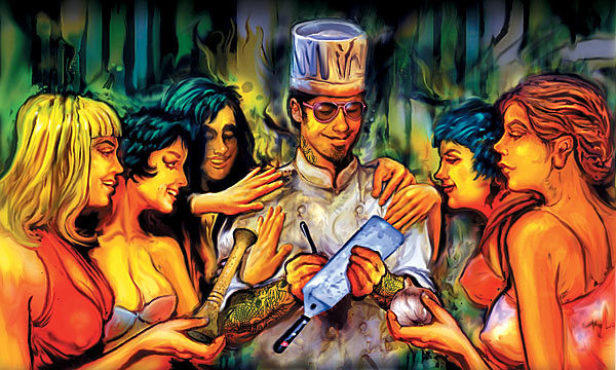 "There are serious perks to dating a chef," says "Jane," a 25-year-old food-media professional who has asked to remain anonymous. Although she is loath to call herself a chef groupie, she has dated chefs exclusively for the last two and a half years. "There's sex appeal that working with one's hands brings," she adds. "There also seems to be a common thread of cute hair and good tattoos. And the boys look very hot in whites. The chef coat is a flattering piece of clothing."
Jane is one of many. Blame the Food Network, Top Chef, People magazine (which dubbed Tom Colicchio one of 2007's Sexiest Men Alive), and Esquire's March 2008 issue, which featured a Playgirl-worthy spread of pretty-boy chefs—like Degustation's Wesley Genovart and Anthos's Michael Psilakis—dolled up in four-figure suits. Eighteen-hour days, backbreaking labor, and testosterone overload: The hallmarks of one of history's least glamorous professions have become aphrodisiacs.
"Chefs have a sex appeal that's usually attached to rock stars," says Kate Krader, restaurant editor at Food & Wine. "They can be disgusting and sweaty and still walk into a bar and have girls swarm them." And where there are rock stars, there are groupies. Krader recalls a scene involving two marquee chefs at a popular West Village restaurant: "It was 2am and two of the most unattractive chefs in New York were all over this girl who looked like a groupie. She was so excited; she was practically sitting on their laps."
Whereas ten years ago famous chefs tended to be older—Pierre Franey, André Soltner—there is now a growing number of young, photogenic executive chefs with their own restaurants—think Sam Mason or David Chang. Though sometimes, just being good-looking is enough to attract attention: See Del Posto's Mark Ladner. His recent profile in The New York Observer inspired a lovelorn Craigslist posting that began, "I've had a completely rational crush on you for over a year."
Accolades from the press seem to only raise the desirability quotient. "The guys from Daniel, Le Bernardin and Jean Georges go to Subway bar and Landmarc after service, and women will be there, waiting for them," reports one 31-year-old chef, who prefers to remain anonymous. Wd-50 has also "been getting it," he says, since receiving its third star from The New York Times. ("That's news to me," chef Wylie Dufresne told us, "but the chef is usually the last to know.") The anonymous chef, whose own well-known boss "gets a lot of groupies," insists the spotlight can be too much. "Girls will come into the kitchen with their cameras," he says. "We don't think we deserve that."
For chefs who attain celebrity before having served their fans a single meal, the kitchen can be the equivalent of a stage door. "We've had some crazies, yes," says Harold Dieterle, the Top Chef season-two winner who opened Perilla last May. "Some gals have come looking for me in the kitchen, which I don't really advise. It's not going to put me in a good mood."
Understanding the motivation of nonplatonic groupies can be a struggle for those who work in the industry. "I don't really get it," says Abbe Diaz, whose 20-plus years of restaurant work informed her book PX This, a gossipy take on the business. "But hey, why not? If some people can like actors or musicians, I guess chefs are fair game too."
Krader theorizes that part of the drive comes from plain old status consciousness: Restaurants these days are tantamount to exclusive clubs (anyone been to Ko?). "People collect restaurants," she says. Snagging a hot chef is "like having a great bag." So maybe David Chang is just a big Birkin. Says Diaz, "[A friend] had a big crush on him. I think the only thing that prevented her from stalking him is that she's not sure what his schedule is." Chang scoffs: "I don't really have any groupies. It's kind of absurd."
That fine line between admiration and stalking is one that Josh Russ Tupper knows well. Tupper isn't a chef, but as the very visible co-owner of the Lower East Side appetizing shop Russ & Daughters, he's been chatted up by characters ranging from a woman with a Crossing Delancey fetish to "everyone and their Jewish grandmother." Then there was the one who told him straight out that she was stalking him: "What was I supposed to say to that?" While Tupper, who is 33, admits that he's "flirtatious by nature," he theorizes that a big part of the draw is his line of work. "I'm onstage here," he says. "And everyone loves food."
Would-be chef groupies should take note: Don't bum-rush the stage. "Honestly?" says Centro Vinoteca toque and Iron Chef star Anne Burrell. "I'm usually so focused on what I'm doing that I can't imagine someone coming up while I'm expediting and asking if I want to go on a date. I'd probably just laugh."