How to be a butcher
Jason Fox, butcher, Fleisher's Grass-fed and Organic Meats.
By Mari Uyehara Mon Aug 1 2011
---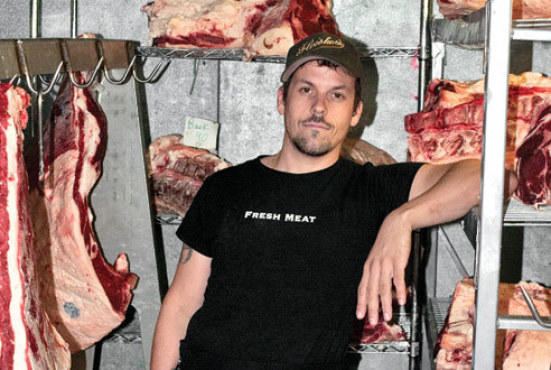 Jason Fox of Fleisher's Meats Photograph: Lindsay Pugnali
Former profession: Photographer, food stylist

Making the switch: The 2008 recession put Fox, then a photographer for Christie's auction house, out of a job. To expand his portfolio, he started doing food photography, but soon found himself envious of the stylists "playing with food." He moved to their side of the field by networking through his contacts in the art world and assisting seasoned pros. As he delved deeper into cooking, Fox decided he wanted to open a sustainable restaurant, and signed up for a month-long butcher-training program at Fleisher's Grass-fed and Organic Meats in Kingston, New York. Investment for the restaurant fell through, but Fox hit it off with Fleisher's co-owner Joshua Applestone, who eventually asked him to head up the meat-carving crew at the soon-to-open Park Slope branch of the Hudson Valley shop. For now, Fox is sharpening his butchering skills upstate until the Brooklyn storefront debuts in September.

Word to the wise: "Educate yourself on corporate meat-packing plants and low-scale production to understand the conflict [between] the two. Then go to your local butcher shop, look at their cases, talk to the butcher, and ask questions."

Get your feet wet: Visit a farm, observe a slaughter, and participate in a butchery session at Fleisher's recurring "Pig to Pork" full-day master class. 307 Wall St between John and North Front Sts, Kingston, NY (845-338-6666; fleishers.com). Oct 9 9am--6pm; $300.