How to be a cheesemonger
Liz Thorpe, VP, [node:124762 link=Murray's Cheese;].
By Mari Uyehara Mon Aug 1 2011
---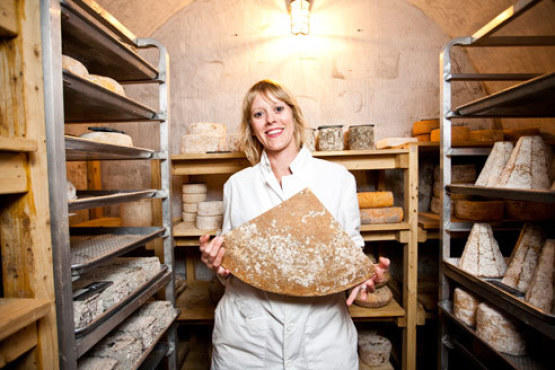 Liz Thorpe of Murray's Cheese Photograph: Beth Levendis
Former profession: Ad-sales marketing

Making the switch: Thorpe, a Yale grad, discovered her love of cheese when she lost her first job at a dot-com and started cooking to fill her days. She soon found another gig in sales at an Internet start-up, but the curd curiosity stuck with her. After reading the Cheese Primer written by Fairway's head cheesemonger, Steven Jenkins, she cold-called him and he agreed to an informational interview. His advice: Start at the counter and master retail. Thorpe wasn't ready to give up her corporate salary yet, but a year and a half later she made the leap and joined Rob Kaufelt at Murray's Cheese in 2002. She started out working part-time in retail before becoming Kaufelt's assistant, all the while reading, tasting and writing about cheese on her own time. Her big break came when the wholesale manager quit and she lobbied for the position. Today, Thorpe is third in command at Murray's, which has grown from a small West Village shop to a national brand, thanks in part to her nine-year stewardship.

Word to the wise: "Be prepared to start at the bottom and work your way up. Grasp every opportunity that comes your way. I don't know anybody who didn't do it that way."
Get your feet wet: Get started in the whey game the same way some of Murray's cheesemongers—like associate director of wholesale Elizabeth Chubbuck—did. Take the shop's introductory Cheese 101 course, which instructs on different varieties, how they're made and pairing basics. 254 Bleecker St between Sixth and Seventh Aves (212-243-3289; murrayscheese.com). Aug 8, 6:30--8pm; $50.