How to be a chef
Brooks Headley, pastry chef, Del Posto.
By Mari Uyehara Mon Aug 1 2011
---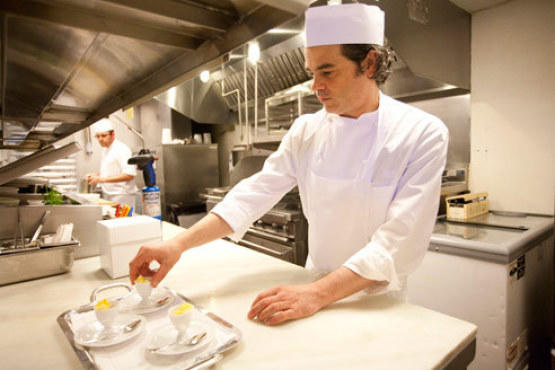 Brooks Headley of Del Posto Photograph: Jolie Ruben
Former profession: Punk-rock drummer

Making the switch: Headley initially swapped music for food at the prodding of a girlfriend. He had been working odd jobs (thrift stores, photocopy shops) to support his rocker lifestyle in bands like Born Against and Wrangler Brutes. Sick of hearing him complain about being bored at work, she handed him a want ad for a pastry kitchen assistant at Galileo da Roberto Donna in Washington, D.C. As soon as he stepped into the kitchen, Headley felt an instant connection to the breakneck pace and pressure of fine-dining cooking, and he threw himself into studying the craft. If he worked dinner service, he would bake bread before his shift for the head pastry chef to critique; following day shifts, he went to the bookstore to read every cookbook he could find. After honing his skills at top restaurants on both coasts, Headley landed the top dessert gig at Del Posto, but he still jams on the drums occasionally. Just last month, he played a show with Universal Order of Armageddon at Austin's Chaos in Tejas festival—he went straight from the airport back to work, so his cymbals and snare drum are still stashed in Del Posto's basement.

Word to the wise: "Pick a place where you jive with the style of food, then work at as many of those [types of] places as you can.... Don't have blinders on. Master [your] station, but know what everyone else is doing too."

Get your feet wet: The Institute of Culinary Education (ICE) offers an array of baking courses, but the five-session Techniques of Pastry 1 and 2 combined will give you a strong foundation for whipping up sweet treats (Aug 8--12; $550). Those who want to pursue the savory side of kitchen work might want to check out ICE's five-session fine-cooking course, which covers fundamental knife skills, cooking techniques and ingredients (date varies; $595). 50 W 23rd St between Fifth and Sixth Aves (212-847-0700; iceculinary.com).