How to be a restaurateur
Luke Holden, president, [node:125289 link=Luke's Lobster;].
By Mari Uyehara Mon Aug 1 2011
---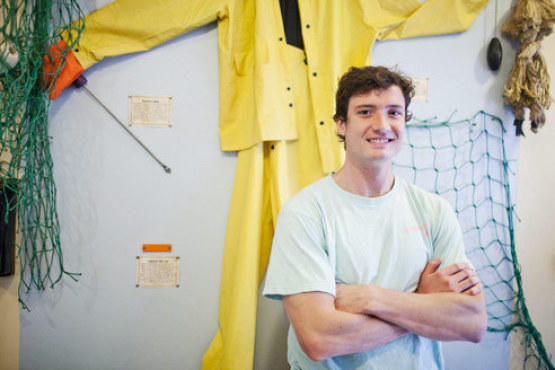 Luke Holden of Luke's Lobster Photograph: Lizz Kuehl
Former profession: Real-estate investment banker

Making the switch: Slinging lobster rolls may seem like a natural vocation for Maine native Luke Holden—he grew up catching lobsters, and his father runs a fishing business. But Holden didn't consider the career path until the 2008 financial crisis hit. The Georgetown finance major was working as a real-estate investment banker at the time, but the industry's instability forced him to mull over his options. A lobster-roll shack, featuring crustaceans provided by his father's company, seemed like a smart move—but Holden had no restaurant background. To bone up on the biz, he reached out to restaurateurs via his Georgetown network, researched the competition and then put together a business plan. Still working 70 to 100 hours each week in finance, he hired Ben Conniff to run day-to-day operations. The pair opened the first Luke's Lobster in the East Village in 2009, but it wasn't until Holden locked down a second space, this time on the UES, that he finally switched to running his burgeoning empire full-time. There are now four Luke's locations in NYC and one in Washington, D.C., plus a roving food truck.

Word to the wise: "Put together a detailed business plan and then share that with people in the industry, friends and family. If you are trying to get any kind of funding, it better be a fully baked idea."

Get your feet wet: You don't need an M.B.A. to start your own restaurant. The Natural Gourmet Institute for Food and Health offers a "How to Write a Great Business Plan for a Food Business" class, in which you'll learn how to assess the market, write a corporate statement and raise capital. 48 W 21st St between Fifth and Sixth Aves, second floor (212-645-5170, ext 4; naturalgourmetinstitute.com). Sept 20 6--10pm; $70.