James; The General Greene
Two new restaurants try to up the culinary ante in Kings County.
By Jay Cheshes Tue Aug 12 2008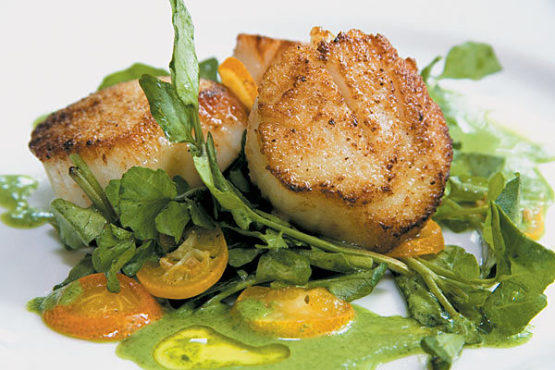 Diver scallops with watercress puree at James Photograph: Talia Simhi
Time Out Ratings :
<strong>Rating: </strong>0/5
James, 605 Carlton Ave at St. Marks Ave, Prospect Heights, Brooklyn (718-942-4255). Subway: B, Q to Seventh Ave; 2, 3 to Bergen St. Tue–Sun 5:30–11pm. Average main course: $22. Note: James is closed for vacation Sun 24–Sept 1.
The General Greene, 229 DeKalb Ave at Clermont Ave, Fort Greene, Brooklyn (718-222-1510). Subway: B, M, Q, R to DeKalb Ave; G to Clinton–Washington Aves. Tue–Sat 5–11pm; Sun 5–10pm. Average small plate: $9.
Recently, Brooklyn brownstones began buzzing about James and the General Greene, emerging hot spots angling to join the likes of Franny's and Dressler in the borough's new destination restaurant pantheon. Both feature pedigreed chefs, bespoke cocktail lists, and the sort of vibrant, homey, Greenmarket cuisine that has become a hallmark of the upwardly mobile restaurant scene.
James, located on a residential block in Prospect Heights, is the more successful of the two. Chef Bryan Calvert, who runs the place with his wife, Deborah Williamson, cooked at Bouley and Union Pacific, and the restaurant takes itself seriously enough to post photos of a certain food critic over its cash register. Still, it remains in its soul a neighborhood spot, with moderate prices, a no-reservation policy and just 30 seats.
Its prime corner digs, bathed in radiant natural light, attracts a mature stroller crowd. A portrait of the venue's namesake—Calvert's great-great-grandfather, a 19th-century Bronx restaurateur—hangs over the door to the kitchen. Other of-the-moment design touches—a modern chandelier, bare filament bulbs, one distressed concrete wall—speak to the restaurant's seriousness of purpose. As do its very fine cocktails, including the signature James' Revenge, a balanced libation combining muddled kumquats with Cointreau and rye.
Even with solid opening crowds, the owners haven't gotten complacent. In the two weeks that passed between my first and second visits, the place had evolved from being better than average to verging on great. A blasé waiter—neglectful that first visit, nowhere to be seen on the second—gave way to an amiable, doting waitress. And the food seemed brighter, more boisterous, more expertly cooked. Beautiful late-summer heirloom tomato slices, stacked in a rainbow pyramid, were bathed in rich goat-cheese dressing. Diver scallops, two gorgeous specimens with a golden sear, were perched atop roasted corn salad and a bracing watercress puree. A whole trout entrée featured fresh, crisp-skinned fillets, secured together by scallion twine, sandwiching a nutty herb-hazelnut stuffing. The grass-fed burger, de rigueur these days, consisted of a not-at-all-gamey patty, a grilled soft brioche bun, pickle slices, Greenmarket lettuces and slim skin-on fries. Among the new burger crop, it's as close as I've found to real perfection.
While James surpasses expectations, the General Greene—the more hotly anticipated of the two, with an enticing menu and celebrated consulting chef—fails to live up to the hype. On a busy corner in Fort Greene, the restaurant features uncomfortable picnic tables and repurposed tractor seat stools in front of a butcher-block bar. The frenetic gastrodiner is the debut solo project of pastry chef Nicholas Morgenstern, a veteran of Daniel and Gilt. To help on the savory end he recruited Ryan Skeen (Resto). Their shareable small plates are heavy on carnivore catnip—featuring pork ribs, grilled steak, mini meatballs and candied bacon, among other dishes.
Even for glorified tapas, however, the General Greene's portions are small, which explains how our party of four managed to plow through 13 savory dishes one night and still have plenty of room for dessert. Ham-and-Gruyère bread pudding—an irresistible cross between French toast and a croque-monsieur—was gone in three or four bites. The minuscule serving of candied bacon, meanwhile, was too fatty and chewy to be worth fighting over. And dense pork meatballs in tomato gravy, while appealing enough, were not nearly as memorable as the veal-and-Gruyère-packed versions Skeen offered at Resto. Nor, for that matter, did his new burger—a compact cheddar-topped handful on a standard-issue supermarket bun—live up to the fine reputation of the one served at his last post. Other dishes were even more of a yawn. "Crispy" chicken turned out to be a bland roasted thigh and leg on the bone.
At James, the last course—too-mushy ricotta beignets, a seen-it-before warm chocolate cake—was by far the most disappointing. Given Morgenstern's background, you'd expect the General Greene to come through with a more impressive finale. While his rich chocolate-hazelnut pudding (think Nutella in pudding form) and generous buttery peach crisp did in fact deliver on their promise, not much else did. Which brings us to the perfect meal, if it weren't so inconvenient: dinner at the one place and dessert at the other.