Locavore services
Sign-up season for community-supported agriculture programs is almost over, but these farm delivery outfits can help you keep the bounty coming through the fall.
By Mari Uyehara Mon Jun 13 2011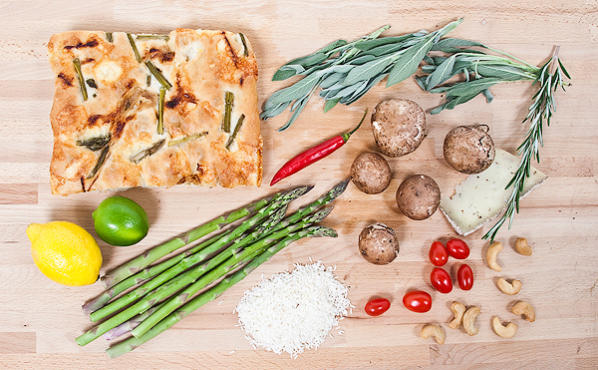 Holton Farms
Part of the fun of a CSA is the surprise factor: Front a farm some cash for start-up costs like seeds and equipment at the beginning of the season, and you'll be rewarded with a box of produce each week containing whatever the fields are sprouting. Don't like off-the-cuff cooking? Cousins Seth Holton and Jurrien Swarts cater to less flexible locavores via their Vermont outfit, Holton Farms. The pair have injected the traditional CSA model with FreshDirect-like convenience. Choose from one of three plans (Flex $250; Individual $500; Family $1,000), and use the credit to select what you want for your weekly delivery on the Holton's click-and-order website (minimum order $25). Unlike a classic CSA, the system allows members to skip a week if they leave town. Plus, you can peruse a wider selection of small-production groceries—including Jasper Hill cheese, Safi organic coffee and Argyle Cheese Farmer yogurt—thanks to partnerships with sustainable producers within 250 miles of the city. Spaces are still open for the May 17--Oct 31 season. For more information, visit holtonfarms.com.
Local Roots NYC
Holton Farms isn't the only outfit breaking the rigid CSA mold. Local Roots, which launched in April, lets members mix and match three-month shares from eight New York State purveyors. You can still opt for a traditional veggie share, but you can also forgo produce altogether, or supplement it with other regional ingredients, including Hudson Valley Duck Farm poultry (three pounds for $146 or five pounds for $246, every two weeks), Columbia County's Feather Ridge Farm eggs (one dozen for $54 every week), and Ithaca's Cayuga Pure Organics beans and grains (one pound of grains, one pound of beans and two pounds of flour for $25, every month). Members craving community can check out the group's public events, like a bimonthly supper club and a recent four-course cassoulet dinner with author Cathy Erway (The Art of Eating In) and cook-off champ Noah Berland at 61 Local. The season started on June 6, but pro-rated plans are available until the first week of July. For more information, visit localrootsnyc.org.
8 O'Clock Ranch
Meat-loving locavores can get in on the farm-share game by signing up for a ranch CSA. Perennial favorites Flying Pigs Farm and the Piggery are sold out for the season, but 8 O'Clock Ranch of De Kalb Junction, New York, is still offering one-month trial shares (its full three-month summer shares are spoken for). Get primo cuts of Heritage-breed Hereford beef and Duroc and Berkshire pork—such as osso buco, bone-in chops and sweet Italian sausage—raised in pastures and free of antibiotics and hormones, plus lamb, chicken and maple syrup add-ons for additional fees. For more information, visit 8oclockranch.com. Beef and pork: 10 pounds $80, 20 pounds $145; beef only: 10 pounds $85, 20 pounds $150; pork only: 10 pounds $75, 20 pounds $135; economy beef and pork: 10 pounds $75, 20 pounds $130.
This Batch
Brooklynites have been packing into Rucola—a seasonal Northern Italian restaurant in Boerum Hill—since it opened in April, but soon you can get your hands on its carefully sourced produce without enduring the hour-long wait during prime-time dinner service. On Thursday 16, the restaurant's owners plan to launch This Batch, a no-commitment farm delivery service, which will offer righteous produce—like fava beans, spring onions, green garlic and strawberries—some of which is grown specifically for Rucola by New York State farms Blooming Hill and Sheldon. The restaurant sends out e-mail or Twitter alerts only when they've snagged exceptionally good stuff; put in an order and you can pick it up at Rucola later in the week. Down the road, the team hopes to set up an onsite "farm stand," offering the specialty produce, alongside house-made goodies like pastas and preserves. For more information, visit rucolabrooklyn.com.
Freshocracy
This brand-new meal delivery service, launched by a trio of finance refugees, makes farm-to-table cooking a no-brainer by taking planning and shopping out of the equation. Enroll in the biweekly subscription and you'll get everything you need for three meals, delivered to your door every other Sunday. Each bag includes recipe cards from partner website Food52, premeasured pantry items and farm-fresh ingredients from local purveyors, like American Seafoods, DiPaola Turkeys and Grazin' Angus Acres, along with stat sheets on how the food was raised. The only extras you'll need are butter, oil, salt and pepper. And while the process is downright simple, the dishes themselves have sophisticated appeal—recent winners include ostrich tacos with lime-pickled Easter-egg radishes and Tokyo Bekana greens, and lemony pasta with purple asparagus, fiddleheads and a poached egg. For more information, visit freshocracy.com. Three two-serving meals $99, three four-serving meals $180.