Mermaid Inn and Community Food & Juice
Two new neighborhood eateries challenge the status quo on the UWS.
By Randall Lane Thu Dec 27 2007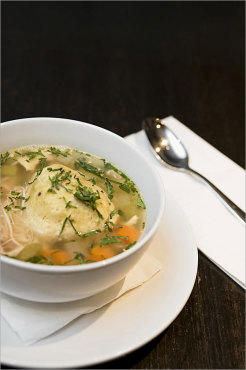 Time Out Ratings :
<strong>Rating: </strong>3/5
Mermaid Inn

Mermaid Inn, 136 Division St between Ludlow and Orchard Sts (212-941-5060). Subway: F to East Broadway. Tue–Sun 6pm–midnight. Average main course: $15.
Time Out Ratings :
<strong>Rating: </strong>3/5
Community Food & Juice

Community Food & Juice, 2893 Broadway between 112th and 113th Sts (212-665-2800). Subway: 1 to 110th St–Cathedral Pkway. Mon–Thu 8am–11pm; Fri 8am–midnight; Sat 9am–midnight; Sun 9am–11pm. Average main course: $17.
Matzo-ball soup at Community Food & Juice
Photograph: Jeff Gurwin
Having experienced five years as a resident of the beautiful Upper West Side and its underwhelming restaurant scene, my optimism for the neighborhood's culinary future flagged long ago. Happily, it's been buoyed by a recent development: the interest of downtown establishments and brand-name chef-restaurateurs in the previously neglected blocks north of 59th Street. Last month, a second branch of the East Village's Mermaid Inn and a spin-off of the Lower East Side's Clinton Street Baking Company, Community Food & Juice, opened their doors. Judging by the consistently packed dining rooms, the people are rejoicing.
Even in their original incarnations, both of these restaurants carried an UWS vibe. The first Mermaid Inn always stressed friendliness over edginess and competence over experimentation. The uptown version looks like its clone with nautical paraphernalia on the walls, giving it an upscale fish-shack meets seamen's-saloon feel. Community Food & Juice, meanwhile, shares the Clinton Street Baking Company's airiness and diner-chic aesthetic, though the new version is grander, with a large open kitchen and bi-level dining room.
At Mermaid Inn, owner Danny Abrams flies solo after last year's split with his ex-partner Jimmy Bradley. Despite this major change, the brand's transition has been fairly smooth. The general idea of the menu, from chef Laurence Edelman (Barbuto), remains the same: a short selection of seasonal, moderately priced seafood, well-chosen wines and no dessert, save a small cup of complimentary chocolate pudding. With the exception of two holdovers, the first-rate raw bar and the ever-dependable lobster roll on a grilled brioche bun, the menu has been tweaked considerably and isn't as enjoyable as its downtown counterpart.
The appetizers were the main disappointment. Grilled oysters with sausage had the great-pairing potential that made clams casino a classic, but the meat tasted like pedestrian breakfast sausage and overpowered the oysters. Edelman is more successful with his salt-cod cakes, mixing the pungent fish with chunks of potato and a strong dose of pepper.
The entrées fared better. Edelman riffs on some dishes from the original location, preparing sautéed skate wing with fish broth and figs rather than a blood-orange emulsion, and replacing anchovies with squid in the spicy spaghetti with shrimp and scallops. Among the uptown originals is a wonderful mélange of beets, shredded brussels sprouts and ground hazelnuts that accompanied two hefty filets of monkfish. Edelman roasts a whole fish daily—in my case, a beautiful, boned dorade—with a rub of parsley, dried capers and lemon that turns into a potent sauce as it commingles with the fish's juices. Such offerings explain why it's difficult to score a reservation here.
It could be worse: Community Food & Juice doesn't take reservations at all, resulting in long waits. Chef-owner Neil Kleinberg throws out a dazzling array of eggs, pancakes and muffins at breakfast and brunch time, though those looking for round-the-clock omelettes should cross the street to Tom's Restaurant of Seinfeld fame: Community's dinner menu eschews morning goodies for a long, global menu of comfort food.