Old-school jukeboxes
By Time Out editors Thu Sep 28 2006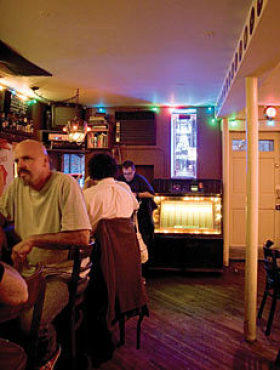 Great Jones Caf Photo: Talia Simhi
Q:
Are there any bars in the city with old-school jukeboxes that play vinyl?—Rebecca Brown, Bushwick, Brooklyn
A:
Ever since MP3s hit the scene, it's been difficult to find jukeboxes that play CDs, let alone vinyl records. We found only one place that fits the bill: Great Jones Caf (54 Great Jones St between Bowery and Lafayette St, 212-674-9304), a restaurant and bar in the East Village that has an old Rowe jukebox. Patrons can choose from 100 rock 'n' roll, blues and '60s soul records. The best thing about it: The juke's free.
Looking for the perfect bar? E-mail us at barhop@timeoutny.com.