Raising the bar
A trio of premium tonic waters have hit the New York City market. Three pros tell TONY how much they improve the quintessentially British summer drink.
By Clare Lambe Wed Jul 11 2007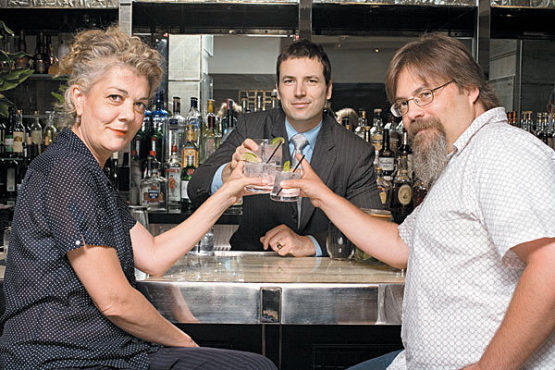 TASTER'S CHOICE From left, Nicky Perry, Duncan Halden and David Wondrich raise a glass (or two, or three).
Photo: Jay Muhlin
Once upon a time, the most a gin-and-tonic lover could hope for in terms of a superior mixer was Schweppes tonic from the bottle, a merely decent alternative to the mouth-furringly sweet Canada Dry or subpar gun tonic. A new breed of high-end, all-natural tonic waters claim those days are over. Created to complement designer gins, the fizzy mixers shun low-integrity ingredients like corn syrup and synthetic quinine with the aim of elevating the overall G&T experience. The brands—Fever-Tree, Q Tonic and Stirrings—use more pristine sweeteners and genuine bitter quinine, an extract from the bark of the cinchona tree that's said to cure malaria, fevers and cramps. We put the supertonics to the test at London Bar at the London NYC Hotel with three popular gins, each with distinct qualities: Beefeater (bright and citrusy), Plymouth (lean and peppery) and Tanqueray (bold and piney). Our panel included these gin-and-tonic savants: David Wondrich, a cocktail historian; true Brit and Tea & Sympathy owner Nicky Perry; and manager of the London Bar (and U.K. native) Duncan Halden.
Photo: Mardi Miskit
Fever-Tree Indian Tonic Water
When Fever-Tree launched in Europe in 2005, the tonic, made with cane sugar and a high-grade African quinine, was embraced by the food-and-drink cognoscenti. The fizzy water—designed by Charles Rolls, the brains behind the resurrection of Plymouth Gin—even stars in its own foamy soup at the infamous El Bulli restaurant in Spain.
* Best Match
Neat: "Like citrusy Schweppes, actually," said Halden, who mixed all the drinks.
Beefeater: Wondrich waxed poetic: "Tastes like summer." Halden sighed, "Ah, this is a perfect G&T." Perry's judgment was equally glowing: "Refreshing. My favorite."*
Plymouth: Wondrich was underwhelmed. "You just don't get that medicinal, good-for-you gin taste," he said.
Tanqueray: Halden was transported by the crisp, citrus accents, while Wondrich liked the notes of ginger and steel.
Fever-Tree is available at Food Emporium (four-pack, $5.99).
Photo: Mardi Miskit
Q Tonic
This Manhattan boutique tonic, which hit shelves on Memorial Day, was a labor of love for creator Jordan Silbert. The former Downtown Alliance director—and G&T fanatic—was so discouraged by the dearth of decent tonics that he decided to blend his own. It took two years to get the balance of Peruvian quinine and organic agave nectar, a mellow sweetener, right.
* Best Match
Neat: This was everyone's favorite. "I love the natural taste and even balance of sharp and sweet," purred Halden.
Beefeater: "Too bitter. The quinine is overpowering," complained Wondrich.
Plymouth: "Spicy, herbal—almost minty," Wondrich mused. "Bloody good," said Perry.*
Tanqueray: "It's not too sweet, and it has nice botanicals," commented Halden, picking up notes of juniper and lemon peel. Wondrich was busy enjoying the "clean, natural taste."
Q Tonic is available at Gramercy Tavern, Milk & Honey and Little Branch, and at Dean & DeLuca (four-pack, $9.99).
Photo: Mardi Miskit
Stirrings Tonic Water
Former bartenders Bill Creelman and Gil MacLean are so obsessed with the art of mixology that they founded their own cocktail accoutrements house, Stirrings. In June of last year they launched their all-natural gourmet tonic water, which uses triple-filtered carbonated water, citric acid and natural cane sugar to balance the bite of quinine.
* Best Match
Neat: The panel agreed: "too sweet." Perry likened it to British lemonade—a sugary soda with a hint of citrus flavor.
Beefeater: Wondrich found the assertive Beefeater blast was a sound complement to the otherwise saccharine Stirrings.*
Plymouth: Wondrich liked it: "This lets the citrusy, floral flavors of the gin come through." Halden didn't.
Tanqueray: "Mouth-cloyingly sweet," according to Halden. Wondrich noted that it didn't sit well with the fiery Tanq.
Stirrings is available at select Whole Foods (four-pack, $4.99).