South Gate
The food is mediocre in a gorgeous Manhattan hotel.
By Randall Lane Wed Apr 9 2008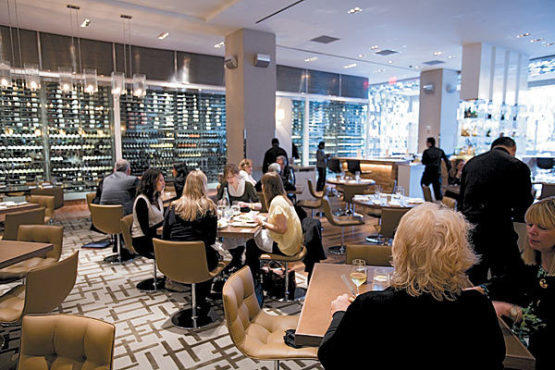 Photograph: Jeff Gurwin
Time Out Ratings
<strong>Rating: </strong>2/5
What does $90 million buy you in New York nowadays? One of the city's most beautiful hotels: New ownership has restored the Essex House, once a dowdy has-been, to an Art Deco stunner. A similar transformation was clearly intended for the hotel's restaurant: out with the stuffy (so long, Alain Ducasse), in with the sleek. That would be the stylish South Gate, featuring chef Kerry Heffernan of Eleven Madison Park fame. The space is indeed striking; the food, strikingly off.
First, the good news: The Tony Chi–designed dining room, separated from the lobby by a transparent wine tower, proves a match for the hotel's splendor. The cloistered former Ducasse space in the hotel's rear has, thankfully, been entirely abandoned; South Gate sits in front, the bar facing out toward Central Park. Cherry blossoms dot the entranceway, leather covers the tables, and Chi has accented the soft-lit room with a jagged mirror collage that seems the kind of thing Gaudí might have done with a disco ball. It works. The grub doesn't. Heffernan, who made Eleven Madison Park one of the country's top spots for sophisticated American cooking, has concocted a short menu that blends American, French and Eastern influences—and flops with surprising consistency.
With the exception of seared foie gras complemented by rhubarb and kumquats, the list of starters is strictly a fish-and-veggie affair. Heffernan effectively tries an haute salade niçoise: Strips of smoked char are dotted with plump flecks of niçoise olives and accompanied by greens. But an extra ingredient—pulpy chunks of grapefruit—creates a train wreck, the bitter citrus and sour olives clashing like an Albany legislative session.
That pairing was downright successful compared with Heffernan's calamari appetizer: seared tender baby ringlets ultimately ruined by a lobster-coriander gravy sporting the kind of congealed film I associate with bad TV dinners. That sauce also corrupts a pleasant but neutral cauliflower custard, which sits in the center of the plate, flanked unfortunately by vastly oversalted pea shoots. A grilled-onion salad was just sad: Three cipollini onions stuffed with goat cheese, the most edible things on the plate, were about as sophisticated as '50s finger food. The grilled scallions looked sorry and wilted, and the char-marked rings of sweet onion were textureless and deflated.
Entrées are split among four fish and four meat options, save a token veggie offering of edamame and ricotta cannelloni that came highly recommended, but was no better than panfried cheese blintzes, with a tasty but utterly unattractive mess of what appeared to be a maitake-mushroom-and-edamame hash. On the fish side, the sauces tended to outshine the protein. That's not necessarily a good thing: Sautéed red snapper, somewhat overcooked, tasted strongly of herring thanks to the presence of anchovies in the overpowering celery sauce. The meats are slightly better. Heffernan's lamb—grilled, rolled shoulder and roasted loin—was adequate. The loin was tender, but the shoulder had an odd, pressed-terrine quality. The beef dish was slightly better than satisfactory—a rectangle of braised short rib was packed with caramelized flavor, and the slices of rib eye serviceable . The best part of the dish was a buttery side of spaghetti squash.
Credit the well-intentioned waitstaff for trying, unsuccessfully, to steer me away from perceived clunkers. Also credit sommelier Troy Weissmann: While not making anyone forget Ducasse, the list is as formidable as the wine wall portends, with a good dose of half bottles, though precious little of anything under $60. Too bad that on one visit, the sommelier was off for the night. It took 20 minutes total to get assistance from the manager, only to be told that the recommended white burgundy was out of stock. Granted, they gave us a more expensive wine and free desserts as compensation. The final course turned out to be the best, whether a pretty pot de crème covered in chocolate-coated beads of malted rice, or a pineapple cheesecake with rum raisin ice cream.
I don't know whether Heffernan, in trying to appeal to the Essex House's global clientele, has succumbed to the trap of ultimately pleasing no one. What is clear? This storied hotel has traded a bunkerlike restaurant with amazing food for an eye-catcher that's not even remotely in the same league.
154 Central Park South between Sixth and Seventh Aves (212-484-5120). Subway: F to 57th St. Mon–Thu, Sun 5:30–10pm; Fri, Sat 5:30–10:30pm. Average main course: $28.
Share your thoughts