Thanksgiving 2011
Assemble an at-home holiday meal with these turkeys, sides and more.
By Chris Schonberger Fri Oct 28 2011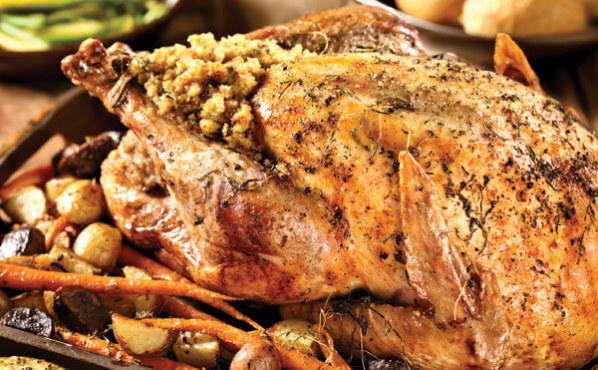 Find restaurants for Thanksgiving dinner in NYC Photograph: Caroline Voagen Nelson
Local Roots NYC: Turkeys, vegetables, apples, etc.
This innovative CSA is opening up to non-members for the holiday, making it easy to source your spread from a range of pedigreed New York State farms. You can pick-and-mix from half shares (feeds 4--6 people) or full shares (8--10 people) of poultry, vegetables and fruit. Snag hen turkeys from Quattro Farms ($30/$50 to reserve, plus $4/lb); veggies including sweet potatoes, butternut squash and beets from Rogowski Farm ($37/$74); and fresh apples from Red Jacket Orchards ($6.50/$13). Space is limited but there are still a small number of spots available exclusively for TONY readers; delivery is available in Brooklyn, Manhattan and Queens. localrootsnyc.org

Eataly: Turkeys
The Italian megastore is slinging fully prepped Lancaster, Pennsylvania--bred heritage turkeys ($5.80/lb), with cooking instructions upon request to help you produce a burnished beaut on game day. You can also opt for turkey porchetta stuffed with turkey-and-sage sausage (5lbs for $54, 10lbs for $108). Pre-order at the meat counter and pick up between November 21 and 23. 200 Fifth Ave between 23rd and 24th Sts (212-229-2560)

Telepan: Everything
If slaving away in your Lilliputian kitchen sounds like the third circle of hell, make things easy on yourself by ordering a full to-go feast from Bill Telepan's locavore gem. The spread includes roasted turkey, a seasonal salad, squash soup, pumpkin pie and chocolate pecan tart, and it'll feed up to 10 people. Call the restaurant or e-mail telepan2@verizon.net by November 14 to order. 72 W 69th St between Columbus Ave and Central Park West (212-580-4300). $600.

Fleisher's Grass-fed & Organic Meats: Turkeys
Now that Joshua and Jessica Applestone's Kingston, New York, butcher shop has opened up in Park Slope, it's easier than ever for Brooklynites to score one of their gorgeous birds ($8.99/lb). This year, they'll be coming primarily from a ranch in Bolinas, California, that the couple visited over the summer. In addition to the traditional turkeys, pick up locally-raised capons—castrated roosters prized for their tender meat. Pickup is available from November 21 to 23. 192 Fifth Ave between Sackett and Union Sts, Park Slope, Brooklyn (718-398-6666)

Meat Hook: Turkeys, sausages, stuffing
Tom Mylan and his team of indie butchers are offering a haul of birds ($6.99/lb) from Fingerlakes Family Farm in Interlaken, New York, for preorder. To bolster your feast, they've also got brine kits, house-made sausage, bacon and stuffing. Supplies are limited, so reserve now for pickup between November 19 and 23. 100 Frost St between Manhattan and Meeker Aves, Williamsburg, Brooklyn (718-349-5033) 

Fresh Direct: Everything
The grocery delivery service stacks its virtual aisles with some top-quality goodies for holidays, but the real draw is the convenience: Order ahead and choose delivery timeslots throughout the week leading up to Thanksgiving Day. In addition to a range of turkeys, 13 different sides (cranberry bread stuffing, yams with marshmallows) and various desserts (apple crisp, sweet-potato pie), there are niche items like turduckens (a sort of edible Matryoshka doll featuring a chicken stuffed into a duck stuffed into a turkey). freshdirect.com

Dickson's Farmstand Meats: Turkeys, stuffing, gravy, etc.
Chelsea Market's artisanal butcher offers turkeys ($5.50/lb) trucked in from Amish Farms in Pennsylvania, plus quarts of giblet gravy ($20) and stuffing kits ($30) featuring caramelized onion, Amy's bread and sage sausage. For those seeking something different, there are also offbeat birds like squab, muscovy duck and partridge. Orders will be taken until November 14, with pickup appointments available on November 22 or 23. 75 Ninth Ave between 15th and 16th Sts (212-242-2630)

Momofuku: Bo ssm
Shock the grandparents by swapping out the traditional bird for Momofuku's ever-popular bo ssm package (serves eight, $350)—a whole slow-roasted pork shoulder served with bibb lettuce and kimchi. Seasonal sides include autumn vegetable hash, and there's a s'mores pie thrown in for dessert. E-mail catering@momofuku.com by November 18 to order; pickup is on November 24 from noon to 2pm. 207 Second Ave at 13th St (212-228-0031)

Hill Country: Turkeys, sides, desserts
Barbecue and Thanksgiving make fine bedfellows at this roadhouse. Fully-prepared meals include whole turkeys pit-smoked over Texan oak, sides such as corn bread with ancho-honey butter and your choice of three pies. A spread for 5 to 8 people costs $185, while the larger package goes for $265 (serves 9 to 12). Order by November 21; pickup times are November 23 3--5pm, or November 24 9am--noon. 30 W 26th St between Broadway and Sixth Ave (212-255-4544)

D'Artagnan: Turkeys
While this gourmet mail-order outfit is best known for French delicacies like foie gras and Magret ducks, top-notch turkeys are added to the lineup for Thanksgiving and Christmas. All of the birds are free-range and hormone-free; choose from USDA-certified organic, wild and heritage-breed varieties, with prices starting at $59.99 for a 8--10lb organic turkey. Other popular holiday items include capons ($78.99), truffle butter (from $7.99) and applewood-smoked hams ($25.99--$59.99), plus a range of hors d'oeuvres such as pt and terrines. Place orders by November 19. dartagnan.com

Torrisi Italian Specialties: Roasted turkey, sides
This Nolita storefront is peddling its signature roasted turkey breasts (5lbs for $80), plus antipasti like brussels sprouts with Parmesan and mint, and butternut squash with honey-sage agrodolce ($15/lb). E-mail turkey@piginahat.com between November 7 and 21 to order; pickup is available November 23 between 11am and 4pm. 250 Mulberry St between Prince and Spring Sts (212-965-0955)

New Amsterdam Market: Turkey, pies, hostess gifts
Procrastinators who don't order ahead can hit up this artisanal market on November 20 to score plenty of holiday foodstuffs. Look out for turkeys from Dickson's Farmstand Meats; a brining mix ($5) and "turkey dinner" sausages with chestnuts, sour cherries, nutmeg and thyme from Brooklyn Cured; and fresh Maine cranberries from Sugar Hill Cranberries. If you're looking for hostess gifts, track down vendors like Anarachy in a Jar, or Pie Corps for desserts like chocolate-bourbon pecan pie and buttermilk chess pie (three for $36). South St between Beekman St and Peck Slip (newamsterdammarket.org)
Read more
Where to eat on Thanksgiving
What to drink on Thanksgiving
Pies!