The Essential New York food quiz
When rumors of Katz's closure circulate, everyone's a preservationist—but when did you last dig into a pastrami on rye?
By Jordana Rothman Wed Nov 5 2008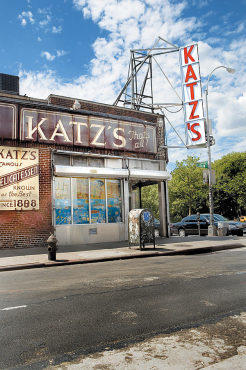 Take our quiz to test your relationship to the NYC classics, then click here to see how our poll of 100 New Yorkers did.
---
---
---
---
NEXT: What is Barney Greengrass famous for? »
---
---
---
NEXT: What is Grimaldi's known for?»
---
---
---
NEXT: What is Nathan's Coney Island legacy?»
---
---
NEXT: The "Would you rather?" round»
---
The "Would you rather?" round
---
---
---
---
---
How New Yorkers answered
The city has spoken: One hundred Gothamites took our quiz, and it seems that the New York of Neil Simon now belongs to Carrie Bradshaw. Three words: Save the cheesecake!
---
38% of those polled could name two ingredients (seltzer and chocolate syrup) in an egg cream.
---
80% nailed a pair of elements in a Cosmo (vodka and cranberry juice).
---
Nathan's Famous really is…famous: 91% of those polled are acquainted with their dogs. Nathan's other legacy, according to one New Yorker—dirty bathrooms.
---
51% said they have never eaten a street-cart hot dog.
31% have dipped into the dirty water within the past year.
---
At Katz's Delicatessen, you're either a regular or a regular schmuck: 40% of respondents have gone in the past year; 29% have never gone at all.
---
40% of New Yorkers thought "Sturgeon King" Barney Greengrass peddled in wheatgrass.
36% named the correct answer: fish.
---
51% of respondents claim never to have stood in line at Magnolia.
---
40% dropped the ball on Grimaldi's pizza. The top guess: meatball subs.
---
60% correctly identified Yonah Schimmel as the potato-pie pro; 19% of those polled picked the fictional Mendey Schvantze.
---
85% paired Ray's name with pie (with a fair bit of editorializing: respondents called the slices "nasty").
---
The hottest table in town?
24% (the highest percentage) covet a Per Se resy
18% hanker for Peter Luger
13% named Momofuku Ko their dream dinner
7% of those surveyed fingered Buddakan
The write-in favorites: Nobu and Gramercy Tavern.
---
The oyster decision is split:
49% want it classic at Grand Central Oyster Bar
46% crave New England chic at Pearl
(5% "don't eat oysters")
---
Hot pretzels: Not just for tourists anymore.
87% have eaten the salty on-the-go snack.
13% said no ("If only they were hot!").
---
For the most important meal of the day: 51% prefer a bagel and lox
49% opt for a yuppie croissant and latte.
---
When it comes to steak, old school rules: 69% choose Luger.
---
"Save the cheesecake!" was the chant heard round Brooklyn when Junior's caught fire in 1982. But in 2008, 56% would dig into molten chocolate cake over NYC's dessert legacy.
---
Additional reporting by Travis Delingua