The New French
By TONY Tue Aug 12 2008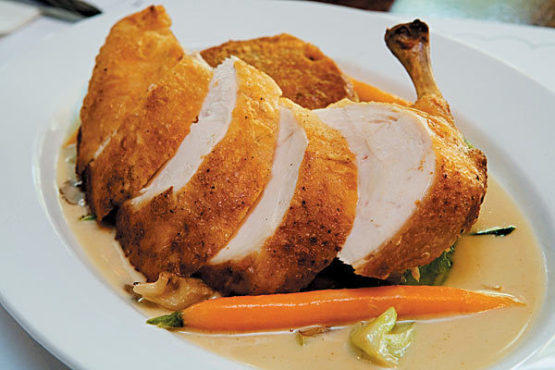 Roasted chicken with coconut curry Photograph: Jeff Gurwin
Time Out Ratings :
<strong>Rating: </strong>4/5
With its hip rocker waitstaff and bare black walls, the New French—the not-very-French Hudson Street bistro that replaced a short-lived Le Gamin outpost—feels much more East Village than West. One night, the fedora-topped, tattooed waitress stepped out midmeal for a smoke then vanished altogether (thankfully, her colleague stepped in). Still, the eclectic food—boldly executed, generously portioned and beautifully cooked—made up in spades for the front-of-house shortfalls. The kitchen covers a wide geographic swath of comfort-food territory. Livio Velardo (a veteran of Tabla and Resto) puts his own chefly stamp on, among other things, Belgian moules frites, Texan pulled pork, Italian white pizza and Vietnamese pho. The delicious Texas pork—essentially beanless chili mixed with crisp flatbread croutons—comes doused in cool mustard raita. Though the pho, a huge bowl with floating hunks of toothsome brisket, tastes more like French pot-au-feu than Vietnam's national dish, it's still plenty rich and restorative. Even simple roasted chicken—crisp-skinned and succulent—gets an international spin, with mushrooms and bok choy piled underneath in a Thai-style coconut curry. Though your disaffected waitress may not even bother to tell you about dessert, the last course—including a not-too-sweet banana-bread pudding and pitch-perfect spiced crème brûlée—is almost as good as the first two.—
522 Hudson St at 10th St (212-807-7357). Subway: 1 to Christopher St--Sheridan Sq. Mon--Fri 11:30am--3pm, 5--11pm; Sat 10am--3:30pm, 5--11pm; Sun 10am--3:30pm, 5--10pm. Average main course: $16.