Valentine's Day dining
Where to feast like a cheeseball with your beloved.
By Francoise Villeneuve Thu Feb 5 2009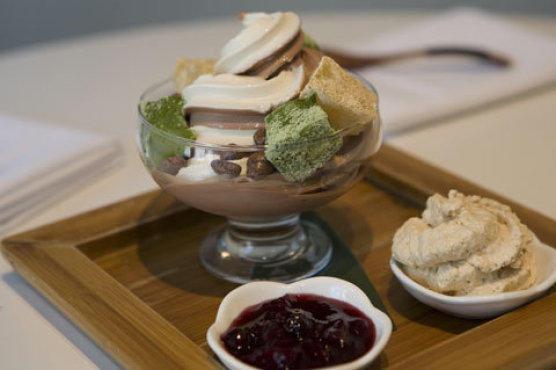 Kyotofu
Anthos
What better place to nourish a nascent relationship than this Hellenic eatery (Anthos means "blossoming" in Greek). Each of Chef Michael Psilakis's five courses is paired with a house-selected Greek wine. At least your smoked octopus and lemon confit with baby fennel knows its perfect mate. 36 W 52nd St between Fifth and Sixth Aves (212-582-6900). 5--11pm, two for $214.
BLT Market
Elegance has comfort-food roots at this Eat Out Award--winning outpost of Chef Laurent Tourondel's BLT empire. His three-course V-Day menu balances luxury with hominess: An appetizer of foie gras with quince paste is tempered by easy mains like duck with collard greens and bacon. Ritz Carlton New York, Central Park, 1430 Sixth Ave at Central Park South (212-521-6125). 5:30--10pm, $105.
Counter
So your date's not a carnivore. No need to resign yourself to limp tofu and wheat germ on Valentine's Day. Four courses—including a superior chocolate-mousse-filled cannoli—await you at this tasteful vegetarian haven. Add organic wine pairings for a mere $25. 105 First Ave between 6th and 7th Sts (212-982-5870). 5pm--1am, $50.