Coney Island Mermaid Parade: A guide to NYC's seaside spectacle
Get your costumes ready: Find out about the Coney Island Mermaid Parade, which marches down Surf Avenue each year.
By Time Out contributors Tue Jun 17 2014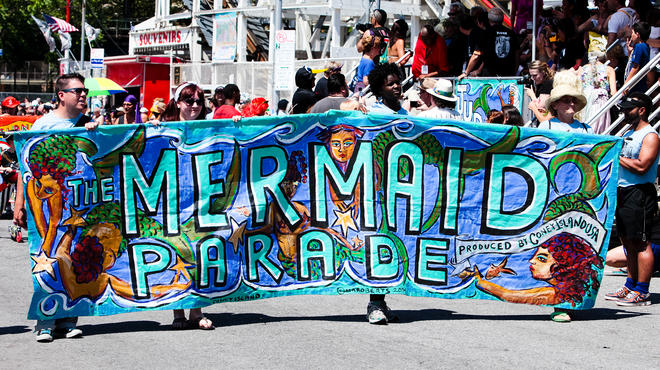 Photograph: J Carter Rinaldi
The Coney Island Mermaid Parade is one of NYC's freakiest, most iconic events. Each year, thousands of spectators flock to Surf Avenue, Coney Island's main drag, to watch King Neptune and Queen Mermaid—this year, Mayor de Blasio's kids, Dante and Chiara—lead a procession of beglittered semi-nude marchers in costumes through the neighborhood. Coney Island USA founder Dick Zigun began holding the parades in 1983, and it's been a neighborhood mainstay ever since.

RECOMMENDED: Coney Island and Luna Park guide

We spoke to Zigun about how he picked this year's King and Queen. "Sometimes we look for counterculture celebrities, sometimes we're working political connections," He says. "But the choice of Dante and Chiara was not political. It is my thinking that they are the perfect representatives of the next generation of New York City residents. They represent the young people in their teens and twenties who come to Coney Island."

Some refer to the event as the Mardi Gras east of the Mississippi River, yet it may ultimately be about much more than that. "Mardi Gras seems like it's just tourists getting drunk," says burlesque performer Bambi the Mermaid. "When you're at the parade, you're part of it, not just watching. The Mermaid Parade to me…is like the high holy day of the whole entire year."
When is the Mermaid Parade?

The 2014 Coney Island Mermaid Parade happens June 21 at 1pm; it begins at Surf Ave and W 21st St, traveling along Surf Ave and the Boardwalk before ending at Steeplechase Plaza. (A more detailed map is embedded below.) For the best chance of getting a good spot, show up by 11am—or, if you're willing to shell out $150, you can become a Coney Island USA member and snag a spot in the covered Judge's Stands (on Surf Ave between W 19th and 20th Sts).

Want to participate? You've still got time: There are various registration levels—for families, "artsy marchers," antique cars and more—and different fees apply for each one. All the details are available at Coney Island USA's website—and be sure to stop by one of our favorite costume stores beforehand to get all the supplies you'll need for a glitzy, glittery outfit.
Photograph: Luciana Golcman
Where to eat and drink near the Mermaid Parade
---
Things to do near the Mermaid Parade
---
You might also like
---
Events calendar for New York City
The explanatory text on the wall at the beginning ...

Romantics and Modernists alike treasured the old m...

A process-oriented Los Angeles artist who works in...
106

more events »
Time Out videos
---
---
@TimeOutNewYork
Subscribe to Time Out New York on Spotify for playlists and recommendations from our Music team.


Check out New York's best restaurants, hottest street style, cool apartments and more.