What you'll see at the World Maker Faire 2013
Creativity goes on display—along with arts and hovercrafts—at the New York Hall of Science. Here's a sneak peek of the World Maker Faire 2013.
By Jennifer M. Wood Wed Sep 18 2013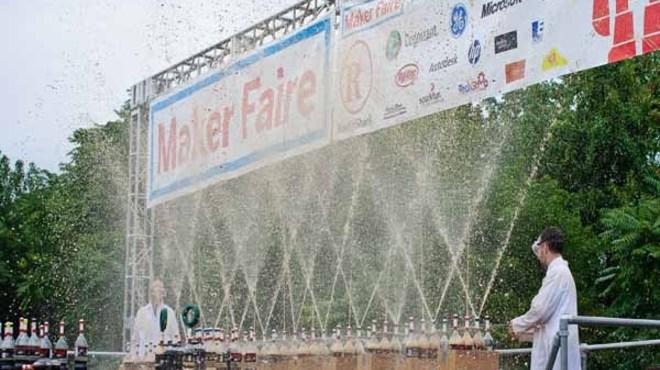 The World Maker Faire Photograph: Eric Harvey Brown
At this super-charged science fair, more than 650 creators will show off their inventions—such as origami earrings and a battery-less universal remote—while instructing visitors on how to replicate them at home. The fourth annual ingenuity display offers demonstrations of emerging technologies, talks with head honchos from NASA and Disney, and hundreds of DIY projects, because you never can have too many 3-D–printed water-bottle carriers that convert into dog bowls. Here's a closer look at three of our favorite gadgets.
Tools: Build Your Own New York postcards, scissors, glue and tweezers
Cost: $1.50–­$2 per postcard
Difficulty level: Easy
If you can wield a pair of scissors and a glue stick, then you can build miniature versions of local landmarks—including Grant's Tomb and the Brooklyn Bridge—using paper-model kits by Wurlington Bros. Press. The simplest structures, such as the Flatiron Building, take about 30 to 45 minutes to complete while more complex models, like the Empire State Building, can take two to three hours. "The postcards are best for older children or grown-ups with a little patience and nimble fingers," says Wurlington Bros. owner and graphic designer Matt Bergstrom. He suggests lining up the four- and five-inch skyscrapers on a windowsill or computer monitor to make a mini skyline. Purchase the cards at the World Maker Faire, the MoMA Store or online at wurlington-bros.com; the website has a few downloadable models available for free, as well as extra projects you can build up to (joke intended).
Tools: Foam board, two DC motors, two propellers, Servo motor, wire, battery holder and AA batteries (available as a kit at 16hertz.com)
Cost: $30–$65
Difficulty level: Medium
Brothers Aditya and Arun Kumarakrishnan—a mathematical physicist and computer scientist, respectively—are the brains behind these remote-control aircrafts. They'll be showing visitors how to build planes, quadcopters and hovercrafts at the Faire, but you can also download the instructions and purchase materials online at 16hertz.com. Once you've made the 10-by-14–inch foam-board frame (which can be decorated to your liking at the on-site airbrushing station), the harder task involves fitting the electronics and calibrating the vessel in order to make it airborne. Although it sounds challenging, you're only about 30 minutes from takeoff.
Tools: Arduino starter pack, Stepper motor with power supply, Darlington driver (all available at adafruit.com and at World Maker Faire), bottle or other container for the dispenser, candy and a computer
Cost: $75–$100
Difficulty level: Hard
There's nothing like a handful of candy to mitigate the anxiety caused by an onslaught of urgent e-mails. That's the thinking behind this motivating office contraption, which alerts you to incoming mail by dispensing a single M&M for each new message, which you can eat after you've read said missive (an LED light turns on to give you the official go-ahead). Created by Kathryn McElroy, a Products of Design MFA candidate at the School of Visual Arts, this project uses Arduino, an open-source microcontroller that can be used to build simple robotic devices (think of it as a tiny computer). You'll need to upload one piece of code to Arduino and another to your computer in order to tell them what to do; the code files are available at github.com/kathrynmcelroy/een. McElroy recommends taking a weekend to make the dispenser, upload the code and troubleshoot; just try not to eat all the M&Ms over that time.
---
---
Events calendar for New York City
In this mesmerizing exhibit, the local artist docu...

We're obsessed with these super structural, funky ...

The Boss hits the road this time in support of The...
159

more events »
Time Out videos
---
---
@TimeOutNewYork
Subscribe to Time Out New York on Spotify for playlists and recommendations from our Music team.


Check out New York's best restaurants, hottest street style, cool apartments and more.