Open House New York
See more than 300 normally off-limits NYC sites during the annual Open House New York festival. Here's what you need to know.
By Time Out contributors, compiled by Evelyn Derico Tue Oct 7 2014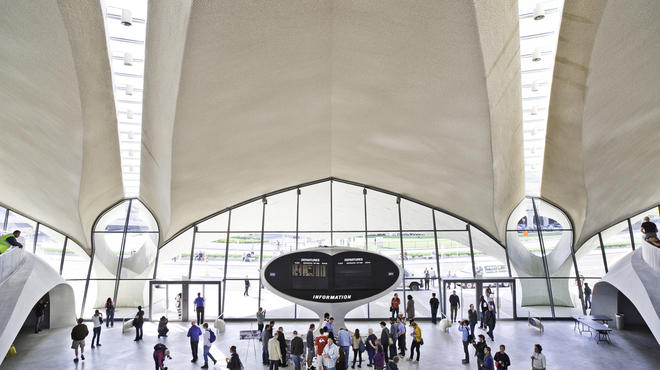 Open House New York: TWA Flight Center Photograph: Nicolas Lemery Nante
Open House NYC is an annual weekend-long event during which historic buildings, architectural masterpieces, sundry landmarks and attractions welcome the public for great walking tours and nosing around. It's the perfect opportunity to explore normally off-limits parts of New York and have a good old snoop. Some tours require reservations, which go live on the Open House New York website on October 1. In past years, the system has struggled with the deluge of R.S.V.P. requests, so prepare to be patient and keep trying. It's always worth it in the end.
When is Open House New York?
The official dates for Open House Weekend are Saturday, October 11, 2014 through Sunday, October 12, 2014.
This annual event gives attendees access to 150 of the city's coolest and most exclusive architectural sites, private homes and landmarks, as well as behind-the-scenes tours and programs. This year, get a sneak peek of the newly renovated Great Hall of the New York Hall of Science, which has been under restoration by the Ennead Architects for several years, see the inner workings of the Sims Sunset Park Recycling Facility, designed by cutting-edge firm Selldorf Architects, and tour the Spitzer School of Architecture's Solar Roofpod, which was completely designed by its students. You'll also have another chance to see many places you might have missed last year, along with some notably new buildings like the Kickstarter Headquarters, which used to be the historic Eberhard Faber Pencil Factory. Look for the full schedule (and the chance to preregister for certain events) in the first week of October.
---
Read more about Open House New York
Over 300 sites will allow visitors to come in and peruse the buildings
Open House New York is almost here!
---
---
Here are the ten New York experiences you simply can't miss.
Don't fret, penny-pincher—each of these fun cheap date ideas will cost you $30 or less.
Tired of swamped tourist traps, huh? Check out these alternative things to do in New York.
Find more popular Things to Do features