Cannes 2011: Cops and robbers on the Croisette—Polisse and Miss Bala
By David Fear Sun May 15 2011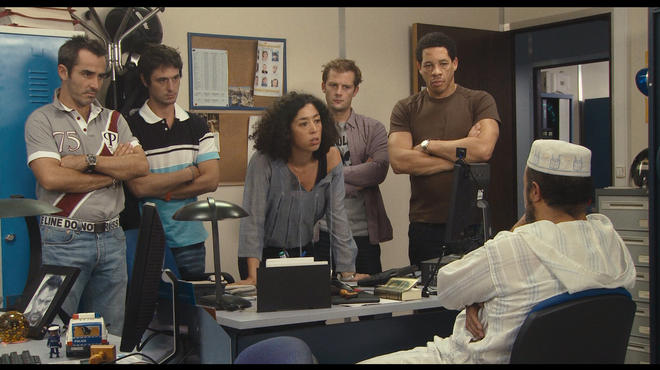 Polisse
You can't turn on your TV these days without stumbling across a cop show, or some sort of precinct drama wherein a tight-knit group of law-enforcement specialists solve crimes one DNA sample at a time. When these series are good, or even great (see The Wire), you get a brilliant social autopsy in an episodic structure; when they're just the equivalent of forensic porn (pick a city, put CSI in front of it), you simply bask in the vicarious walk-on-the-wild-side thrills and wait to feel dirty later.
RECOMMENDED: Full coverage of the Cannes Film Festival
"TV cop show" has been the No. 1 go-to description used for Polisse, actor-director Mawenn Le Besco's French procedural about a Child Protective Unit (CPU) in Belleville. What's funny, however, is that the phrase is being used as both a tossed-off insult and a high compliment: Detractors claim that this portrait of men and women in blue handling pedophile cases and abuse complaints is nothing more than a two-hour pilot. Defenders counter that by examining this subject in the style of a day-by-day, boob-tube-friendly police drama, the filmmaker has found a way to touch on her country's issues regarding race, gender, the vulnerability of children and how the law works (or doesn't) in a way that's entertaining and accessible. I understand the opinion of the former; I skew toward the latter.
In fact, if this were a TV series, I'd gladly return each week to watch the two alpha female partners (Karin Viard and Marina Fos) bitch about their personal lives; to see the precinct's resident Arabic woman (Naidra Ayadi) rip into any number of odious offenders (her verbal assault on a misogynous Muslim gent literally had the press crowd cheering); to watch whether the volatile, cares-too-much cop (Joey Starr) can make a relationship work with a visiting photographer (played by the director); and to watch the rest of the crew interrogate perky perps. There's such a wonderful dynamic that Le Besco sets up among these performers that you get to know them intimately in a mere two hours, yet want to spend more time with them.
And though it doesn't dig as deep into the bigger-picture aspects of la belle France's thorny social issues as much as you'd like, it doesn't ignore them, either; they're woven into the fabric in the least didactic manner possible, acknowledged as part of a system that's larger than one cop or one case. Only the ending, a cross-cutting marathon between one tragedy and one triumph, rings false. Everything else about Polisse works like gangbusters. I'm crossing my fingers that it gets a stateside release tout de suite.
Of course, if you did want a genre film that was nothing but thrills, there was Miss Bala, a Mexican thriller about a suburban young woman (Stephanie Sigman) who decides to compete in a beauty contest in Baja. When a gang of narco-thugs shows up to deliver some payback to DEA agents, she's in the wrong place at the wrong time and winds up becoming a pawn in the main criminal's game. Director Gerardo Naranjo's latest is a full 180-degree turn from the early-Godardian breeziness of his last film, I'm Gonna Explode; the man knows how to use steadicam shots and subjective camera placements during action scenes to heighten tension to an unbearable degree.
He also thinks he's making a profound statement about Mexico's drug wars, however, as evident by a WTF end title. Nice try, but no—yes, we know corruption is rampant and the crime problem South of the Border is indeed out of control. The movie is indeed one of the best, most brutal nail-biters I've seen in a while, but a cutting commentary or thought-provoking treatise on the ills that plague Mexico it is not. You're better off just enjoying the rush.
You might also like
---
@TimeOutNewYork
Subscribe to Time Out New York on Spotify for playlists and recommendations from our Music team.


Check out New York's best restaurants, hottest street style, cool apartments and more.