Cannes 2012: Love, Beyond the Hills, Lawless
Michael Haneke scores, while two other anticipated films miss their marks.
By David Fear Sun May 20 2012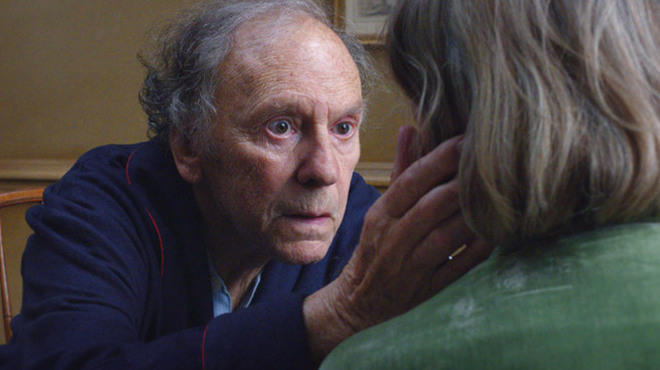 Jean-Louis Trintignant and Emmanuelle Riva in Love
Severe, rigorous, unsparing, cold, clinical: These are the adjectives used to describe Cannes stalwart Michael Haneke's movies, and with good reason. The reigning king of Euro feel-bad cinema, Haneke delivers stark dramas and enigmatic thrillers that double as staring contests with the abyss. Humanistic is not a word that comes up often when discussing the Viennese filmmaker, and the joke leading up to the Sunday-morning premiere of his latest project, Love, was that he was forced to use that title since there was already a French movie called La Haine (Hate).

RECOMMENDED: Full coverage of the Cannes Film Festival

Both of those points have now been rendered moot: There could not be a more appropriate name for this beautiful, devastating portrait of the moment when one's autumn years turn dark and wintry. And anyone doubting that Haneke had the capacity to demonstrate genuine compassion for his characters will be startled to see that, yes, the man behind both Funny Games can do emotional as well as he does cerebral. Starting off with a literal bang—cops breaking down the barred door of a Parisian apartment—Love follows the police officers as they come across a dead body, immaculately displayed with small flowers scattered around the corpse's head.

We then meet Georges (The Conformist's Jean-Louis Trintignant) and Anne (Hiroshima Mon Amour's Emmanuelle Riva, a lock for the festival's Best Actress award), an elderly couple. One morning, Anne simply goes blank and silent. When she does snap back to reality, she chides Georges for his panic, then pours her tea into her saucer. A series of strokes and setbacks leads her further down the path to infirmity, while Georges calmly goes about the business of taking care of her. Occasionally, a daughter (Isabelle Huppert) or a former pupil—Anne taught music—enter the duo's hermetic orbit, but for the most part, we're left observing this husband and wife play out their final days together.

The fact that Haneke doesn't treat scenes of Georges taking care of his debilitated spouse, her steady decline, etc. without sentimentality won't surprise longtime fans. His refusal to reduce things to an unblinking body-horror show in the name of aging and dying will shock them, however, especially since he's employing the same impeccable, chilly style of his excursions into human ugliness. But the story itself, as well as the perfect balance of calm resolve and resilience in the two performances, is emotionally charged enough to make histrionics unnecessary. Love's remove kills any maudlin aspects, replacing them with a muted melancholy and, in the end, a terrible sense of grief. (Not to mention that it has a brilliant evocation of leaving life behind, in which dishes must be done before shuffling off this mortal coil.) Infused with its namesake, this gentle tragedy is the filmmaker's least complicated work to date, a streamlined tearjerker that respects viewers enough to not jerk the tears out of them. Critics up and down the Croisette have been going wild about it all day. When it hits American screens, you will too.

Unlike Love, another big-name title has proven to be very divisive over the past few days. Beyond the Hills, Cristian Mungiu's eagerly awaited follow-up to 4 Months, 3 Weeks and 2 Days, revisits its predecessor's concerns regarding the oppression of women and utilizes the po-faced, long-take house style of Romanian cinema. Its story, about a young woman in a rural convent (Cosmina Stratan) and her visiting friend/possible ex-lover (Cristina Flutur), who may be possessed by the devil, lacks the resonance of 4 Months' blistering social critique as well as that movie's sense of urgency. One reviewer raved about the film's refusal to be explicit about whether or not the religious aspects were just a smoke screen; another prominent wag declared that this was exactly the kind of art-house movie that puts on airs of significance in lieu of actually telling a story that earns such praise. I'm apt to split the difference: There are exchanges, ambiguities and a noggin-scratcher of a final shot that I'm still mulling over days later, but the sense that this ground has been trod over many times has shaken my faith a bit.

And then there's Lawless, director John Hillcoat's hillbilly bootlegger saga about a family of moonshine runners battling big-city competition and the world's most sadistic dandy of a law-enforcement agent (Guy Pearce, resembling a transvestite ventriloquist dummy). The highs: Tom Hardy's strong, silent mastermind, which the British actor plays like a wary minotaur; rock star–screenwriter Nick Cave's American Gothic take on the gangster film; and the soundtrack's old-timey cover of the Velvet Underground's "White Light/White Heat." The lows: A seriously miscast Shia LaBeouf as the film's morally conflicted hero; virtually everything else. The Transformers star also unveiled his latest directorial effort at Cannes the day before this feature's press screening, a short called "Howard Cantour.com," in which Jim Gaffigan plays a cranky film critic. By the end of the intermittently intriguing, wildly uneven Lawless, I knew exactly how that short's hero felt.

Follow David Fear on Twitter: @davidlfear
You might also like
---
@TimeOutNewYork
Subscribe to Time Out New York on Spotify for playlists and recommendations from our Music team.


Check out New York's best restaurants, hottest street style, cool apartments and more.