Cannes 2012: Mud
The festival goes out with a plop instead of a pow.
By David Fear Sat May 26 2012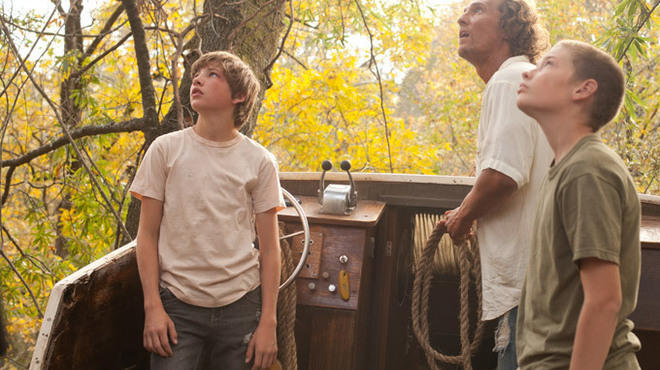 Mud
There are two versions of the American South that you usually see on screen: the "Hollywood" South, a series of rural backwoods filled with rednecks, racists, peckerwoods, hillbillies, good ol' boys, juke-joint drunks and other such quaint caricatures; and the lived-in South of regional indies, featuring the sort of landscapes and residents that you're more likely to witness from your car window or front porch. That rarer second option was what you got in Shotgun Stories, Jeff Nichols's 2007 debut about violence and vengeance in small-town Arkansas. You could practically smell the rusty metal and sweat wafting off the celluloid, and the film immediately established its location with a genuine sense of place, as opposed to treating it like a back-lot set spiced with "local" color. (Nichols's breakthrough follow-up, 2011's Take Shelter, may take place in Ohio, but its rhythms and rural landscapes suggest a strong Southern perspective behind the camera.)

RECOMMENDED: Full coverage of the Cannes Film Festival

You get glimpses of that second screen South in Mud, the writer-director's third movie and the first to be chosen for le grand show of Cannes' competition, especially in its quieter moments. But somehow, a pervading sense of that first manufactured South hangs over every scene, and the difference between this and Nichols's older works is practically night and day. An odd mix of coming-of-age story and pulp thriller, the film centers on 14-year-old Ellis (Tye Sheridan), a typical kid prone to running around the woods and running away from his bickering parents. He and his buddy come across a boat in a tree, the product of some long-ago biblical flood; they then meet the guy living in it, a grimy drifter who answers to the name of Mud (Matthew McConaughey). This vagrant is waiting on a girl—Reese Witherspoon's no-good floozy, to be precise—but there's a whole lotta backstory standing between them. You know the drill: a murder, some mob types, the law, etc. If the lads help Mud get the boat down, he can get to the Mexican border. If not, there's a bullet with his name on it.

What sounds like Huckleberry Finn on the page, however, ends up like a stock melodrama onscreen, with McConaughey's nature boy coming off like a moody, brooding fratboy. It isn't the actor's fault per se—he's one of the few working actors who you believe could actually live off the land, thousands of miles away from the nearest Bel Air mansion—but his Mud is purely a screenwriter's creation, a lazy sketch of an archetype. Still, compared with the teen angst over a first love and a tacked-on shoot-out at the end, McConaughey's gnarly, shirtless (of course) fuck-up with a heart of gold feels practically Faulkneresque. It's a whimpering end to a bang-up 2012 Cannes, but hey: There's always next year.

Follow David Fear on Twitter: @davidlfear
You might also like
---
@TimeOutNewYork
Subscribe to Time Out New York on Spotify for playlists and recommendations from our Music team.


Check out New York's best restaurants, hottest street style, cool apartments and more.