Cannes 2012: On the Road, Le Grand Soir, Holy Motors
Jack Kerouac's unfilmable novel finally gets its movie.
By David Fear Wed May 23 2012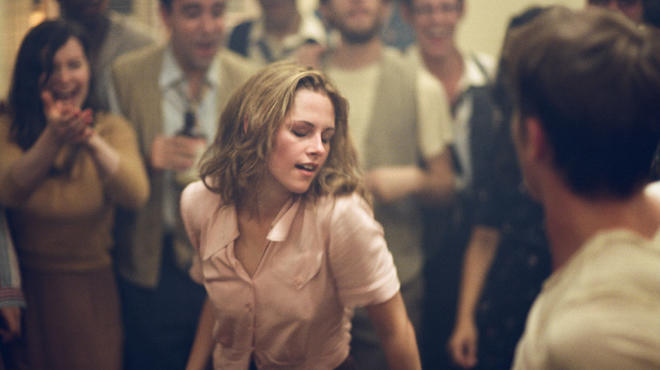 Kristen Stewart in On the Road
Written in 1951, published in 1957 and read by aspiring cool cats in perpetuity, Jack Kerouac's On the Road has provided generations with a blueprint for angel-headed hipsterism: Leave the suburbs, see the country, thumb your nose at square society, write poetry, get laid, go wild, go weird and just keep going, going, going wherever the highway takes you. It's become a rite of passage for twentysomethings to thumb through a dog-eared paperback copy and then choose their own countercultural adventures, with Kerouac's amphetamine-reptile prose inspiring countless others to clack away at their Smith Corona in pursuit of boho-lit glory.

RECOMMENDED: Full coverage of the Cannes Film Festival

Francis Ford Coppola bought the movie rights to the book in the late '70s and had been trying to make a screen adaptation for decades. He finally succeeded, and Wednesday morning, the world-weary Cannes press corps shuffled into the Lumière to see the handsome, high-spirited version executive-produced by Coppola and directed by Walter Salles (The Motorcycle Diaries). The question of whether this gloriously rambling book was truly unfilmable has now been answered; given the tepid result, the debate over whether or not it should have been filmed in the first place has only just begun.

From its walking-blues intro of worn shoes amblin' down the blacktop to the final shot of a typewriter stamping "I think of Dean Moriarty" into immortality, Salles's film turns the midcentury world of Sal Paradise (Control's Sam Riley) and best pal/traveling companion/romantic rival/bromance crush Moriarty (Garrett Hedlund) into a tony tableau of Beat chic. Everything looks great: the endless shots of America at dusk, the scenes of Kristen Stewart's sweet little Marylou and other hopped-up jazzbos dancing to Dizzy, the weathered faces that could have been lifted from a Robert Frank portfolio, the sensual threesomes in chipped-paint apartments. But even at its most hyperventilating, this finely detailed period piece comes off like a stuffy prestige pic—the cinematic equivalent of a fancy, leather-bound Library of America edition.

There are bits of messy life and live-wire looseness that poke out of the periphery, and God bless Viggo Mortensen for that funny, dead-on impersonation of William Burroughs (a scene involving a syringe and sleeping child nails the dark side of let-it-all-hang-out hedonism in one nauseating swoop). But the reverence for the book's irreverence is constricting. All your favorite passages from On the Road are here, rendered in pretty moving pictures—and reduced to rebellion-year-zero kitsch.

Still, if this competition entry didn't deliver the glorious chaos some viewers craved, there were two other Cannes movies that made up for Road's Maynard G. Krebs Museum of Beatnikery tour. Le Grand Soir, the latest from French duo Gustave de Kervern and Benoît Delépine (Mammuth), follows the misadventures of two brothers—one an aging gutter punk (Man Bites Dog's Benoît Poelvoorde), the other a yuppie mattress salesman (Albert Dupontel). While the former runs around a middle-class strip mall causing mayhem, the latter teeters on the verge of a nervous breakdown. Not to worry: His punk brother will be there to give him a mohawk, tattoo the word "Dead" on his forehead and empower his sibling to join the imaginary resistance. The longer the film's anarchic last act goes on, the more its tweaked tribute to family really flips the bird to the notion of conformity. It climaxes with an epic gesture of futility and a flaming bale of hay rolling right toward the camera. Neal Cassady would have loved this movie to death.

Speaking of love: The scene among the press corps after the first screening of Leos Carax's unclassifiable, ape-shit–nuts Holy Motors could have been mistaken for a Pentecostal revival. The French director hasn't made a feature since 1999's Pola X, and expectations were high among journalists as to what he'd been up to. They were not disappointed. A fever dream of cinephilia and cuckoo-for-Cocoa-Puffs hilarity, Carax's free-form tribute to the artist's life puts longtime collaborator Denis Levant through a series of sketches involving motion-capture suits, Eva Mendes as a Greek goddess, an evil leprechaun, murderous döppelgangers, talking cars, a family of monkeys, Edith Scob putting on her Eyes Without a Face mask (!) and a lovelorn Kylie Minogue singing in an abandoned luxury hotel. When they weren't rendered speechless by ecstatic paroxysms, critics were declaring it the best valentine to moviemaking they'd seen in ages. Some 24 hours later, I can still barely make heads or tails of it—or stop giggling over it.

Follow David Fear on Twitter: @davidlfear
You might also like
---
@TimeOutNewYork
Subscribe to Time Out New York on Spotify for playlists and recommendations from our Music team.


Check out New York's best restaurants, hottest street style, cool apartments and more.