Cannes 2012: Reality, Paradise: Love
Matteo Garrone and Ulrich Seidl take on hot topics.
By David Fear Fri May 18 2012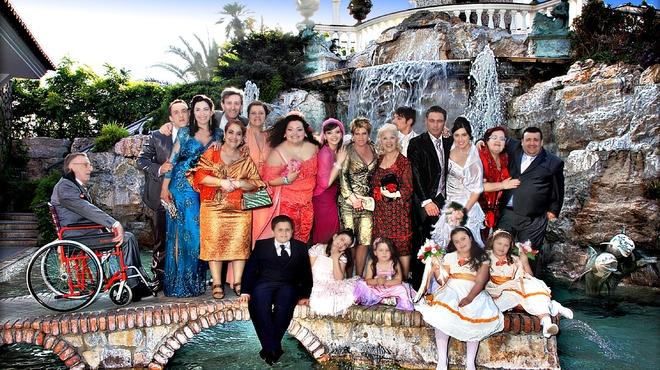 Matteo Garrone's Reality
If you're going to bring a movie to Cannes that tackles something as ripe as reality TV, you'd better offer up more than just "wow, it sure is facile, am I right?" So credit Italian director Matteo Garrone for choosing the road less traveled: His take on the boob-tube genre that's upped the 15-minutes-of-fame game, Reality, is anything but a mere unloading of buckshot into a fish barrel. Watching an oily winner from Italy's Big Brother schmooze folks then get whisked away by a helicopter, a working-class Neapolitan fishmonger named Luciano (Aniello Arena) glimpses the lifestyle of the rich and insta-famous. Personally, he's happy to simply run his modest business and sell scammed household appliances on the sly. Then his family goads him into auditioning during an open Big Brother casting call. Luciano gets a callback and a trip to Cinecittà. It's just a matter of waiting, which as any Tom Petty fan will tell you, is the hardest part. And that's when Luciano starts to lose his grip on you-know-what.

RECOMMENDED: Full coverage of the Cannes Film Festival

One of the few great white hopes of contemporary Italian cinema, Garrone made a splash at Cannes in 2008 when his big-picture examination of the Mafia's hydra-like hold on Naples, Gomorrah, took home the Grand Jury Prize. He usually specializes in grotesqueries, however, and there are some gorgeously ugly set pieces that would make Fellini grin: gaudy weddings featuring fairy-tale carriages and doves; a techno-orgy chockful of goth hotties and guys on wires; brief tours through tacky shopping malls and working-class water parks.

But the notion that Garrone is laying the groundwork for some sort of "Berlusconi's Satyricon" gets dashed around the midpoint, when Luciano first becomes paranoid—are those people asking for sea bass really scouts for the show, or are they cops trying to bust him for scamming toothless crones?—then starts giving away all his material goods to the poor. What Reality loses in satirical momentum as it slouches through its second half, it gains in substance by positioning celebrity as the new cracked sainthood. (The voices in these holy fools' heads are no longer a direct channel to divinity; they now belong to network producers.) It's a leap of faith that doesn't always pay off, and you wonder what the filmmaker would have come up with had he mounted a more Gomorrah-ishly multifaceted look to Italy's obsession with TV fame. Yet a dreamlike ending nearly redeems Reality's rough patches, leaving Luciano as he finally steps onto sacred ground. He may not have died, but he has gone to Heaven.

Heaven is, in fact, where the Viennese hausfrau heroine of Ulrich Seidl's Paradise: Love thinks she's ended up; her inner compass is actually off by a few million miles. Given that she feels neglected back home, why wouldn't the fiftysomething Teresa (Margarete Tiesel, excellent) take an extended vacation to a Kenyan beach resort renowned for its rent boys? "They smell like coconut and they'll dance nude for you," explains her travelling companion giddily; just be their "sugar mama" and keep giving them money. Teresa immediately thinks that indulging in the cash-for-sex tourist trade means that she's actually buying love. Cue libido-killing sex scenes, Marxist critiques on the body as commodity, casual racism, not-so-casual racism, copious full-frontal nudity and the feeling that life is simply one long, lonely slog toward becoming worm food.

If you're lucky enough—and we use the word "lucky" reluctantly here—to have seen Ulrich Seidl's previous works, you know that he's the kind of cinematic misanthrope who makes Lars von Trier seem like Pollyanna. Anybody who'd start off a movie with mentally handicapped adults smashing into each other in bumper cars clearly has a warped sense of humor and a questionable take on humanity, and those who felt like they were watching a child tear the wings off flies in Dog Days (2001) and Import/Export (2007) will not enjoy this bleak look at Europeans acting badly. But this first chapter of a planned trilogy does indeed have a method to its meanness. Once you dig past the anticolonial tirade on Paradise: Love's surface, the importance of that second word becomes apparent. Teresa acts horribly to her lovers and they act horribly toward her, but whereas these African men seem to have reluctantly reconciled the toll these transactions enact on both sides, she can't, or won't, acknowledge anything past her hope for a real connection. Seidl's sniggering ugliness eventually gives way to a profound sadness that left a lot of the press corps staring morosely into their postscreening drinks. I can't wait to recommend that people see this, even if I can't ever bring myself to watch it again.

Follow David Fear on Twitter: @davidlfear
You might also like
---
@TimeOutNewYork
Subscribe to Time Out New York on Spotify for playlists and recommendations from our Music team.


Check out New York's best restaurants, hottest street style, cool apartments and more.