Cannes 2013: Closed Curtain, 3x3D and final thoughts
We wrap up our Cannes coverage with a meta-masterpiece from Jafar Panahi and a stereoscopic omnibus featuring Jean-Luc Godard. Plus, some last thoughts on the award-winners and the overall experience.
By Keith Uhlich Sun May 26 2013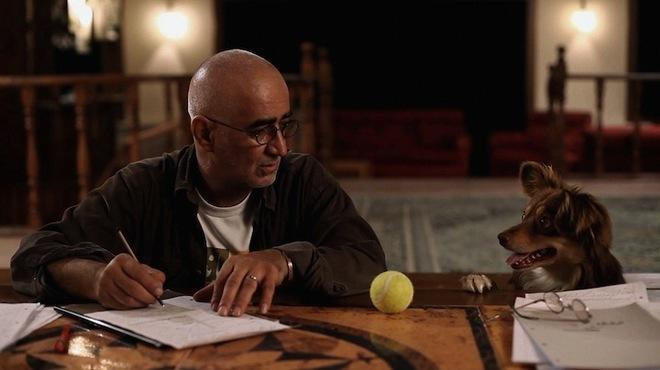 Closed Curtain
It's impossible to see everything at Cannes, and your experience differs depending on whether you're a journalist, a distributor, or one of the many tuxedo-clad movie lovers outside the Palais pleading for tickets to the day's screenings. During my own time here, I mostly focused on Competition titles and Un Certain Regard. But I knew I wanted to venture out to several other venues and sidebars whenever I could.

RECOMMENDED: Full coverage of the Cannes Film Festival

Market screenings typically take place in multiplexes a few blocks from the Palais. This is where distributors can catch movies that have already premiered at other festivals. Press gets lower priority access at these screenings, but I needn't have worried about missing out on the latest work from Jafar Panahi, Closed Curtain, since the very small theater in which it showed was barely a third full.

Panahi is a major figure in Iranian cinema—his films include The Circle (2000), Crimson Gold (2003), Offside (2006) and This Is Not a Film (2011)—and you've probably heard about his incarceration and house arrest at the behest of his home country's censorious government. The most ridiculous aspect of this terrible situation came when he was banned from making movies for twenty years, a verdict he immediately defied with This Is Not a Film.

The perhaps apocryphal story about that feature, which dealt explicitly with Panahi's arrest and his attempts to create art under Draconian restrictions, is that it was smuggled to Cannes on a hard drive baked into a cake for its first screenings. True or not, it's a good hook and the movie itself, terrific in its own right, was a big hit on the circuit, finding eventual release stateside. Closed Curtain looks to be a tougher sell. Despite winning the Silver Bear, word out of the Berlin Film Festival was that it wasn't anywhere near Panahi's best; a colleague I talked to at Cannes said he found it "self-pitying." I certainly see what he's talking about, though I think that's only one of this multifaceted masterpiece's many shades.

The film begins with an absolutely stunning long shot outside the barred window of a seaside home. A car pulls up and two men get out. Only one of them (Kambuzia Partovi) enters the house where he unzips a bag and lets out his pet dog, who starts running around with liberated and wholly ingratiating fervor. (This is truly one of the best animal performances ever captured on camera.)

Details slowly emerge: The clearly paranoid man—his first order of business is to block every window with all-obscuring black curtains—is a writer and he's come to this secluded spot to get away from the authorities who are out to kill his dog in a countrywide purge. The first twenty minutes are nearly silent as we watch the man adjust to his new surroundings. He stokes the fireplace, he shaves his head, he prepares an indoor litter box for his pup. He seems to be doing everything in his power to block out the remnants of whatever hell he's left behind.

Then one night, he leaves the outer door open for one second too long and a mysterious woman (Maryam Moqadam) and her brother (Hadi Saeedi) appear. It's at this point that Panahi's seemingly simple, straightforward narrative begins to fracture in increasingly astonishing ways. Best not to give too much away except to say that the narrative's abstract trajectory recalls David Lynch's Inland Empire (2006)—a difficult, defiantly surreal tale of a Hollywood actor, played by Laura Dern, struggling against great odds to give the best performance she can in work and in life.

Closed Curtain touches on similar meta-artistic themes. It's an extension of This Is Not a Film (Panahi again appears as a version of himself, though I won't say how), but it's not as easily embraceable. There is indeed an undercurrent of self-pity, and sometimes a didactic stating of theme, yet it's all in service to a sublimely subconscious vision.

Take the movie as the story of an artist who lives so completely with his muses and his characters, through good times and bad, that he slips invisibly between reality and fantasy, sometimes inhabiting both spaces simultaneously. (He's not even necessarily played by the same person from scene to scene.) The journey is often challenging, but the rewards—heady, emotional, provocative and invigorating—are limitless. This was the best film I saw at Cannes.

Screening as the closing night presentation in the Critics' Week sidebar was the omnibus feature 3x3D, which is comprised of new stereoscopic shorts by Britain's Peter Greenaway, France's Jean-Luc Godard and Portugal's Edgar Pêra. The Godard was what most of us were there to see. It's entitled "The Three Disasters" and is shown in-between the Greenaway (first) and the Pêra (last). This is another of Godard's visual-aural essays in the Histoire(s) du cinéma vein, and the extra dimension adds yet another stimulating layer to his expert mix of film clips, original footage and narration derived from various literary sources.

Few directors have as strong a sense of montage; even a hit-you-on-the-head-obvious parallel between Chaplin's Great Dictator and Adolf Hitler gets your synapses firing. What it's all about is something I look forward to untangling over subsequent viewings. It's best with later Godard to experience the flood of images and sounds first, then go back and grapple with the meanings—if, indeed, there are any (to me, this great artist is equally adept at being both a thinker and a bullshitter).

On this first go-round, I most recall some juvenile knocks at James Cameron; inspired use of the hair-in-the-boat-propeller sequence from Piranha 3-D; a moving rumination on a building falling from its three-dimensional uprightness into its two-dimensional shadow; and a glimpse of some gorgeous footage—here a dog surrounded by dewily glistening autumn leaves—supposedly to be used in Godard's upcoming Farewell to Language.

The other two shorts couldn't help but pale in comparison, but Greenaway at least started this barely-an-hour feature on an invitingly heady note with "Just in Time," a digitally-assisted single take in and around the Palace of the Dukes of Braganza in Guimaraes, Portugal. There's a prevalent use of split-screens and onscreen text (most of the latter are brief biographies of Portuguese historical figures, who appear beside the three-dimensionally suspended words like animatronic statues invented by Rembrandt in collaboration with Walt Disney). It's Greenaway's Russian Ark, and I mean that as a compliment.

No praise, though, for Edgar Pera's "Cinesapiens." Walkouts were legion at this horrendously amateurish history of cinema. Those who stayed were treated to such sights as fourth-wall-breaking singing cavemen, a lecherous movie mogul performing slurpy cunilingus on some scantily-clad arm candy and a few appearances by a mad doctor named Lovekraft who is attempting to create the world's first creature able to view the world entirely in 3-D. The horrible thing about Pera's short is that the more you catalogue its pathetic pretensions, bad taste and sheer stupidity, the more enticing it sounds. Let's just never speak of it again.

Instead, let's talk about endings. As I write these words, Cannes 2013 has come to a close, the awards have been announced (you can find the winners list here) and the red carpet has been rolled up. I'm most delighted that Jia Zhang-ke took the Competition screenplay prize for his challenging A Touch of Sin, a film which has grown in my estimation since I first reviewed it. Alain Guiraudie took home a deserved Un Certain Regard directing prize for his languorous, libidinal queer thriller Stranger by the Lake; stateside audiences will get a chance to see it when Strand Releasing puts it out at some future date, hopefully with its many explictly sexual sequences left intact.

Despite my relatively lukewarm admiration, Blue is the Warmest Color is an admirable choice for the Palme d'Or, and it's wonderful that lead actors Adèle Exarchopoulos and Léa Seydoux, cited by the jury as co-collaborators, shared the award with their director, Abdellatif Kechiche. There were also well-warranted honors for the Coen brothers (Inside Llewyn Davis got the Grand Prix), Hirokazu Kore-eda (Like Father, Like Son received the Jury Prize) and Bérénice Bejo (Best Actress for Asghar Farhadi's The Past).

But I have to admit to being baffled that Amat Escalante's penile-burning provocation—the self-consciously dour Heli—was deemed worthy of a directing prize or that Bruce Dern's sentimentalized portrait of a man succumbing to Alzheimer's in Alexander Payne's atrocious Nebraska was truly the fest's best male performance. (I was personally rooting for Behind the Candelabra's Michael Douglas and Matt Damon to share acting accolades, and the fact that James Gray's wondrous The Immigrant went away empty-handed was perhaps the biggest personal upset.)

All this is horse race wagering anyway. There's no guarantee that what one person considers the right films will be rewarded, and there's likewise no assurance that a prize at Cannes will lead to critical and commercial approbation outside of the fest-circuit echo chamber. But it also only takes one person to point the spotlight in an intriguing direction, to say to all of those who wish to engage, "Look over here…tell me what you see." I hope I've gone some way toward accomplishing that with these posts. My thanks to you all for reading.

Follow Keith Uhlich on Twitter: @keithuhlich
You might also like
---
@TimeOutNewYork
Subscribe to Time Out New York on Spotify for playlists and recommendations from our Music team.


Check out New York's best restaurants, hottest street style, cool apartments and more.