Cannes 2013 halftime report
The weather is rough but the movies are rewarding at France's annual film fete.
By Keith Uhlich Tue May 21 2013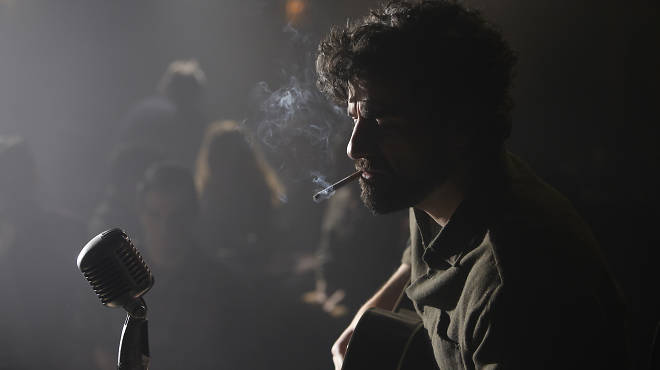 Oscar Isaac in Inside Llewyn Davis
If there's a running motif to the Cannes Film Festival's 2013 edition, it's this: rain. Every day except for one has been a predictable stream of lightning-streaked skies, close-huddling outdoor lines and tangled umbrellas. But though you may sit down in your theater seat more than a little soaked, there's something about the atmosphere of this holiest of holies that makes it worth the effort.

RECOMMENDED: Full coverage of the Cannes Film Festival

The cinematic jubilee may have started on a bum note, with director Amat Escalante's Heli—the story of a Mexican family subjected to various indignities by a corrupt police force—being most notable for an extended torture sequence involving penis incineration. That was quickly followed by François Ozon's Young & Beautiful, a four-season character study of a French teenager (sublime newcomer Marine Vacth) who turns to prostitution. It counterbalanced Escalante's Film Fest 101 nihilism, though it's ultimately as ephemeral as many of Ozon's other efforts, despite a charged climactic encounter between Vacth and Charlotte Rampling that lingers with the viewer.

After one more disappointment (Sofia Coppola's off-putting ode to the rich and clueless, The Bling Ring), the floodgates finally opened: Jia Zhang-ke's gloriously bizarre A Touch of Sin sees the renowned Sixth Generation director hammering home blunt points, via explicit violence, about China's soul-sapping modernization. It feels like a transitional work, but there's enough of the Jia spirit here—especially during a sequence set at a hotel that caters to clients longing for the halcyon days of Communism—that it leaves you reeling and invigorated.

So does The Past, Asghar Farhadi's follow-up to his Oscar-winning A Separation. There's a degree to which this story of an Iranian husband (Ali Mosaffa) and his French wife (The Artist's Bérénice Bejo) finalizing their divorce feels like a thematic repetition of the filmmaker's previous work, but it's churlish to complain when the results are so scene-by-scene assured. Similarly, Hirokazu Koreda's Like Father, Like Son takes a baldly melodramatic premise—a wealthy Japanese couple must make some tough decisions when they discover their six-year-old son is not their biological offspring—and turns it into a moving, rigorously spare meditation on the ties that bind.

Many of the highly anticipated American titles won't be screening until Cannes's second half, though the Coen brothers' Inside Llewyn Davis has already delighted many critics with its gut-busting ode to the '60s folk-music scene. (I'll be thinking about F. Murray Abraham's chilled pronouncement, "I don't see much money in this," whenever I need a good, hearty laugh.) But so far, the best of the fest has come from its Un Certain Regard section: Alain Guiraudie's Stranger by the Lake. A mesmerizingly odd mix of queer-culture ethnography and Hitchcockian thriller, this tale of Edenic cruising spots and murder should earn the French writer-director many new fans; it has already won over this one.

Follow Keith Uhlich on Twitter: @keithuhlich

Read all of our Cannes 2013 daily dispatches
You might also like
---
@TimeOutNewYork
Subscribe to Time Out New York on Spotify for playlists and recommendations from our Music team.


Check out New York's best restaurants, hottest street style, cool apartments and more.