Cannes 2013: Heli, Young & Beautiful, The Bling Ring
Genitals are burned, innocence is lost and stealing is, like, whatever in three early fest offerings from Amat Escalante, François Ozon and Sofia Coppola.
By Keith Uhlich Thu May 16 2013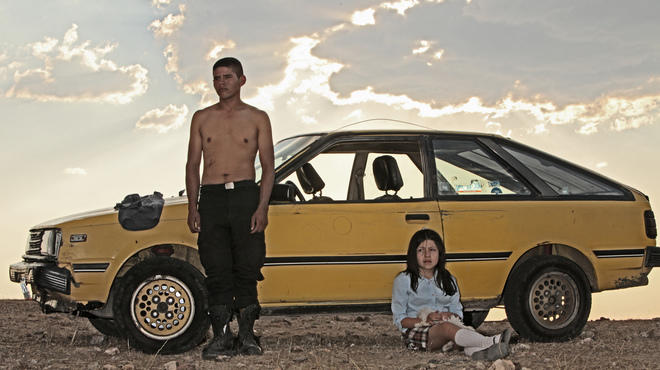 Heli
Mild temperatures and overcast skies greeted me as I arrived for the first time ever in the coastal French city that transforms annually into a glitzy and grandiose carnival of cinema. It wasn't smiling blue skies, but still good weather to get acclimated to the crush of press badge check-in, screening venue pinpointing, and casual celebrity spotting (favorite so far: a flustered attendee sheepishly introducing himself to the on-the-ground Cannes volunteers as "Brian De Palma, filmmaker"). By the evening of opening day, a torrential downpour had begun, though it in no way hampered the main event—the red carpet arrivals and gala screening of Baz Luhrmann's gussied-up literary adaptation, The Great Gatsby, granted the festival's premiere slot. (You can read my non-plussed review of the film, which opened stateside five days before Cannes, by clicking here.)

RECOMMENDED: Full coverage of the Cannes Film Festival

Audible cheers rose as the stars made their way up a semi-soaked red carpet to the Grand Théâtre Lumière. Meanwhile, just a stone's throw away at the Salle Debussy, a group of us were crowding tightly together under umbrellas, trying to stay dry for the first Competition press screening, Heli, from Spanish director Amat Escalante (Los bastardos). This is not a film that warms the cockles, though it does feature a sure-to-be-notorious instance of penis incineration. (The post-screening Twitter jests pretty much wrote themselves.) To be fair, the indignities suffered by the movie's characters—a Guanajuato, Mexico family trying their damndest to earn an honest living—is lengthy and relentless. Trouble begins when the youngest sibling, 12-year-old Estela (Andrea Vergara), starts dating a 17-year-old fledgling special-forces cadet (Juan Eduardo Palacios). He has an idea to steal and sell some confiscated packets of cocaine so the two of them can get married. But this angers Estela's older brother, auto plant worker Heli (Armando Espitia), who discards the drugs and unfortunately earns the retributive ire of the corrupt police force.

A puppy's neck is casually broken, multiple beatings are administered, gang rape is more than implied, and a man is hung from a bridge as a message of…something or other. Escalante's aesthetic is pure Film Fest 101, from the static shots of desolate landscapes that seem at once self-serious and parodic to the unflinching portrayals of violence that don't illuminate the story's theme (in this case, the barbarous machismo and pernicious crookedness inherent to modern-day Mexico) so much as deaden a viewer's senses with their torture-porn nihilism. Escalante is nowhere near the level of one of Heli's producers, Carlos Reygadas, whose prankishly provocative explorations of similar subject matter more often attain transgressive profundity.

The teenage heroine of François Ozon's seasonal French melodrama Young & Beautiful is also interested in pushing limits. When we first meet Isabelle (sublime newcomer Marine Vacth), she's being spied on while sunning naked on a beach in summertime. Her pubescent younger brother later kids Isabelle about her harlot's makeup job as she prepares to meet the German boy who will take her virginity and, wouldn't you know, inadvertently set her on a path of prostitution. Summer segues into autumn, and our not-even-legal heroine is hiring herself out to older men, ostensibly to pay for school—though she's really testing the classist and social boundaries set by herself and her family circle.

As with many films by the prolific Ozon, there's an ephemeral quality to Young & Beautiful that makes it seem as if it's evaporating as you watch it. Many scenes play out with little resonance, fully formed on the surface—the "Summer" section has the lazy-days glow and melancholy of Eric Rohmer's great Pauline at the Beach (1983)—but half-baked in toto. (The overall theme can be too-easily boiled down to 'tis pity she's a whore.) Fortunately, a few striking sequences break up the yeoman tedium, such as a strobe-lit party that Isabelle struts around with better-than-all-of-you brashness, as well as a terrific climax in which Ozon regular Charlotte Rampling pops up to lend the proceedings some wisdom-of-the-ages regality.

There's little that's smart about Sofia Coppola's off-putting, based-on-actual-events ode to the rich and clueless, The Bling Ring. The young, troubled Los Angeleno protagonists (including former Hermione Granger Emma Watson) are all wealthy enough that they can pop Adderall, gain easy access to nightclubs and be home-schooled by parents whose bible is Rhonda Byrne's The Secret. But they long for more privilege, specifically the Rolex and Alexander McQueen-branded lifestyle that TMZ and its gossiping ilk posit as the provenance of celebrities like Lindsay Lohan and Paris Hilton. A quick Google search gives the group a home address, and it's not long before they're inside Paris's walk-in closet, lifting leather purses, fuck-me pumps and other high-living accouterments for their own transient pleasure.

There are consequences, of course, and as in Marie Antoinette (2006), Coppola takes pains to lend the copious montages of designer fashions, as well as the characters' laze-about libertinism, a consistently sickly pallor to suggest that the piper must eventually be paid. Here, though, the repercussive point never emerges—probably the difference between having a controversial French monarch and a group of Vanity Fair-profiled spoiled brats as your subjects. (Only Israel Broussard, as the male sad sack of the group, gets beyond oh-like-hey-whatever caricature.) At the very least, The Bling Ring allows us a last chance to bask in the work of recently deceased co-cinematographer Harris Savides, whose vision here of a vapidly sun-baked City of Angels is a more-than-fitting epitaph to a vital career.

Follow Keith Uhlich on Twitter: @keithuhlich

Read more of our dispatches
You might also like
---
@TimeOutNewYork
Subscribe to Time Out New York on Spotify for playlists and recommendations from our Music team.


Check out New York's best restaurants, hottest street style, cool apartments and more.