Cannes 2013: Inside Llewyn Davis
The Coen brothers' hilariously melancholic ode to the '60s folk scene is an odyssey worth taking.
By Keith Uhlich Sun May 19 2013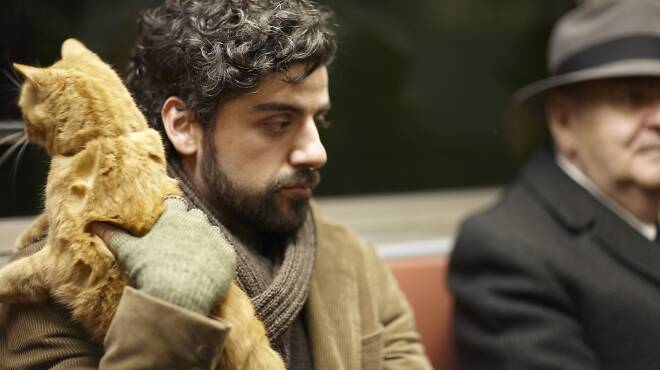 Arguably the festival's most anticipated title, Joel and Ethan Coen's Inside Llewyn Davis had a capacity crowd at its Cannes premiere screening alternately guffawing and observing rapturous silence. Playing like a moody B-side to their Homeric trip through bluegrass country, O Brother, Where Art Thou? (2000), the film follows the title character (Oscar Isaac), a down and out '60s folk musician, on a shambling, stumblebum journey from a harshly wintry Manhattan to a bleaker-than-ever Chicago and back again (with one glitteringly blessed glimpse of Akron, Ohio in between).

RECOMMENDED: Full coverage of the Cannes Film Festival

Even at its most puerile—there's a gut-busting gag here about feline genitalia that typifies the sibling directors' wholehearted embrace of the lowbrow—the movie's overall atmosphere is strikingly purgatorial. We're introduced to Davis, a character loosely based on Mayor of MacDougal Street Dave Van Ronk, during a smoky solo performance in Greenwich Village's Gaslight Cafe, one of multiple real-time jams that qualifies the film as a near-musical. "You've probably heard that one before," he says sheepishly during some deafeningly light applause. Indeed, the sense of having just missed the boat, as much as waiting for your ship to come in, permeates every inch of every frame.

One alleyway beating later and Davis is on the first of many couches—that of his uptown intellectual friends the Gorfeins, whose orange tabby will prove a constant frustration, as well as our sad-sack hero's mischievous spirit guide. It's apparent early on that our protagonist is someone for whom success (and not just monetary) is an elusive, ever-teasing siren. Davis seems to have "Everyone else but me" grafted onto his perpetual hangdog, and there's a wondrously stream-of-consciousness feel to the way he blunders between the film's interconnected vignettes.

As usual, the Coens tend toward broad caricature be it John Goodman's Falstaffian hophead, holding court in the back of a Windy City-bound vehicle driven by a Kerouac-like chauffeur (Garrett Hedlund), or Carey Mulligan's glumly incensed Jean, who never fails to tear into Davis with obscenity-peppered vitriol. Davis himself isn't even much of a presence (Isaac hits just the right note of sleepy desperation throughout), which is part of the point. He's a ghost in his own life, and though he's loathe to admit it, there's something about all the hand-to-mouth, day-to-day uncertainty on which he thrives.

This must make Inside Llewyn Davis sound like a dour slog, but it's actually one of the Coens' funniest movies. Quotable exchanges abound from how Mulligan punctuates every other sentence with "asshole!" to the way F. Murray Abraham's guru-like nightclub manager stoically states "I don't see much money in this." Justin Timberlake and Adam Driver pop up as a pair of musicians who croon a hilarious ditty about President Kennedy shooting people into outer space, and there's a running visual gag about cramped Manhattan apartment hallways that is pure, pointed Coen bros satire.

Still, it's the movie's profound undercurrent of sadness that gets to you. There's a mournful sterility to Bruno Delbonnel's desaturated cinematography that's very much of a piece with Davis' ingrained hopelessness. (The film has one of my favorite shots of any festival entry, a montage of subway stops racing by—from the Upper West Side to far downtown—that says so much about the seductive lure of a gossamer existence.) The Coens are also expert at peeling back the farcical surface of their characters to reveal the heartbreak underneath; watch how Stark Sands's stiff-backed military private, whose disciplined demeanor rubs Davis in every possible wrong way, becomes a tragic figure of bloodshed on the horizon by the time of his sublime exit in long shot.

Davis is always watching as the people around him weave in and out of his orbit; even his longest relationships are ultimately ephemeral. There is no permanence except for the certainty that he'll eventually work his way back to the place he started and keep on sleepwalking, with minor variation, while everyone else moves on. But here's the revelation, the reason why, despite the film's forlorn tenor, it leaves you grinning ear-to-ear: It's fun being stuck in a rut.

Follow Keith Uhlich on Twitter: @keithuhlich

Read more of our dispatches
You might also like
---
@TimeOutNewYork
Subscribe to Time Out New York on Spotify for playlists and recommendations from our Music team.


Check out New York's best restaurants, hottest street style, cool apartments and more.