Cannes 2013: Like Father, Like Son and Jimmy P.: Psychotherapy of a Plains Indian
Hirokazu Kore-eda's switched-at-birth family drama moves, while Arnaud Desplechin's talking cure procedural challenges.
By Keith Uhlich Sat May 18 2013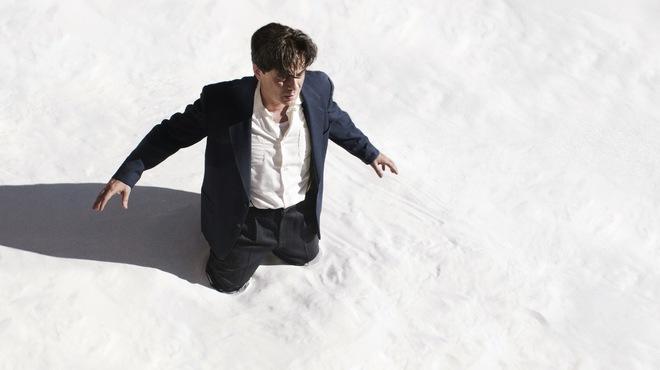 Jimmy P.: Psychotherapy of a Plains Indian
What strikes you first is the spareness—the way not one object is out of place in the life of Japanese architect Ryota Nonomiya (Masaharu Fukuyama). The protagonist of Hirokazu Kore-eda's beautifully observed Like Father, Like Son is devoted to hard work and stoic poise, barely betraying any extraneous emotion. Ryota's wife Midori (Machiko Ono) mostly goes along with her husband's strictly regimented behaviors, though she's well aware of the effect only 30 minutes of video games and forced piano lessons are having on the couple's 6-year-old son Keita. "You don't have to if you don't want to," is becoming her constant refrain.

RECOMMENDED: Full coverage of the Cannes Film Festival

It's easy to look at your offspring at times and wonder if this little person really shares your DNA, so alien can they seem to your own morals and beliefs. So when the country hospital where Keita was born informs Ryota and Midori that their son is not really their son (he was switched at birth with another baby), something snaps into place that has long been festering.

Now Ryota's stringently planned life goes far off track. He and Midori must make a series of tough decisions, the biggest being whether to switch Keita with their actual biological child who is being raised by a lower-class suburban couple (Yôko Maki and Lily Franky). Yet Kore-eda maintains his own formal rigor throughout, a choice that entirely counteracts all histrionics and melodrama. This is a relentlessly quiet character study that is photographed with Zen remove and scored metronomically to Bach and Beethoven, each scene clipped to the barest essentials (sometimes only a line of dialogue is spoken before the film steadily ambles along its muted course).

The ensemble is spectacular, especially the children, who all have just the right mix of cuteness and irritability—a blessing after the much more sentimentalized youths of Kore-eda's previous feature, I Wish (2011). But the heart of the film is Fukuyama, who delineates every step of Ryota's journey from grim disciplinarian to warm-hearted guardian with poignant concision. When the tears finally flow, the moment is more than earned—a grateful, graceful release.

"If they cut open my head, they'll kill me," says the guarded main character of Arnaud Desplechin's Topeka, Kansas-set period drama, Jimmy P.: Psychotherapy of a Plains Indian, the key line in a movie that admirably adheres to its procedural framework. You'd think from their glazed expressions and dismissive comments that many members of the Cannes press had just endured an extended analysis all their own, with little to show for the experience.

I certainly sympathize. At first glance, Desplechin's true-life tale of the talking cure bond between Blackfoot Indian-U.S. War veteran Jimmy Picard (Benicio del Toro) and French anthropologist-psychotherapist Georges Devereux (Mathieu Almaric) seems simplistically straightforward. All chat, little texture. What you see is what you get. But therein lies the film's complexity.

Devereux's Freudian methodology—with its diagnostic insistence on literalizing dreams—finds a complement in Desplechin's jittery aesthetic. Every image is at once abstract and banal, stretched rack-like between reality and fantasy. Jimmy's visions of wrestling with a faceless cowboy or shooting down a fox that quickly morphs into a female baby have the same vaguely verisimilar feel as any of the film's ostensibly real events. The implication here is that the character's subconscious is under attack—dragged violently into a superficial world where it can be studied, picked apart and ultimately obliterated. A genocide perpetrated on a nerve-jangled native by an overeager foreigner under the sway of patronizing American masters.

Read this way, Del Toro and Amalric's one-note performances (the former resignedly shellshocked, the latter agitatedly servile) suddenly take on an anguished grandeur. The duo's many analytic interactions come to feel like arias; Desplechin's films often have this intimately, unsettlingly operatic feel, as if the camera were recording a performance for proscenium at too close a range. Everything is said, but little is understood. How many times, the movie asks, can we avoid reading between the lines?

Follow Keith Uhlich on Twitter: @keithuhlich

Read more of our dispatches
You might also like
---
@TimeOutNewYork
Subscribe to Time Out New York on Spotify for playlists and recommendations from our Music team.


Check out New York's best restaurants, hottest street style, cool apartments and more.