Cannes 2013: Only God Forgives and The Bastards
Nicolas Winding Refn and Ryan Gosling do some tedious macho posturing while Claire Denis' bleak noir is a shock to the system.
By Keith Uhlich Wed May 22 2013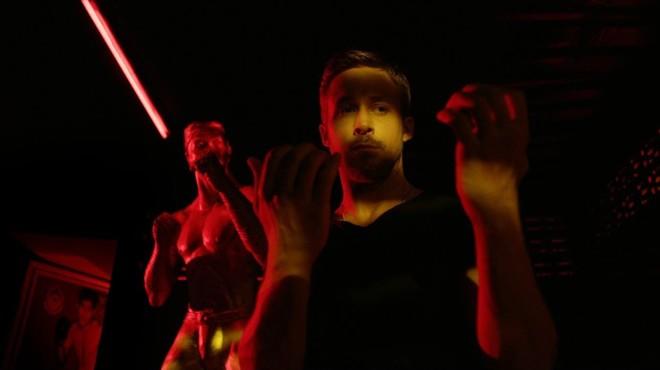 Only God Forgives
My tolerance for Nicolas Winding Refn's brand of self-serious macho camp is very much on the low side. Couple that with a general aversion to all things Ryan Gosling and Kristin Scott Thomas and it's safe to say that the cult director of the ponderous, portentously empty Drive (which I insist should be pronounced "Dree-VAY") didn't have me in mind when making his Thailand-set revenger Only God Forgives.

RECOMMENDED: Full coverage of the Cannes Film Festival

It's only fair that we give a chance to the art that has the potential to rub us the wrong way. For a little while, I was grooving on the film's aesthetic elements—Larry Smith's ninth-circle-of-hell cinematography, Cliff Martinez's droning synth score, Beth Mickle's superbly chintzy production design (love those Kubrick-esque brothels). Then the Refn-y stuff takes over: Pregnant-pause glances between characters stretch scenes way past the point of tedium, while the hyper-stylized violence is all foreboding build-up, no cathartic release. (As a wise movie drill sergeant once opined, the film doesn't have the goddamn common courtesy to give you a reach-around.)

Gosling does his patented "hey, girl" brooding act as Julian, an American drug runner whose psychotic older brother murders an underage prostitute and invites the retributive ire of the sword-wielding Chang (a stellarly stoic Vithaya Pansringarm). Thomas plays Julian's bleached-blonde bitch of a mother, a dragon lady through and through who ridicules her middle son's genitalia size, calls his sort-of girlfriend a "cum dumpster" and generally struts around as if she were a past-her-prime catwalk model trying desperately to catch the attention of Anna Wintour.

In the press kit, Refn notes that "the original concept…was to make a movie about a man who wants to fight God." He clearly thinks he's saying something profound with this laboriously overproduced dross, and I'm content to let him go on thinking.

I surely won't forget the experience of Claire Denis's The Bastards. At a packed late-night screening attended by the likes of Catherine Deneuve, Jane Campion, Leos Carax and Kylie Minogue, I found myself drifting dreamily in and out of this bleak tale of a French family undone by the machinations and perversions of a wealthy businessman named Edouard Laporte (Michel Subor). Marco Silvestri (Vincent Lindon) is the ostensible lead, a ship's captain who abandons his post to seek revenge on Laporte. But good luck figuring that out on a first view: Denis undermines traditional narrative at every turn, preferring elliptical, patience-testing opacity to moment-by-moment decipherabilty.

That may sound like a criticism, but far from it. Like Denis' sublimely impenetrable The Intruder (2004), the point is to get hopelessly lost in the film's eerie, unsettling flow. (Frequent Denis collaborators Tindersticks assist by contributing another of their hypnotic, mood-enhancing scores.) The themes of sexual exploitation, monetary manipulation and class indifference slowly emerge from Denis' masterfully woozy play of image and sound until a stunning, shocking final sequence—a 240i res homage to William Faulkner's lurid Sanctuary—snaps this punch-drunk nightmare into full-on, fearsome clarity.

Follow Keith Uhlich on Twitter: @keithuhlich

Read more of our dispatches
---
Write your own review
@TimeOutNewYork
Subscribe to Time Out New York on Spotify for playlists and recommendations from our Music team.


Check out New York's best restaurants, hottest street style, cool apartments and more.