Cannes 2013: Venus in Fur, Only Lovers Left Alive, Blue is the Warmest Color
Winding down Cannes with strong efforts from Roman Polanski, Jim Jarmusch and Abdellatif Kechiche.
By Keith Uhlich Sat May 25 2013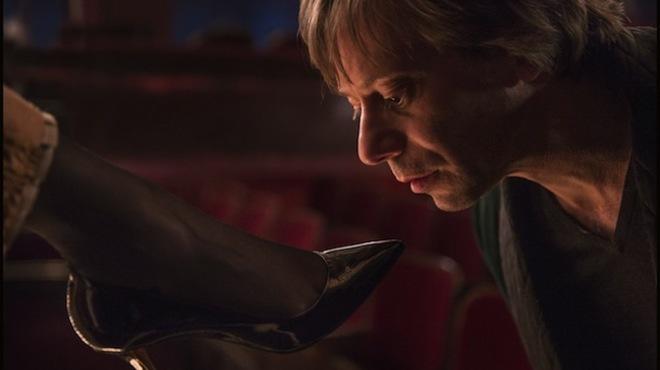 Venus in Fur
Another day, another play. Roman Polanski follows up his Beckett-lite burlesque Carnage with another single-set farce—the initially subdued, soon gloriously unhinged Venus in Fur. The fact that this is an American play adapted into French, as Carnage was a French play adapted into English, is just the beginning of the hall-of-mirrors deviance.

RECOMMENDED: Full coverage of the Cannes Film Festival

As always with Polanski, the narrative's eccentricities are cloaked in an expert veneer of classicism. There are few directors as adept at shot-reverse shot conversation scenes (love the one here where costar Mathieu Amalric is framed over the blurry top portion of a script) or at sinuous Steadicam tracks that create the subtlest sense of unease. One such beauty opens Venus, a Renais-worthy one-er moving from a rainy Parisian boulevard to the inside of a theater. It's here that Amalric's harried playwright, Thomas, meets with air-headed actor Vanda (Mrs. Polanski, Emmanuelle Seigner) for a role in his production of Leopold von Sacher-Masoch's ode to S&M, Venus in Furs. But there's much more to this dog-collar-wearing goth ditz than she's letting on, as there is to Polanski stand-in Thomas, whose tastes, it will be proven, run toward the perverse.

Polanski has great fun exploring and exploding the work's carnal themes: A phallic cactus sits center stage, a remnant from the theater's recently closed musical production of Stagecoach. (Queering John Wayne—very clever.) The two performers stalk around each other, slipping in and out of their varying roles (from the play to the play-within-the-play and back again) with elegant ease. Like Carnage, it's all a bit of a minor lark until the movie goes full-on Polanski in a deliciously grotesque finale that shows there is still plenty of life left in the gender-bending kinkiness the director has obsessively, uncomfortably scrutinized in works like Cul-de-sac (1966) and The Tenant (1976). At that point, I could do nothing but submit.

I was similarly in thrall to Jim Jarmusch's great-stone-faced vampire story Only Lovers Left Alive. If the director's languorous, laconic style isn't your bag, you'll probably be in a hell similar to Adam (Tom Hiddleston), a depressive bloodsucker living clandestinely in Detroit. He's a musician by trade (there was that time he wrote an Adagio for Schubert) and has a half-hearted longing to commit suicide with a wooden bullet to the heart because the world has been taken over by "zombies" (aka humans). His better half is the unearthly Eve (Tilda Swinton), who lives in Tangier where she slinks assuredly around back-alleys and, since biting humans is a low-class remnant of the Middle Ages, procures high-grade hemoglobins from fellow vamp Christoper Marlowe (John Hurt).

Yes, that Christopher Marlowe. And, uh, Adam and Eve—who only come out at night, who know the scientific name of every earthly organism and, whenever they travel, assume such iconic literary pseudonyms as Daisy Buchanan and Stephen Dedalus. Plenty among the Cannes attendees were annoyed by Jarmusch's steady stream of referents; that go-to pejorative, "hipster," will surely be thrown around when the film, already picked up by Sony Pictures Classics, is released stateside. But it's the way this singular writer-director contextualizes his ocean of allusions that makes all the difference.

Jarmusch's films are often concerned with the sweeping aside of history and culture. His vampires, with their Book of Genesis monikers, are the only real witnesses to things that have passed—perpetual mourners for a race of beings on who they prefer not to feed. But they're no mere glum nostalgists: On Adam's wall are photographs of "zombie" inspirations like Buster Keaton, Albert Einstein and, finally getting some respect, Rodney Dangerfield. Eve embraces the new, FaceTiming with Adam on her iPhone 5 and, during a nighttime drive through Detroit, paying homage at the childhood home of White Stripes cofounder Jack White.

All culture has the potential to be beautiful; what irks the duo is the overall lack of acknowledgment that such sublimity exists—sophistication is as disposable a concept as, say, the ex-sanguinated corpse Eve's Los Angeles floozy of a sibling (Mia Wasikowska) leaves behind with couldn't-resist shamelessness. So Jarmusch and his collaborators create their own sublime: Few images at Cannes have ravished me more than each character's opium-like swoon after they sip their claret-colored libations; no screenplay has gifted me as many laugh out loud moments (the way Hiddleston resignedly speaks the line "You drank…Ian" is all kinds of perfect); and no movie has sent me out into the full-mooned night, all senses elated, on as glad-to-be-alive a high.

Finally, a few quick thoughts on Abdellatif Kechiche's Blue is the Warmest Color. This French coming-of-age tale is entirely engaging for every one of its three hours. The generous running time allows Kechiche—whose previous films include The Secret of the Grain (2007) and Black Venus (2010)—to delve fully into the late-teen, early-twenties existence of Adèle Exarchopoulous' gloomy heroine, whose relationship with Léa Seydoux's slightly older, cerulean-haired artist proves to be at first a liberating blessing and then an imprisoning curse.

The narrative arc recalls Mia Hansen-Løve's great Goodbye First Love (2011), though Kechiche tells his tale with less sun-dappled poetry, more dispirited verisimilitude. His greatest triumph, which also provided Cannes audiences with plenty to titter about, are several lengthy, explicit sex scenes that do a stunning job of capturing both the messy awkwardness and for-your-eyes-only elation of two human bodies in ecstasy.

Exarchopoulous and Seydoux are both superb (the former especially in a unabashedly anti-charismatic role) and generating plenty of deserved awards buzz for their physically and emotionally intimate performances. If I can't quite get beyond a kind of clinical admiration for the film, it's due to Kechiche's unadorned vérité aesthetic, a cinema consciously bereft of the poetic flourish—for me a fault, for others a benefit. Your mileage will vary, as they say.

Follow Keith Uhlich on Twitter: @keithuhlich

Read more of our dispatches
You might also like
---
@TimeOutNewYork
Subscribe to Time Out New York on Spotify for playlists and recommendations from our Music team.


Check out New York's best restaurants, hottest street style, cool apartments and more.