Cannes 2013: A Touch of Sin, The Past, Stranger by the Lake
New features from China's Jia Zhang-ke, Iran's Asghar Farhadi, and France's Alain Guiraudie intrigue and overwhelm.
By Keith Uhlich Fri May 17 2013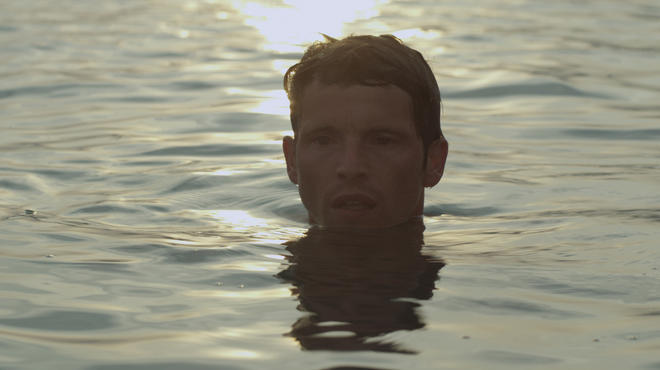 Stranger by the Lake
We're in familiar territory at the start of Jia Zhang-ke's A Touch of Sin. A motorcyclist, mostly notable for his Chicago Bulls knit cap, weaves his way along a rural Chinese road. His journey is captured in beautiful widescreen long takes courtesy Jia's frequent cinematographer Yu Lik-wai; as is often the case in the director's films, the images feel both verisimilar and surreal, as if fiction and reality are blending with aqueous abandon.

RECOMMENDED: Full coverage of the Cannes Film Festival

What happens next is still highly unexpected: Three men armed with axes demand that the motorcyclist stop and hand over his money. He pauses for a moment, reaches his hand into his pocket, then pulls out a gun and dispatches the thieves with the serpentine assurance of a John Woo combatant. From victim to predator in the flash of a muzzle…and off he rides.

It's a grab-you-by-the-lapels opening to a bizarrely uneven film—a quartet of intertwining stories that sees one of the greatest sixth generation Chinese filmmakers embracing base genre requirements while throwing a few intriguing wrenches in the works. Jia hasn't abandoned the doc-fiction hybrid style of movies like Still Life and 24 City, and his scope is actually wider than usual, encompassing locations from the north to the south of the People's Republic and giving a vivid sense of each community his characters encounter.

The difference comes in the four schematic storylines, all of which feature an oppressed protagonist—the first two played by well-known actors Jiang Wu and Wang Baoqiang, the third by Jia regular Zhao Tao, and the last by newcomer Luo Lanshan—pushed to a grotesquely vengeful breaking point. The copious carnage is so outlandish (guns blow heads to gory smithereens; a fruit knife is wielded with skin-slashing, wuxia-flavored fervor) that it often feels designed to satiate audience bloodlust rather than challenge it. Plus, none of the filmmaker's project has ever felt this plotted; at worst the rinse-wash-repeat nature of the tales come dangerously close to Babel territory in their on-the-nose attempts to diagnose the numerous ills of a rapidly modernizing China.

Still, there's a simultaneous sense that all this thematic messiness is intentional, that people's lust for revenge—and the inevitable lows that result should they have to go on living beyond their settling of scores—is an unavoidable muddle. A Touch of Sin embraces its many contradictions so fully that when the film doesn't work it strangely enough works best.

By contrast, Asghar Farhadi's scalpel-precise drama, The Past, works almost too well. The Iranian director has made a film every bit the equal of his Oscar-winning divorce procedural, A Separation (2011), to the point that there are times where it feels like he's repeating himself. Still, it seems churlish to complain when the results are so assured.

The Past picks up almost exactly where A Separation left off, with a husband and wife divided by a literal partition, both barely able, if even willing, to communicate. The locale, though, has changed from Tehran to Paris, and the spouses, Ahmad (Ali Mosaffa) and Marie (Bérénice Bejo), are actually about to finalize a split that has been a long time coming. But from the start of their reunion there's trouble. Marie has not booked a hotel for Ahmad, and she plans to have him stay under her own roof with her three children—two daughters from a different father, and the stepson of her current beau, Samir (Tahar Rahim), a dry-cleaner with plenty of his own troubles.

Scene after scene unfolds with astonishing attention paid to the characters' subtle shifts of mood, as well as to the respective locales that define them. The way Farhadi gives us a fully formed sense of Marie's fixer-upper home (not only its physical layout, but the sentiments and sensations that linger at a seemingly microscopic level) is especially expert. There's barely any way to describe the narrative specifics of The Past, with its steadily unraveling layers of miscommunication, evasion, and bald confession, without making the movie seem ridiculously melodramatic. Yet Farhadi is the kind of artist who can lend even the hoariest-in-conception metaphor—Ahmad and Marie gaze backward through the a car window…into the past!—a cut-to-the-quick grace and profundity. You never feel like you're in the hands of anyone less than a master storyteller.

Now for a virtuoso of another sort: A bevy of Twitter responders pointed me to the final film of my second day in Cannes, Alain Guiraudie's transgressive and transcendent Un Certain Regard entry Stranger by the Lake. Guiraudie is unfortunately little-known stateside beyond a devoted few, and it's doubtful this mesmerizingly odd mix of queer-culture ethnography and Hitchcockian thriller will win him many converts. Consider that a wholehearted recommendation.

As in The Past, location is key: The entire film takes place by a shimmering summer lake—an Edenic haven for gay and curious males of all shapes and sizes to lie around nude and sneak off into the nearby whispering woods for sex. Our lead is the beautiful, swimmer's-bod buff Franck (Pierre Deladonchamps), who struts around with genial confidence. He's not one of those pretty boys who will avoid anyone plus size, but though he strikes up an easy friendship with the lonely, obese Henri (Patrick D'Assumçao), Franck's eye and libido are more tickled by the '70s porn mustache-sporting Michel (Christophe Paou). The only potential problem? One evening, Franck witnesses Michel drowning one of his conquests, which he discovers does little to negate his attraction.

Plenty of gay-themed films have included murder as a plot point; William Friedkin's loathsome Cruising made an early-AIDS-era spectacle of the small divide separating loving and life-ending penetration. What distinguishes Guiraudie's approach is his keen eye for queer conduct and comportment: He spends most of the first half-hour acclimating us to the movie's microcosmos—a libidinally unashamed world of charged gazes, full-frontal displays, and open-air eroticism—before seguing into a deeply unsettling exploration of infatuation.

Go in aware that much of the sex is unsimulated, then revel in the ways Guiraudie uses his rigorous perspective, in addition to an always gorgeously-composed widescreen frame, to normalize behavior that is anathema in polite society. (It's little surprise that the work of Georges Bataille is one of the director's acknowledged influences.) But also go in knowing that there are very real, very potent emotions underlying every action, be it an explicit sex act, a lingering embrace, or a horrible realization that meting out death does not necessarily preclude love.

Follow Keith Uhlich on Twitter: @keithuhlich

Read more of our dispatches
You might also like
---
@TimeOutNewYork
Subscribe to Time Out New York on Spotify for playlists and recommendations from our Music team.


Check out New York's best restaurants, hottest street style, cool apartments and more.