Destroy all VHS at Williamsburg's Nitehawk cinema
By Jonathan Shannon Fri Jul 8 2011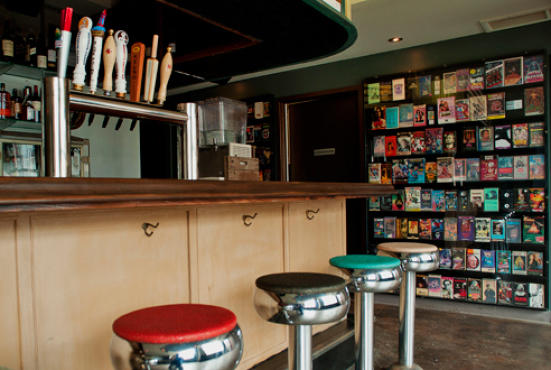 Bar and VHS Vault at Nitehawk
Calling all videocassette enthusiasts and people who like to booze while watching retro horror films: Williamsburg's new movie theater Nitehawk and boutique DVD label Wild Eye Releasing (wildeyereleasing.com) host an all-VHS program on a big screen in Nitehawk's upstairs lobby bar this Sunday. Editors from Lunchmeat VHS magazine (lunchmeatvhs.com) will kick things off with compilations of home movies, made-for-VHS trailers and, for the uninitiated, a live demonstration of how to use a top-loading 1970s VCR. The feature presentation is the never-released-on-DVD 1979 horror flick Friday the 13th: The Orphan (no relation to the Jason series); then, to creep you out even further, Horror Boobs (horrorboobs.com) presents a compilation of VHS's greatest clown scenes.
Get there early to grab one of approximately 20 seats and settle in with a drink—like Peak Organic's Summer Session Ale ($6) or a movie-themed cocktail ($8--$10)—and something from chef Saul Bolton's menu. Amuse yourself while you wait by browsing the rare tapes to trade or buy, and by admiring the VHS Vault, Nitehawk founder (and former owner of video rental stores Reel Life—remember them? We do) John Woods's curated display of both artistic and unintentionally hilarious video cover art.
136 Metropolitan Ave between Berry St and Wythe Ave, Williamsburg, Brooklyn (718-384-3980, nitehawkcinema.com). July 10 at 10pm. Free.