Festive film screenings
These seasonal flicks will have you feeling merry.
By Tim Lowery Fri Dec 9 2011
---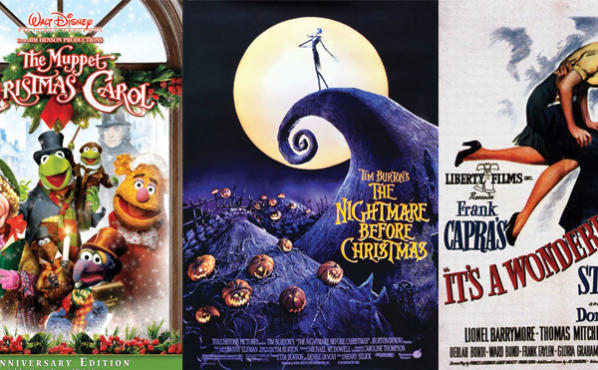 Midnight movies at Landmark's Sunshine Cinema
Marvel at old-school stop-motion animation (and reminisce about your days as a Jack Skellington--obsessed goth tween) at a screening of Tim Burton's The Nightmare Before Christmas (Fri 16, Sat 17). Or simply submit to the season's unwaveringly cheerful spirit during Elf (Fri 23, Sat 24), the Will Ferrell comedy about a man-child lost in Manhattan. 143 E Houston St between First and Second Aves (212-330-8182, landmarktheatres.com). Midnight; $10, children and seniors $9.
The Muppet Christmas Carol
Michael Caine stars as Scrooge in this production of Dickens's tale, starring Kermit and friends. Postscreening, peruse "Jim Henson's Fantastic World," which is on view through Mar 4. Museum of the Moving Image, 36-01 35th Ave at 37th St, Astoria, Queens (718-777-6888, movingimage.us). Sat 17, Sun 18, Sat 24 at 1pm; $12, seniors $9, children $6.
It's a Wonderful Life
Yes, it'll be on TV a billion times in the next few weeks, but Frank Capra's tearjerker—presented in a new 35-millimeter print—deserves to be seen on the big screen. The life-affirming sing-along finale is sure to start the waterworks. Plus, Mary Owen, the daughter of Donna Reed (who plays Jimmy Stewart's main squeeze in the film), introduces the showings on Wed 21 and Thu 22. IFC Center, 323 Sixth Ave at 3rd St (212-924-7771, ifccenter.com). Wed 21--Tue 27; times vary. $13, children and seniors $9, members $8.
Miracle on 34th Street
You don't need to believe in Santa to appreciate this Oscar-winning seasonal favorite, which will be shown in a new 35-millimeter print. Film Forum, 209 W Houston St between Sixth Ave and Varick St (212-727-8110, filmforum.org). Fri 23--Dec 29 at 2:45pm; $12.50, children $7.
Chinese and a Movie: Raiders of the Lost Ark and Jurassic Park
On Christmas Day, take part in the Jewish tradition of feasting on Chinese food and catching a flick. 92YTribeca offers a doubleheader of adventure films by director Steven Spielberg, as well as an all-you-can-eat buffet. 200 Hudson St at Canal St (212-601-1000, 92ytribeca.org). Sun 25 at 2pm; $30, advance $25.
Le pre Nol est une ordure
If you're after a black comedy that will knock the Christmas spirit right out of you, try this 1982 French film, whose title translates as "Santa Claus Stinks" or "Santa Claus Is a Bastard." Museum of Modern Art, 11 W 53rd St between Fifth and Sixth Aves (212-708-9400, moma.org). Wed 28 at 4pm; Dec 29 at 7pm; Dec 30, 31 at 4:30pm. $12, seniors $10, students $8, children under 17 free.